Trump Branded 'Lawless President' as Stone Clemency Enrages Democrats
President Donald Trump has been branded "a lawless" leader after granting clemency to friend and former adviser Roger Stone, in a move which has enraged Democratic lawmakers.
Stone was due to report to a federal prison in Georgia next week, having been sentenced to serve more than three years, but he will now serve no time.
He was convicted of five counts of lying to Congress, one count of witness tampering and one count of obstructing a congressional committee proceeding into Russian meddling in the 2016 election.
The White House said in a statement that Stone had "already suffered greatly" and been "treated very unfairly" in language reminiscent of the president's Twitter feed.
"Roger Stone is a victim of the Russia Hoax that the Left and its allies in the media perpetuated for years in an attempt to undermine the Trump Presidency. There was never any collusion between the Trump Campaign, or the Trump Administration, with Russia," the statement added.
"These charges were the product of recklessness borne of frustration and malice."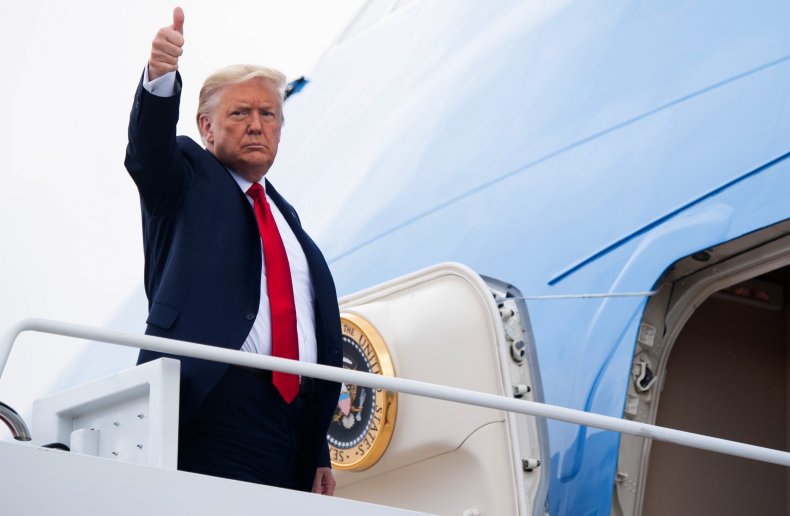 Trump, who has been friends with Stone for four decades, has repeatedly said his former adviser did not receive a fair trail, stating he was "very unfairly treated, as were many people."
His decision to grant clemency has swiftly been criticized, with Senate Minority Leader Chuck Schumer (D-NY), stating: "The American ideal of equal justice under the law is once again being undermined by a lawless president who regards the Justice Department as his personal plaything.
"By refusing to hold President Trump accountable, the Republican Party bears responsibility for his lawlessness."
Rep. Adam Schiff (D-CA) said that under Trump "there are now two systems of justice in America," adding these were "one for Trump's criminal friends and one for everyone else."
Schiff, chairman of the House Intelligence Committee, said commuting the sentence was a "terrible blow to justice and the rule of law."
"President Trump has engaged in countless acts that are both self-serving and destructive to our democracy while in office, but commuting the sentence of Roger Stone, a crony who lied and obstructed our investigation to protect Trump himself, is among the most offensive to the rule of law and principles of justice," he said in a statement.
House Majority Leader Nancy Pelosi (D-CA) hit out at "the president and his henchmen."
She told CNN: "I'm recommending that we pass a law that presidents cannot issue a pardon if the crime that the person is in jail for is one that is caused by protecting the President, which this was."
Newsweek has contacted the White House and the lawmakers mentioned above for further comment.