Donald Trump Tweets Fake Ronald Reagan Quote About Himself From Fake Twitter Account
President Donald Trump retweeted a false quote Monday by Ronald Reagan claiming that the late president always knew Trump was going to end up in the Oval Office.
The late-morning tweet, first posted by a Twitter account apparently impersonating the conservative news feed "The Reagan Battalion," included a photo of a young Trump shaking hands with the 40th president. Over the photo is the falsified quote, attributed to Reagan. "For the life of me, and I'll never know how to explain it, when I met that young man, I felt like I was the one shaking hands with a president," it reads. The original tweet, which was posted in 2017, wrote above the image, "dear weak Conservatives, never forget that you are no match for "we the people," and our president."
Trump retweeted the post, more than two years after its creation, and added the comment "cute!" to it. It's unclear what spurred the president to go back into the archives to find and repost the old tweet.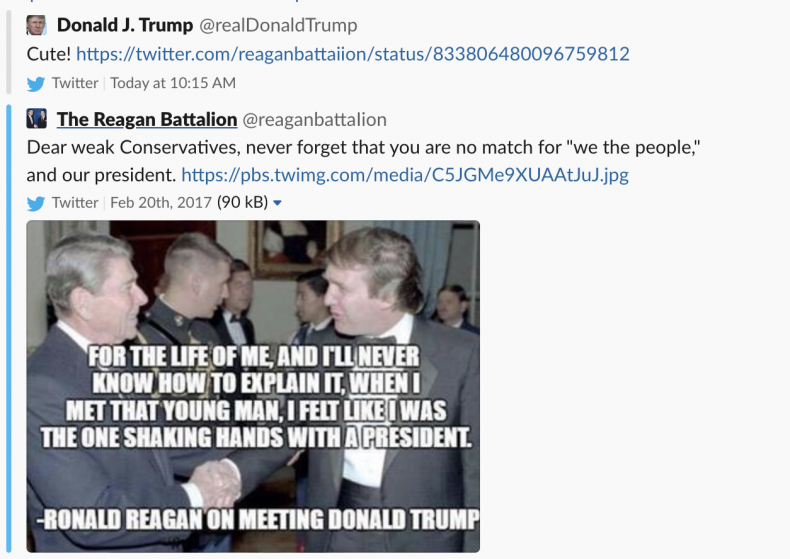 The photo of Reagan and Trump is authentic. The two met on November 3, 1987, Joanne Drake, chief administrative officer of the Ronald Reagan Presidential Foundation and Institute, told Politifact. The meeting took place in the Blue Room of the White House during a reception for the "Friends of Art and Preservation in Embassies" foundation which Trump was a member of. But Drake said that Reagan never said those words about President Trump.
The photo and quote first originated in 2016 on a Trump-fan facebook page, called Trump Train. The page, known for posting fake images and quotes, was eventually flagged and the post was removed from the social network site because it violated its fake news standards.
Despite meeting at a handful of formal events, Reagan and President Trump did not enjoy a friendship or close personal relationship. Reagan's son, Michael, said on a radio program in 2016 that his father would likely be confused by the president's ascension to the White House.
"At best, he would be confused by Donald Trump and the way he's running the campaign. I don't think he'd be appreciative of the demeaning style of Donald Trump—the way he's treated the other candidates—because my father knew that at the end of the day he had to bring everyone together to win an election," Reagan said on The Cats Roundtable radio show in July of 2016, just months before Trump won the presidency.
The Twitter account that originally posted the quote has since been suspended by Twitter and the tweet removed. The president later retweeted five more posts from a verified Reagan Battalion account, mostly images of the crowd size at his fourth of July event last week.