Donald Trump Once Shamed Kate Middleton and Gave Princess Diana the 'Creeps.' Now He's Sipping Tea With Queen Elizabeth
President Donald Trump and First Lady Melania Trump will meet Queen Elizabeth II for tea at Windsor Castle on Friday. But the president is receiving a less than warm welcome from the British at large, as demonstrations featuring thousands of protesters have been organized around the United Kingdom.
Trump's unpopularity in England is overwhelming: A new poll released July 12 indicated that 77 percent of the British public had an "unfavorable" view of the United States president. There was even a petition launched last year that garnered nearly two million signatures requesting that the president not meet with the queen, as it would be an "embarrassment" for Her Majesty.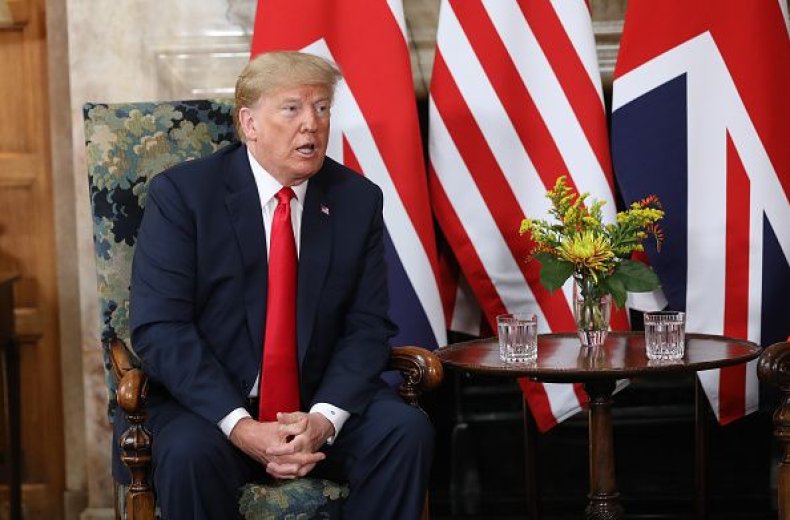 Trump also made a number of unfortunate and insulting comments about members of the royal family that may contribute to his lack of popularity—and make for a rather awkward afternoon tea with the Queen.
After the late Princess Diana split from her husband, Prince Charles, in 1996, Trump reportedly made many unwanted advances toward her, including sending her bouquets of flowers. The princess told British journalist Selina Scott that Trump's actions gave her the "creeps."
Later that same year, during an interview with Howard Stern, when asked if he thought he could have "nailed" Princess Diana, Trump replied, "I think I could have," and suggested that he would only pursue her if she got an HIV test done beforehand.
Trump made another Howard Stern appearance in 2000, saying he would have had sex with Diana "without even hesitation."
"I tell you what," Trump said, "I think she's magnificent. Lady Di was truly a woman with great beauty. I've seen her a couple of times. She was really beautiful, and people didn't realize that beautiful. She was supermodel beautiful. She had the height, she had the beauty, she had the skin, the whole thing."
Years later, in 2012, Trump shamed Kate Middleton after paparazzi took photos of her tanning topless at a beach in France.
"Kate Middleton is great," Trump wrote in the social media post. "But she shouldn't be sunbathing in the nude - only herself to blame." When talking about the photographers, Trump said "who wouldn't take photos" of the Duchess of Cambridge.
Trump discussed the matter further during an interview with Fox and Friends, saying it was "so stupid" and a "very, very foolish thing" for Middleton to be at a swimming pool without a top on.
More recently, President Trump was snubbed from the royal wedding of Prince Harry and American actress Meghan Markle. But he did tell reporters that he hoped the couple was very happy.
U.S. ambassador to Britain Robert Wood Johnson said that the meeting with Queen Elizabeth II was something Trump had wanted to do for a long time, and that spending time with Her Majesty was "the highlight of any president's visit to the U.K."