Donald Trump Says Rudy Giuliani 'Has Been Wrong a Little Bit' About Moscow Tower but 'I Didn't Care'
President Donald Trump continues to be forgiving of Rudy Giuliani despite misstatements his personal lawyer has made on various occasions on matters that could affect the president's fate in office.
In an interview in the Oval Office with The New York Times on January 31, Trump said of Giuliani, who is representing him in the Russia investigation, "He was wrong.
"Rudy has been wrong a little bit. But what has happened is this: I didn't care," Trump continued. "That deal was not important. It was essentially a letter of intent or an option."
Trump was referring to a proposed Trump Tower project in Moscow, which his former longtime lawyer Michael Cohen pleaded guilty to lying about to Congress. Cohen initially said his talks on the project concluded in January 2016, before the Iowa caucuses that are considered the first presidential votes, but in November 2018 admitted that the conversations went into summer 2016 as Trump secured the Republican nomination.
Giuliani recently suggested that the conversations continued into the November 2016 presidential election, but then said he was wrong and spoke hypothetically.
Trump on Thursday said the last talks about the proposed project were in "early to middle of the year." The president added, "I don't know that Cohen didn't go a little bit longer than that. I don't think it would be much longer." Trump went on to say that he was running for president, doing well, and that "the last thing I cared about was building a building."
The president showed no signs of disapproval of Giuliani on the matter late last year when Cohen pleaded guilty. Instead, Trump slammed Cohen, accused him of lying and said that even if he was telling the truth, it was fine.
"What he's trying to do, because he's a weak person and not a very smart person, what he's trying to do is end, and it's very simple, he's got himself a big prison sentence and he's trying to get himself a much lesser prison sentence by making up a story," Trump said of Cohen.
"Now, here's the thing—even if he was right, it doesn't matter, because I was allowed to do whatever I wanted during the campaign," the president continued. "I was running my business; a lot of things during the campaign."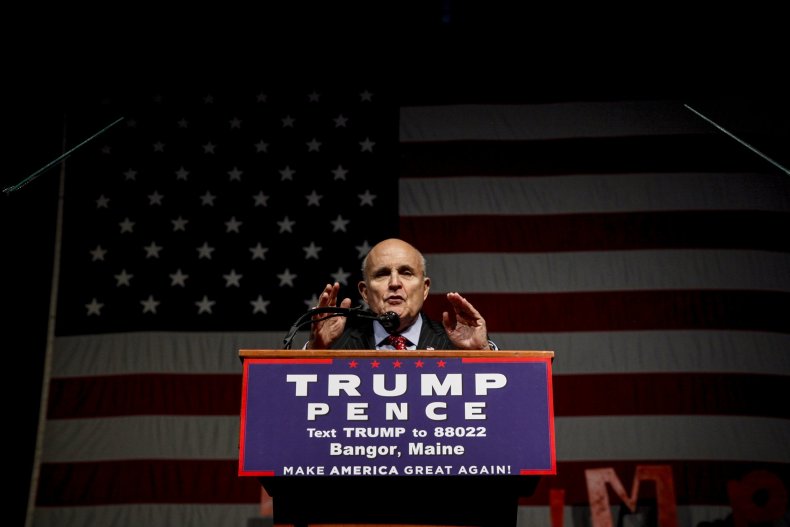 Trump has given Giuliani a pass on misstatements in the past.
In May 2018, the president suggested that Giuliani may have been wrong on details surrounding a payment to adult film star Stormy Daniels, real name Stephanie Clifford, to keep her silent on her alleged affair with Trump.
"He'll get his facts straight," Trump said, adding, "He's a great guy."
Giuliani was widely ridiculed in August for a statement he made on truth on NBC's Meet the Press, while arguing that Russia probe special counsel Robert Mueller was trying to get Trump to commit perjury.
"When you tell me that [Trump] should testify because he's going to tell the truth and he shouldn't worry, that's so silly, because it's somebody's version of the truth. Not the truth," Giuliani said. "Truth isn't truth."