Donald Trump Falsely Claims He 'Won' Lawsuit Over Russian Collusion
President Donald Trump falsely claimed Friday that he had "won" a lawsuit alleging that his campaign colluded with Russia to publish emails hacked from the Democratic National Committee during the 2016 presidential election campaign.
"Just won lawsuit filed by the DNC and a bunch of Democrat crazies trying to claim the Trump Campaign (and others), colluded with Russia," Trump wrote on Twitter Friday afternoon. "They haven't figured out that this was an excuse for them losing the election!"
Trump's comments contain multiple inaccuracies. A federal judge ruled on Tuesday that a case against Trump's campaign and former adviser Roger Stone could not proceed in a Washington, D.C. court. However, U.S. District Court Judge Ellen Huvelle stressed that her decision was based on technical grounds because the alleged actions were not significantly connected to Washington. She did not take a position on the merits of the claims.
"It bears emphasizing that this Court's ruling is not based on a finding that there was no collusion between defendants and Russia during the 2016 presidential election," Huvelle wrote. "This is the wrong forum for plaintiffs' lawsuit. The Court takes no position on the merits of plaintiffs' claims."
What's more, the suit was not brought by the DNC, as Trump claimed. Rather, it was filed by two DNC donors, Eric Schoenberg and Roy Cockrum, as well as former DNC staffer Scott Comer. The suit claimed that the hacking of the DNC's email systems invaded their privacy and inflicted emotional distress.
The Democratic National Committee did, though, file its own lawsuit against the Trump campaign in a Manhattan federal court in April. The suit names the president's son Donald Trump Jr., as well as his son-in-law, Jared Kushner. It claims that the Trump campaign was a "willing and active" partner of Russia in its "brazen attack on American democracy."
"If the occupant of the Oval Office won't protect our democracy, Democrats will. It is our obligation to the American people," DNC Chairman Tom Perez said.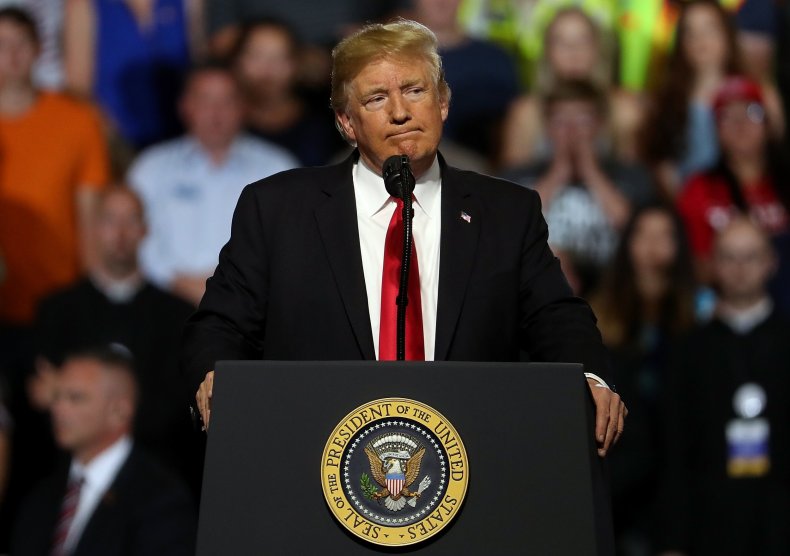 Close to 20,000 hacked emails from the DNC were published by WikiLeaks ahead of the 2016 Democratic National Convention.
"While we are disappointed in and respectfully disagree with today's decision from the District Court to dismiss this case on the grounds that it does not belong in Washington, D.C., this case is far from over," Protect Democracy, which filed the D.C. suit, said in a statement.
Protect Democracy has suggested it could yet choose to refile in another state.
While Trump has repeatedly called the investigation into Russian interference in the 2016 election a "hoax" and a "witch hunt," Special Counsel Robert Mueller has so far secured guilty pleas from three former members of Trump's campaign and filed two indictments against his former campaign chairman Paul Manafort.