Trump Admits to Russia Meddling in Election: Says Obama Administration Knew But 'Did Nothing'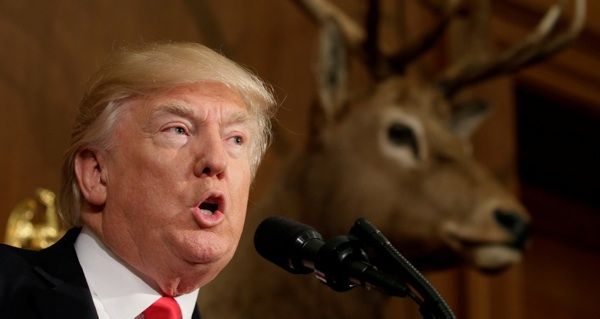 President Donald Trump appeared to confirm Russia's involvement in the 2016 election while suggesting the Obama administration knew of Russian interference long before voters took to the polls.
Other than calling the FBI and special counsel Robert Mueller's investigation into Russia's ties to certain members of his campaign a "total scam" and a "witch hunt," Trump had previously failed to give a definite confirmation regarding concerns over Russian forces potentially hacking the election. However, in a tweet on Friday, Trump said his predecessor President Barack Obama "knew far in advance of November 8th about election meddling by Russia" but "did nothing about it."
The president's tweet came following his recent interview with Fox News, during which he accused Obama of knowing about Russian interference.
"I just heard today for the first time that Obama knew about Russia a long time before the election, and he did nothing about it," Trump said in a clip of the interview, which is scheduled to air in full on Sunday.
"The CIA gave him information on Russia a long time before they even—before the election. And I hardly see it. It's an amazing thing," he added. "To me—in other words, the question is, if he had the information, why didn't he do something about it? He should have done something about it."
In a report released on Friday, The Washington Post said the CIA had concluded in August 2016 that Putin had personally directed interference in the 2016 campaign with intentions to boost Trump's chances of winning the election while also giving orders to "defeat or at least damage" Clinton's chances. The Post's report said members of the CIA had presented its findings to Obama and a number of his senior aides at that time, prompting Obama to secretly authorize intelligence members to plant cyber weapons in Russia infrastructure, which was considered the "digital equivalent of bombs that could be detonated if the United States found itself in an escalating exchange with Moscow."
It was in October when various leaders of US intelligence agencies first released an official statement claiming Russia had tried to interfere in the election, according to a December report by the Post. The statement said Russian President Vladimir Putin directed operatives in a cyber attack against the 2016 campaign in attempts to disrupt and discredit the U.S. election. It also acknowledged specific instructions Russian forces were given to undermine Democratic nominee Hillary Clinton.
Intelligence chiefs did not officially accuse Russia of helping Trump win the election until January 2017 after U.S. intelligence agencies made a declassified assessment of the situation public. Trump received a classified briefing on the assessment in January before the inauguration but denied Russia's effort had any effects on the outcome of the election.