Russians Tried to Hack Hillary Clinton Campaign on Same Day Donald Trump Told Them to Do So, Indictment Claims
The latest indictment of 12 Russian intelligence officers from special counsel Robert Mueller showed that cyberoperatives attempted to hack into presidential candidate Hillary Clinton's campaign servers on the same day that then-candidate Donald Trump called for Russia to do so.
Rod Rosenstein, the deputy attorney general, announced on Friday new charges stemming from the ongoing Department of Justice investigation, led by Mueller, into Russian interference during the 2016 presidential election.
The 11-count indictment was against 12 Russian intelligence officers of the Main Intelligence Directorate, known as the GRU. They were accused of hacking the Democratic National Committee, the Clinton presidential campaign and the Democratic Congressional Campaign Committee.
"Free and fair elections are hard-fought and contentious, and there will always be adversaries who work to exacerbate domestic differences and try to confuse, divide and conquer us," Rosenstein said in a press statement. "So long as we are united in our commitment to the shared values enshrined in the Constitution, they will not succeed."
Rosenstein said the latest indictment did not include any allegation that Russia was successful in its efforts to influence election outcomes.
The laundry list of charges included conspiracy against the United States, identity theft, money laundering and attempts to break into state election boards and various government agencies.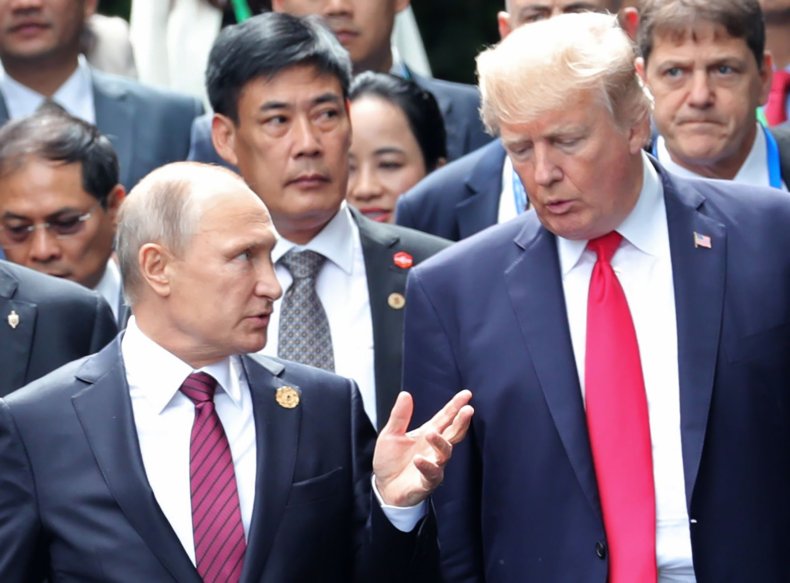 The special counsel's investigation has produced more than 100 criminal counts against 32 people and three companies, according to a count from The New York Times. Those indictments include three Trump associates who have pleaded guilty and 14 other Russian citizens.
A review of the indictment found that on line 22, the special counsel's investigation said that Russian intelligence officers spent the better part of 2016 attempting to hack into email accounts associated with the Clinton campaign.
The indictment listed an example from July 27, 2016, which says: "The Conspirators attempted after hours to spearfish for the first time email accounts at a domain hosted by a third-party provider and used by Clinton's personal office. At or around the same time, they also targeted seventy-six email addresses at the domain for the Clinton Campaign."
On that same day in July 2016, Trump, then a candidate for the presidency, was in Doral, Florida, speaking at one of his many presidential rallies that day. He later fielded questions from members of the press, saying, "It's a total deflection, this thing with Russia."
He added: "By the way, they hacked, they probably have her 33,000 emails. I hope they do. They probably have her 33,000 emails that she lost and deleted because you would see some beauties there, so let's see…. Putin and the leaders of the world have no respect for this country."
Trump said he did not know who was orchestrating the election hacking but suggested it was "probably China." He added that if it was hypothetically Russian intelligence, it would show Russia's lack of reverence for the United States.
"If it is Russia, which it probably is not, nobody knows who it is, but if it is Russia, it's really bad for a different reason because it shows how little respect they have for our country, when they would hack into a major party and get everything," Trump said.
At the same press conference, Trump appeared to directly call upon Russian intelligence services to hack the former secretary of state's email account and publish any information they stole as a part of their cyberespionage operations during the 2016 presidential election.
"Russia, if you're listening, I hope you're able to find the 30,000 emails that are missing," Trump said. "I think you will probably be rewarded mightily by our press."
Trump later attempted to modify his Russian call to cyberarms by clarifying that he hoped Russia would turn over the 33,000 Clinton emails to FBI special agents.
The 33,000 emails refer to then-Secretary of State Clinton's use of a private email server that she used to conduct official State Department business. Clinton and her campaign argued that the emails were personal in nature and not work-related, and lamented that they did not delete the emails after receiving a congressional subpoena from the House Select Committee on Benghazi.
An FBI investigation report showed that special agents did find several thousand work-related emails among those deleted by Clinton and her campaign that should have been turned over to the State Department for archiving.
However, in a July 2016 statement, then-FBI Director James Comey said that the investigation "found no evidence that any of the additional work-related emails were intentionally deleted in an effort to conceal them."
The White House did not immediately respond to a request for comment.
Trump is scheduled to meet with Russian President Vladimir Putin in Helsinki, Finland, on Monday.