Donald Trump Still Suggesting Russia Didn't Interfere in 2016 Election As Microsoft Alleges New Attack
Despite facing widespread criticism for appearing to side with Russian President Vladimir Putin instead of the U.S. intelligence community last month, President Donald Trump still suggests that Russia did not interfere in the 2016 presidential election.
Trump on Monday blamed special counsel Robert Mueller's investigation into Russian interference in the 2016 election for hindering his efforts to forge a better relationship with the Kremlin and for turning Americans against him.
The investigation has "played right into the Russians—if it was Russia," Trump told Reuters, "They played right into the Russians' hands."
Trump has avoided placing the blame on Russia, even though the U.S. intelligence agencies concluded that Russian meddling indeed occurred.
In a joint news conference with Putin in Helsinki last month, Trump made a statement that Democrats and even many Republicans denounced.
"I have great confidence in my intelligence people, but I will tell you that President Putin was extremely strong and powerful in his denial today. He just said it's not Russia," Trump said. "I will say this—I don't see any reason why it would be."
Trump sought to later clarify his statement, claiming he meant to say "wouldn't" rather than "would."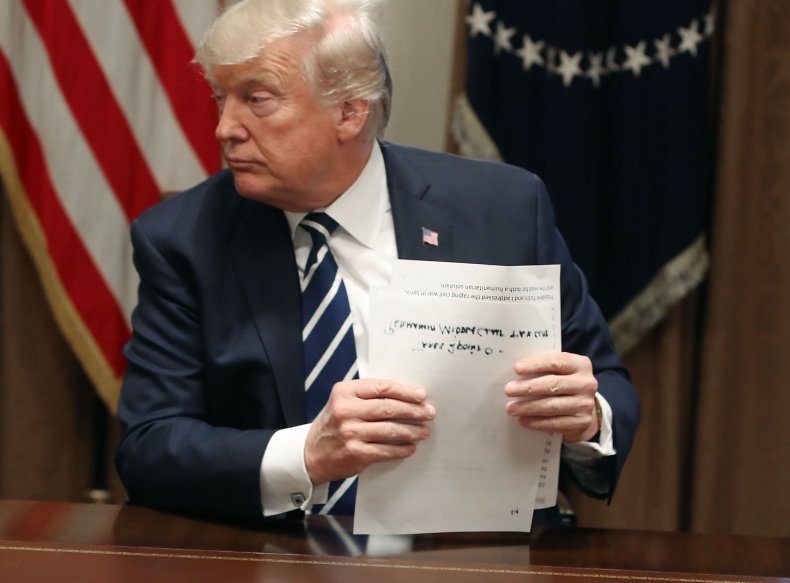 Trump's Director of National Intelligence Dan Coats immediately backed up his agency's conclusion that Russia had interfered.
"We have been clear in our assessments of Russian meddling in the 2016 election and their ongoing, pervasive efforts to undermine our democracy," Coats said. "And we will continue to provide unvarnished and objective intelligence in support of our national security."
Trump's statement on Monday came at the same time that Microsoft announced it had thwarted new Russian hacker cyberattacks against conservative groups that had broken with Trump, as well as U.S. political campaigns ahead of the November midterm elections.
"Last week, Microsoft's Digital Crimes Unit (DCU) successfully executed a court order to disrupt and transfer control of six internet domains created by a group widely associated with the Russian government and known as Strontium, or alternatively Fancy Bear or APT28," Microsoft President Brad Smith wrote in a blog post. "We're concerned that these and other attempts pose security threats to a broadening array of groups connected with both American political parties in the run-up to the 2018 elections."
Last month, a U.S. federal grand jury indicted a dozen Russian intelligence officers on charges of hacking the computers of the Democratic Party and its 2016 presidential candidate Hillary Clinton.