Donald Trump Is 'Financially Compromised' by Russia. Mueller Didn't Investigate but Congress Must: Ex-Federal Prosecutor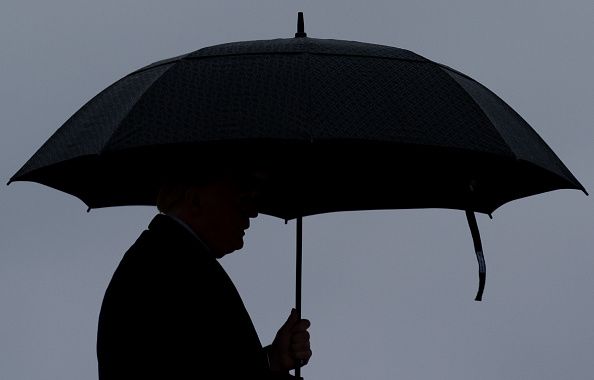 While special counsel Robert Mueller's two-year probe may not have established conspiracy between Donald Trump's campaign and Russia during the 2016 election, it did not dive nearly deep enough into the president's relationship with the foreign power.
In fact, it barely scratched the surface, according to former federal prosecutor and counterintelligence expert Kenneth McCallion. McCallion once represented former Ukraine Prime Minister Yulia Tymoshenko in her civil case against former Trump campaign chairman Paul Manafort in the Southern District of New York. The case served as a basis for Mueller's indictments of Manafort and former Trump campaign aide Rick Gates.
"I would not have much difficulty or most experienced prosecutors given what evidence is available now would not have much difficulty prosecuting Mr. Trump," McCallion told Newsweek shortly after Attorney General William Barr handed over his summary of the Mueller report to Congress.
"I think that may still happen—it may not happen immediately, but time will tell," he added.
McCallion, who spent the early part of his 40-year legal career working as a federal prosecutor for the Department of Justice, had a front-row seat in the 1980s watching then-real estate mogul Trump elude investigators looking into corrupt "sweetheart deals" between mob-controlled labor unions and developers.
It came as no surprise to McCallion when he did it again throughout the Mueller investigation, attacking the probe as a "witch hunt" and refusing to do more than provide written answers to questions posed by the special counsel.
"Both Trump and [his attorney] Roy Cohn went through the motions of cooperating, but Trump continued to adamantly deny that he had this corrupt deal," McCallion recalled, adding that in the end he got "no real cooperation" from either Trump or Cohn. Eventually, the duo were given a pass as the department focused on taking down bigger felons.
But it was there that the former prosecutor first noted the connection between Trump and Russian organized crime leaders, who, McCallion said, essentially provided him with enough money and labor to keep his real estate empire afloat.
That business relationship turned political when Trump became the Republican nominee for president. Since then, the former federal prosecutor argues, there is a case to be made that the president has "aided and abetted" Russia to the harm of U.S. interest out of financial obligation—treasonous behavior that was not explored in the special counsel's investigation.
That case is laid out in McCallion's upcoming book Treason & Betrayal: The Rise and Fall of Individual-1, which will be released on April 15.
The book provides a detailed analysis of Trump's murky relationship with a foreign power, breaking down moments in which Trump has decided to walk a pro-Russian line (often in contradiction to U.S. interests) both throughout his campaign and during his presidency. It also makes the argument for how and why a sitting president can be indicted or impeached.
McCallion does not mince words in Treason & Betrayal, describing the president as "traitor to the traditional American democratic ideals" who "must be removed as soon as possible before he can do more harm."
"Eventually Trump, either as a sitting president or as a private citizen, will find out that he is not above the law and will be held accountable for his duplicity and his aiding and abetting of Russia," McCallion said.
McCallion spoke to Newsweek about his book, the Mueller report and what legal challenges still cloud Trump's presidency.
This interview has been edited and condensed for length and clarity.
After the special counsel's finding of no collusion, do you stand by your conclusion in Treason & Betrayal that Donald Trump is a traitor of the American people?
Oh absolutely. The [Mueller] investigation did not specifically address the issue of whether Trump, because of his position of being financially and economically compromised by the Russians, is aiding and abetting Russian foreign policy to the harm of U.S. foreign policy.
Those are the issues that are not addressed by the special counsel's office. And it's that aiding and abetting, treasonous behavior by Trump and his close associates that I hope Congress takes a further look at as it pursues various investigations.
Do you agree with Mueller and Attorney General Barr's determination that there was no collusion in the 2016 campaign between Trump's team and Russia?
No I don't. There was, in my view and I think the evidence supports it, conspiracy. Now, conspiracy is a meeting of the minds to carry out an illegal or illicit goal. Certainly, to some extent, part of that conspiracy was for the Trump team to cooperate and facilitate the dissemination of hacked emails from the Clinton campaign and other Democratic sources as reflected by the [Trump Tower] meeting.
There was some critical evidence that has been loudly reported in the press that would establish, I think in the minds of most experienced prosecutors, sufficient evidence and indication of conspiracy or collusion between the Trump campaign team and transition team and the Russians. In essence, we do have a Russian agent and operative in the White House.
You highlight that Trump's relationship with Russia began in business, but when do you think that the relationship became political?
It's really hard to separate out the two because in order to build a Trump Tower in Moscow, it requires the approval of the Kremlin. So certainly I think that Trump's decision to bend over backwards to really walk a pro-Russian line during the campaign and during the administration was really tactically designed to support his business objectives.
Every decision he makes on important issues relating to Russia is informed and indeed dictated by financial leverage. For example, I doubt that Trump really cares one way or another if Crimea is under Russian or Ukraine control. But by giving Russia a pass on the Crimean issue, and not pressing it like the Obama administration did, he is essentially trying to further ingratiate himself with the Kremlin and more specifically prevent the downside of any retaliation by the Kremlin financially against the Trump Organization.
Editor's Note: While Trump has suggested sympathy for Russia's stance that Crimea is their territory, he has kept the sanctions put on Russia by the Obama administration.
One chapter of your book is devoted to "All the President's (Pro-Russian) Men." Eight of the 11 former Trump associates you discuss have been indicted by Mueller or by federal prosecutors. Why hasn't that prosecution been extended to the president?
Because the special counsel's office and Barr in the Justice Department are still abiding by what I believe to be, and many knowledgeable jurors believe to be, an obsolete policy and practice: a blanket prohibition on the indictment of a sitting president. They feel that they can't indict a sitting president even though the Constitution itself does not speak to that issue.
It will be interesting to see whether, for example, additional information gleaned from the grand jury investigation in the Southern District of New York may provide such overwhelming evidence that the Justice Department may reconsider its position for this president.
However, I think it's likely that President Trump's legal liability will continue and intensify, particularly if he is not re-elected in 2020. As a private citizen, he will be stripped of any protection of Justice Department regulations and will be subject to prosecution either at the federal or state level. So, I do not think that he is out of the woods yet.
Do you believe that indictment or impeachment is still on the table for Trump?
Absolutely. There's no constitutional prohibition against a president being indicted or impeached. My book primarily addresses the issue as one of treason and betrayal, which is both a crime as well as a basis for removal of a president through impeachment.
I do not think that the president is scot-free at this point on either obstruction charges or of larger charges of having been the head of an organization that engaged in conspiracy with Russian operatives to improperly swing the election away from Hillary Clinton. I think that is the larger, more important issue that was not addressed by the special counsel and certainly not by Barr.
What would you like to see happen next? Should the American public move on or should we keep digging into Trump's relationship with Russia?
I don't think the matter can be put behind us because the investigation by the special counsel's office was a relatively narrow one. It was a deep one, a lot of subpoenas were sent out, but the broader issue as to whether the Trump campaign or Trump himself engaged in numerous covert acts intended to aid and abet Russia foreign policy—that is something that Congress with its constitutional oversight responsibilities should pursue.
And we'll have to see how deep the Mueller report and it's backup went but you have to remember that this a complex, many-headed hydra and even two years of intensive investigation did not close nearly all the areas of investigation.
Congress has a lot of important business to do and it does have a responsibility in its congressional investigative committees to pursue these matters until they and the American public are confident that all of the facts have come to the forefront. Because without that I don't think the electorate will be able to make an informed decision in 2020 in the presidential election. All of the facts must be out and they certainly aren't at this time.
Was it a mistake for Democrats to focus so heavily on the special counsel's Russia probe?
Both prosecutorial offices like the Southern District of New York as well as Congress must do their job. They are mandated by Article 1 of the Constitution to provide oversight and investigative resources. I am fairly confident that they will do that, whether that's politically wise or not for the Democrats. I really can't speak too much to it, but I think it is part of their obligation which was abdicated under Republican leadership in Congress. I think the Democrats, whether it's good or bad for them in 2020 we'll see, are really required to take that responsibility very seriously and will be pursuing that no matter what the outcome may be.
With the Mueller probe over, what do you now consider to be the biggest threat to Trump and his presidency?
Well I think it's two-fold. One is the Mueller report itself and the details relating to that. When the public sees it, it may pose a very serious political issue to Donald Trump just as when the Watergate tapes came out. The public was so shocked at the way [Richard] Nixon conducted himself in the White House that it was the beginning of the end for Nixon. I think that's one of the two most serious threats he faces to his presidency. The other is the investigation in New York by the Southern District.