Donald Trump Repeats 'China Virus' Slur on Fox News on Same Night As Atlanta Shootings
Former President Donald Trump referred to COVID-19 as the "China virus" in a television interview on the night that several Asian women were shot dead at three massage parlors in Georgia.
Eight people were killed, six of them Asian women, in shootings that took place on Tuesday evening, authorities said. The first was at Young's Asian Massage along Highway 92 in Acworth, about 30 miles from Atlanta, around 5 p.m. Two more shootings took place in Atlanta about an hour later.
A 21-year-old white man, Robert Aaron Long, was later taken into custody.
Authorities have yet to confirm a motive, but the shootings come amid a spike in attacks against Asian Americans in the U.S. Many lawmakers and celebrities took to Twitter to speak out about the issue, using the hashtag #StopAsianHate.
Officials and activists have said anti-Asian attacks were fueled by Trump's rhetoric as his administration struggled to contain the coronavirus, which originated in Wuhan, China. The former president frequently referred to COVID-19 as the "China virus" and also used the racist term "Kung flu."
Vox reporter Aaron Rupar noted that Trump used the phrase "China virus" during a Fox News interview that started at 7 p.m. ET on Tuesday.
"I don't think it's a coincidence that Trump spent the better part of a year using a virus as a slur against Chinese people while hate crimes against Asian Americans spiked by 150 percent," Rupar tweeted.
"Trump even used an anti-Chinese slur during his interview this evening on Fox, just before news trickled out of a mass shooting in the Atlanta area that apparently targeted Asians and left 8 people dead," he wrote.
Speaking to Fox's Maria Bartiromo, Trump said: "We got [the economy] to a level that the world has never seen before. We were the envy of the world and then when we got hit by the—as I call it the China virus, COVID—it obviously went down with every other economy."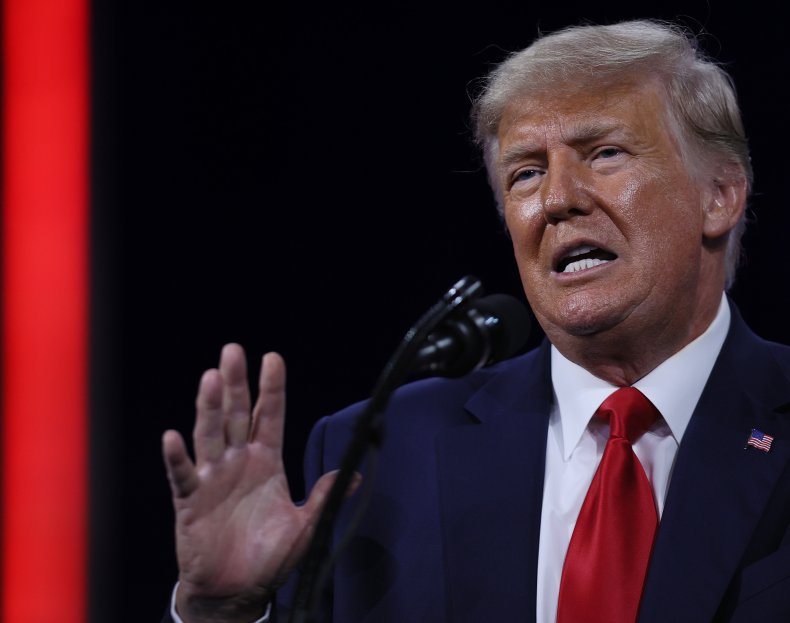 Trump also mentioned the "China virus" in a statement last week, in which he claimed a coronavirus vaccine would not have been available for at least five years without him.
Days later, President Joe Biden condemned hate crimes against Asian Americans, who he said had been "attacked, harassed, blamed and scapegoated" during the pandemic.
"They're forced to live in fear for their lives just walking down streets in America. It's wrong. It's un-American and it must stop," the president said in a primetime address marking one year since the World Health Organization declared the virus outbreak a pandemic.
Biden's press secretary Jen Psaki later told reporters that Biden had concerns about Trump's role in provoking hate against Asian Americans.
The group Stop AAPI Hate released a report on Tuesday revealing that it had been notified about almost 3,800 incidents between March 19, 2020, and February 28 this year.
The figures represent just a fraction of the actual number of cases, the organisation said. According to the data, Asian women reported hate incidents 2.3 times more than men.
"The reported shootings of Asian American women on Tuesday in Atlanta is an unspeakable tragedy–for the families of the victims first and foremost, but also for the AAPI community—which has been reeling from high levels of racial discrimination," the non-profit tweeted on Tuesday night.
"Few details have been released, including whether or not the shootings were related or motivated by hate. But right now there is a great deal of fear and pain in the Asian American community that must be addressed."