Donald Trump's 'Salute to America': Where to Watch Live Stream of President's Speech at Lincoln Memorial, Parade Routes, Fireworks, and Tanks on Display
This year, President Donald Trump's Salute to America will honor each of the nation's five service branches with music, military demonstrations, flight demonstrations and much more. But where can you watch the festivities live online?
Starting at 6:30 p.m. until 7:30 p.m. at the Lincoln Memorial, Salute to America will host participants such as the Old Guard Fife and Drum Corps, the U.S. Army Band ("Pershing's Own"), the Armed Forces Chorus and the United States Marine Corps Silent Drill Team. The gates will open at 3:30 p.m. local time. Access points are open from 10:00 a.m.
President Trump will be making a speech during the event, and Abrams tanks and other military vehicles will be on display. If you'd like to see the event live, you can watch it on CBS News, C-SPAN and Fox News.
Aside from the president's own bash, there are numerous other events taking place around D.C. You can check out Newsweek's guide for full details: 4th of July Fireworks and Events in Washington, D.C.: Where to Celebrate Independence Day in America's Capital, Live Streams, and Parade Routes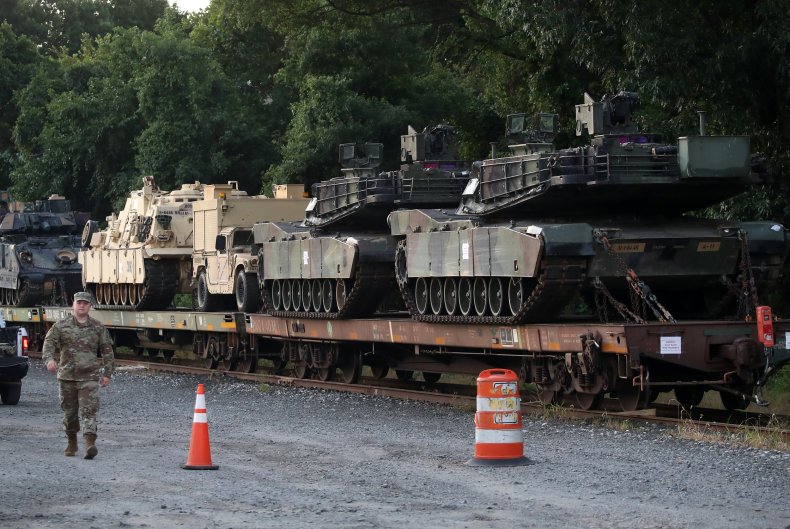 Prior to Trump's Salute to America, the National Independence Day Parade will start at 11:45 a.m. EDT. It is being streamed from the National Independence Day Facebook page at 11:45 a.m. EDT, and can be also watched later on in the day on its YouTube channel.
The parade starts at 7th Street NW, Constitution Avenue and continues for one mile to 17th Street NW, Constitution Avenue.
There is seating available on the steps of the National Archives Building, where you can watch the procession which starts at 11:45 a.m. until 2:00 p.m. local time. Or you can venture towards 17th Street NW, which is less crowded.
After the Salute to America, the Capitol Fourth Concert will begin and will be live on PBS from the West Lawn of the U.S. Capitol.
This year performers include:
John Stamos

Carole King

Sesame Street

Lindsey Stirling

Vanessa Williams

Vanessa Carlton

The Broadway Cast of Beautiful

Lee Brice

Keala Settle

Gone West featuring Colbie Caillat

The O'Jays

Yolanda Adams

Laine Hardy

Maelyn Jarmon

Laura Osnes

Angelica Hale

MusiCorps

Jack Everly

National Symphony Orchestra

Patrick Lundy & The Ministers of Music

Choral Arts Society of Washington

The United States Army Band "Pershing's Own"

The U.S. Army Herald Trumpets

The U.S. Army Presidential Salute Battery

The 2019 A Capitol Fourth will also be streamed on YouTube and Facebook.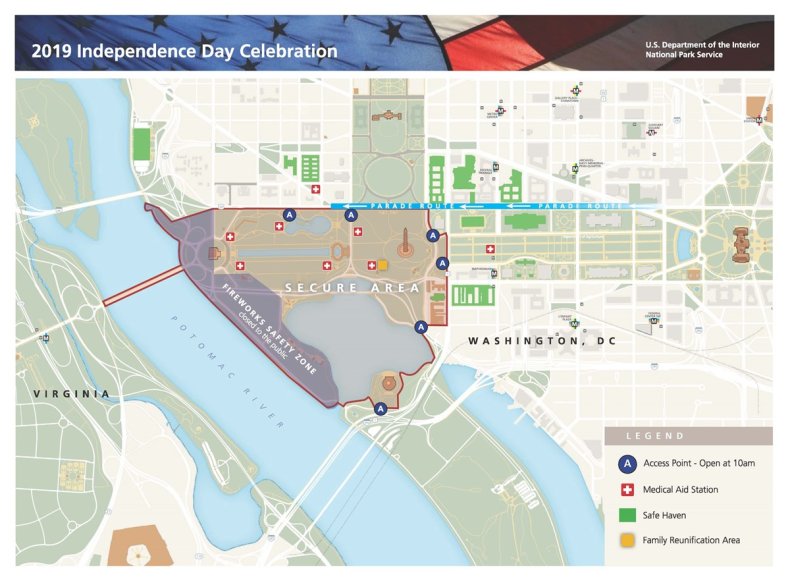 The National Mall Fireworks Display is expected to begin at 9:07 p.m. local time until 9:27 p.m. You can view the fireworks from the rooftop bars in the district such as POV Rooftop Lounge and Terrace at the W Hotel. Some are specifically hosting viewing events for the fireworks.
Fireworks can also be viewed from the following locations along the George Washington Memorial Parkway, according to the National Parks Service (NPS):
U.S. Marine Corps War Memorial and Netherlands Carillon
Columbia Island/Lyndon Baines Johnson Memorial Grove ( Access to the Potomac Riverfront is now possible via the new bike/pedestrian tunnel that runs underneath the Boundary Channel Bridge (a.k.a. the "Humpback Bridge")
Gravelly Point, north of National Airport
Washington Sailing Marina/Indigo Landing Restaurant at Daingerfield Island
According to the NPS, the following access points are for the public to get into National Mall:
Southside of Memorial Bridge
Constitution Avenue NW between 23rd Street NW and Henry Bacon Drive NW
Constitution Avenue NW and 17th Street NW (opens at 2 p.m.)
Westside of 14th Street NW at Madison Drive NW (opens at 2 p.m.)
Westside of 14th Street SW at Jefferson Drive SW
Maine Avenue SW and Raoul Wallenberg Place SW (15th Street SW)
East Basin Drive just south of the Jefferson Memorial (visitors will not be able to access the National Mall from here)
East Basin Drive at Inlet Bridge SW
Access points to A Capitol Fourth are:
3rd Street NW and Pennsylvania Avenue NW
3rd Street SW and Maryland Avenue SW
The graphic below, provided by Statista, highlights that in a recent poll by Monmouth University, 80 percent of Americans have likely not heard about Donald Trump's plan to give a speech from the Lincoln Memorial on the 4th of July.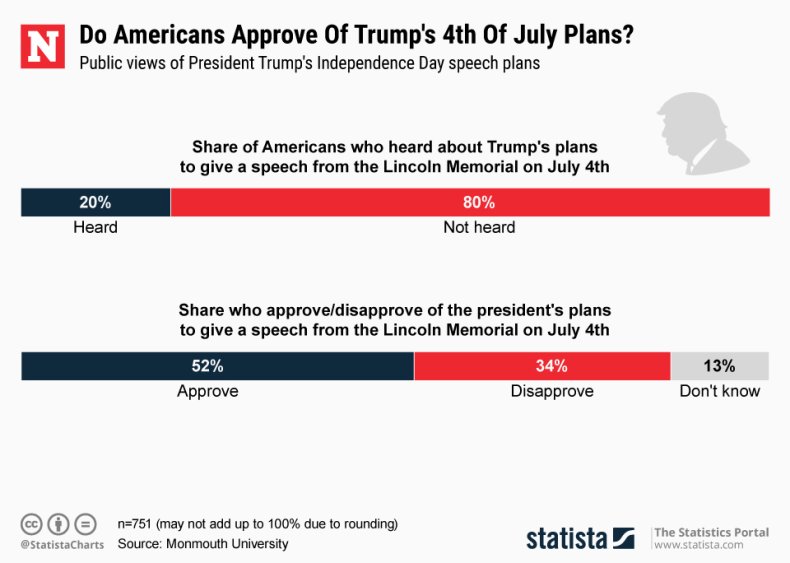 This article was updated to include an infographic.