Are Donald Trump's sanctions working? Iran's economic pain has created unrest that is weakening the Tehran government at home and abroad.
Iran's Islamic Revolutionary Guards have killed at least 106 protesters in violent demonstrations against fuel price hikes, Amnesty International said in a report Tuesday. The London-based human rights organization, citing "credible reports," said the actual death toll could be far higher, with reports from Iran alleging as many as 200 have been killed.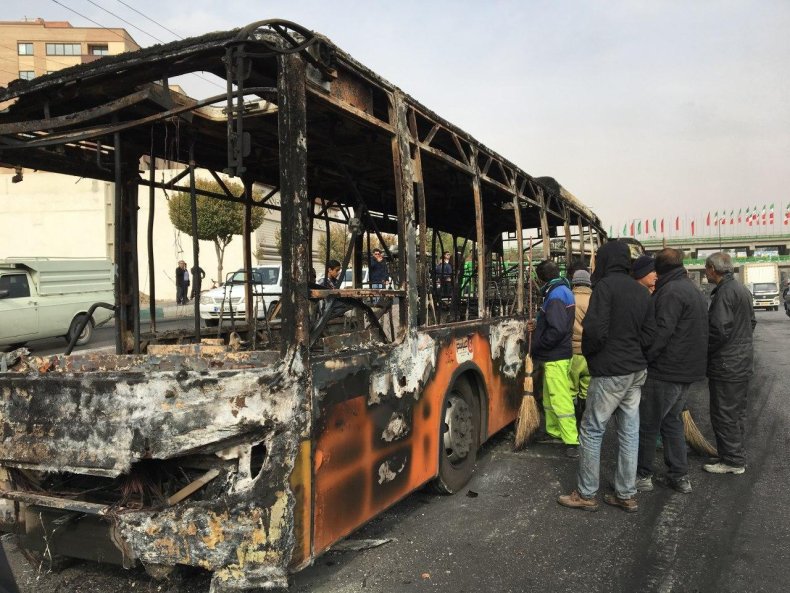 The Iranian government has not provided any casualty figures since the street protests began on Sunday in response to an abrupt 50 percent hike in gasoline prices. Iranians, already suffering from the harsh U.S. sanctions aimed at forcing Tehran to abandon its nuclear and ballistic missile programs and its support for regional proxies, smashed storefronts, burned vehicles and ransacked buildings in major cities including the capital, according to Iranian media reports.
Amnesty International's casualty report came a day after Islamic Revolutionary Guards, Iran's most powerful security force, warned demonstrators they faced "decisive action" after days of violent riots, signaling a major crackdown was imminent. Meanwhile, the hardline Kayhan daily newspaper said Tuesday Iran's conservative judiciary agreed that death by hanging was an appropriate punishment for protest leaders.
The Iranian government has been under attack in two of its most important client states as well, with widespread protests continuing in Iraq and Lebanon.
For the past six weeks, violent street demonstrations and gunfire have rocked Iraq as angry mobs, accusing Prime Minister Adil Abdul Mahdi's government of rampant corruption, cronyism and the breakdown of basic services, and demand its ouster.
But the main focus of their anger is neighboring Iran, which the demonstrators regard as the guiding hand behind the Mahdi government and therefore ultimately responsible for its failings. Chanting "Out, out, Iran!", protesters torched an Iranian consulate in the holy Shiite city of Karbala and burned Iranian flags. And in a response that underscored Iran's outsized role in the country, Iraqis militias that are armed, trained and paid by Tehran opened fire on the protesters, killing more than 300 and wounding some 15,000 so far. Still, the demonstrations continue.
Leaked documents obtained by The New York Times and The Intercept underscore just how deeply Iran has embedded itself in Iraqi affairs.
In Lebanon, anger over official corruption and a national economic crisis is driving a similar wave of protests that already has brought down the government of Prime Minister Saad Hariri and thwarted attempts to form a new government. Though not as violent as the demonstrations in Iraq, the protests are calling for new technocratic leaders who are not beholden to the country's traditional division of power among Christians, Sunnis and Shiites. These demonstrations threaten the grip of Hezbollah, the strongest militia in Lebanon and whose political arm is a key member of the largest bloc in the Lebanese parliament. Hezbollah also is Iran's oldest and most important Shiite proxy in the region.
The unrest in Iraq and Lebanon can be seen as Arab Spring 2.0—another wave of popular uprisings against the regimes in Tehran, Baghdad and Beirut, whose leaders have become millionaires while ordinary citizens contend with mountains of uncollected garbage on their streets, contaminated water and electrical power that works only a few hours a day. Exacerbating Lebanon's woes is a crushing national debt and a foreign currency crunch that has forced banks to close, preventing the payment of salaries and halting the import of foreign goods.
The first version of Arab Spring protests in 2011 produced a fledgling democratic government in Tunisia, a military crackdown in Egypt, and bloody civil wars in Libya and Syria. It's far too early to say where the current protests are headed. But what distinguishes this round of demonstrations is the blame that protesters are heaping on Iran, which has emerged over the past few decades as the most influential power in the Middle East through its careful cultivation of proxies like Hezbollah and various Shiite political parties and militias in Iraq and Syria.
While Iranians have protested government austerity measures before, this is the first time that Tehran's regional influence has been challenged by two of its most important client states. And in both Iraq and Lebanon, the protesters include the same Shiite communities that Iran has always regarded as the pillars of its support.
"When official corruption occurs, people blame their rulers, and the de facto ruler in both Lebanon and Iraq is Iran," Hanin Ghaddar, a Lebanese expert on Shiite politics at the Washington Institute for Near East Policy, told Newsweek.
Ever since its 1979 Islamic revolution, Iran has managed to fill some of the major power vacuums that opened up in the Middle East as a result of Palestinian-Israeli conflict, the U.S. invasion of Iraq and other upheavals in the region. The result has been the spread of Iranian military and political influence across the Middle East and a shift in the regional balance of power away from U.S-backed Sunni Arab countries and toward Iran and its Shiite proxies.
Tehran began to expand its regional influence in 1982 with its creation of Lebanon's Shiite Hezbollah militia, which bloodied U.S. Marines in Beirut, drove occupying Israeli troops out of Lebanon and became a key player in Lebanon's coalition government last year. After U.S. forces toppled Iraqi dictator Saddam Hussein in 2003, Iran-backed politicians came to dominate Iraq's parliament and the country's military. During Syria's civil war, Iran's Revolutionary Guards mobilized Hezbollah and other Shiite proxies to secure the allied regime of President Bashar al Assad. And in Yemen, Iranian military aid has helped rebel Houthi tribesmen bleed a Saudi-led Arab coalition trying to restore the ousted Sunni government to power.
In Iraq and Lebanon, Iran's problem was its failure to translate its military and political successes into socio-economic gains. "In other words, Iran failed to put food on the table," Ghaddar said.
Putting food on the table and other governance issues were never a priority for Iran or its proxies, which focused their political influence in Iraq and Lebanon to advance Iran's military standing in the region. In Iraq, however, proxies such as the Provincial Mobilization Units also pilfered public funds to support their pro-Iranian military activities. "They became the poster boys for corruption and racketeering," said Randa Slim, an expert on the region at the Middle East Institute, a Washington think tank.
And in Lebanon, she added, Hezbollah "failed to meet the public's expectation that once they became part of the government, their responsibilities included effective stewardship of government funds and the economy."
As a result, Iran's standing among ordinary Iraqis and Lebanese has been severely tarnished. As street protests against Iran continue across Iraq, another sign of that sentiment was evident in Baghdad last week after Iraq's national soccer team defeated Iran 2-1 in a World Cup qualifying match. A jubilant crowd cursed Iranian Maj. Gen. Qassim Soleimani, the head of the Revolutionary Guards elite Quds Force, who was in Baghdad recently to direct the crackdown on demonstrators. "Many Iraqis felt they had humiliated a country that had humiliated them," Slim said.
The questions now are whether the protesters can translate their anger into political power that can challenge Iran's proxies at the ballot box and whether Iran will allow the changes the protesters are demanding to reduce its influence. "We're only in the second inning of this game," says Jon Alterman, head of the Middle East program at Washington's Center for Strategic & International Studies.
Many observers anticipate a protracted battle in the streets of Lebanon and Iraq as the protesters press their demands for an end to Iran's corrupting influence and Tehran's proxies fight to defend the sectarian politics that gave Iran such a powerful grip on their governments in the first place.