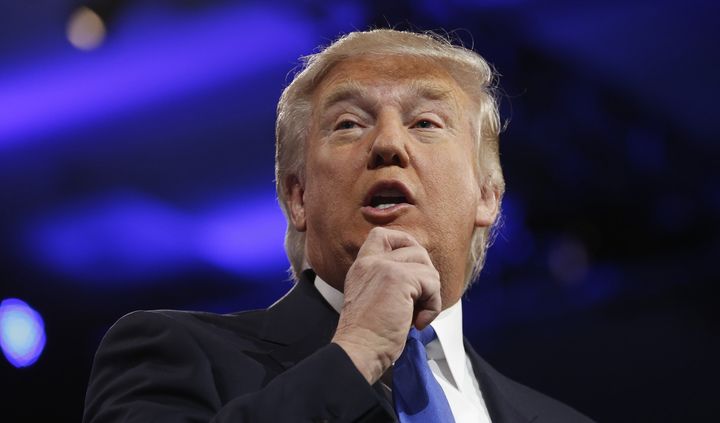 President Barack Obama spoke at a vigil on December 16, 2012, in Newtown, Connecticut, two days after the fatal shooting of 20 first-graders and six educators in the town's Sandy Hook Elementary School.
"We can't tolerate this anymore," he said. "These tragedies must end. And to end them, we must change. We will be told that the causes of such violence are complex, and that is true. No single law—no set of laws—can eliminate evil from the world, or prevent every senseless act of violence in our society. But that can't be an excuse for inaction. Surely, we can do better than this."
The massacre prompted Obama and the victims' families to launch a huge political campaign for stronger gun laws, which abruptly ended four months later when the Senate failed to pass a comprehensive background-checks bill.
In response to Obama's speech three and a half years ago, Donald Trump—who then was simply a private citizen, not running for the highest office in the land—tweeted in support of the Democratic president: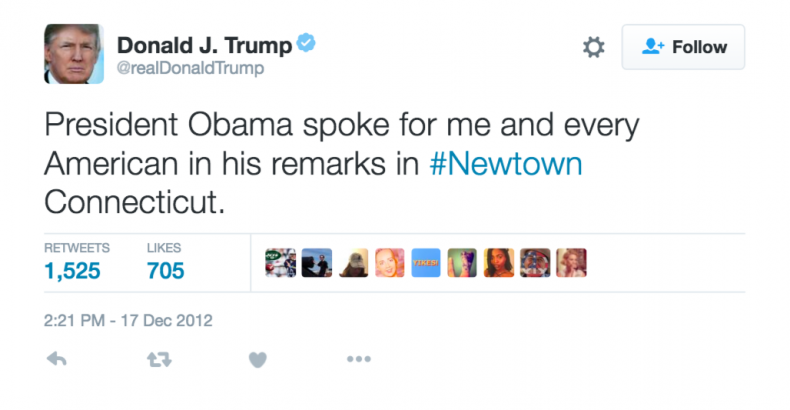 Additionally, before he was running for president, the brash New York billionaire called out Republicans who "walk the NRA line" and "refuse even limited restrictions" on firearms. Twelve years before he publicly supported Obama in his tweet, Trump wrote about his views on firearms laws.
"I generally oppose gun control, but I support the ban on assault weapons and I also support a slightly longer waiting period to purchase a gun," he wrote in his 2000 book, The America We Deserve.
But by April 2015, two months before he entered the presidential race, Trump had changed his tune, telling NRA members gathered at the organization's annual event: "I love the NRA. I love the Second Amendment."
Moments before Trump took the stage on Friday to address thousands of members gathered in Louisville, Kentucky, NRA Executive Director Chris Cox said the organization is endorsing Trump for president. The presumptive GOP nominee called the NRA's support "a fantastic honor."
"Remember that," he added, "I will not let you down."