Donald Trump Said Saudi Arabia's King Salman Was 'Right Out of Central Casting,' Bragged About Not Bowing to Him: Report
President Donald Trump reportedly said Saudi Arabia's King Salman bin Abdulaziz al-Saud was "right out of central casting" and bragged that he did not bow to the king when he visited last year after seeing ex-President Barack Obama make the gesture.
Trump made the "central casting" remark, often interpreted as referring to "people stereotypical of their role in appearance, behavior, or natured," according to Merriam-Webster, during a Protect the House PAC event at Trump International Hotel in Washington, D.C., last Thursday, Washington Post columnist Josh Rogin reported.
"[Trump] reminisced fondly about his May 2017 visit to Saudi Arabia and bragged about how he had refused to bow to Saudi Arabia's King Salman, who Trump said was 'right out of central casting,'" Rogin wrote in a column published Tuesday based on two attendees. "Trump had seen then-President Barack Obama bow to the king and had no intention of doing the same."
Trump then apparently said that the king had called him recently to ask the United States to assist with a big, undisclosed military operation that was "probably highly classified." The president relayed that he told the king it would be too costly and that Saudi Arabia would have to pay the $4 billion bill for the U.S. to help.
That remark at the off-the-record fundraising event fell in line with what Trump said Tuesday at a campaign rally in Southaven, Mississippi, calling on Saudi Arabia, among other nations, to pay more for their own defense.
"We protect Saudi Arabia. Would you say they're rich? And I love the King...King Salman, but I said, 'King, we're protecting you. You might not be there for two weeks without us. You have to pay for your military,'" Trump told his supporters.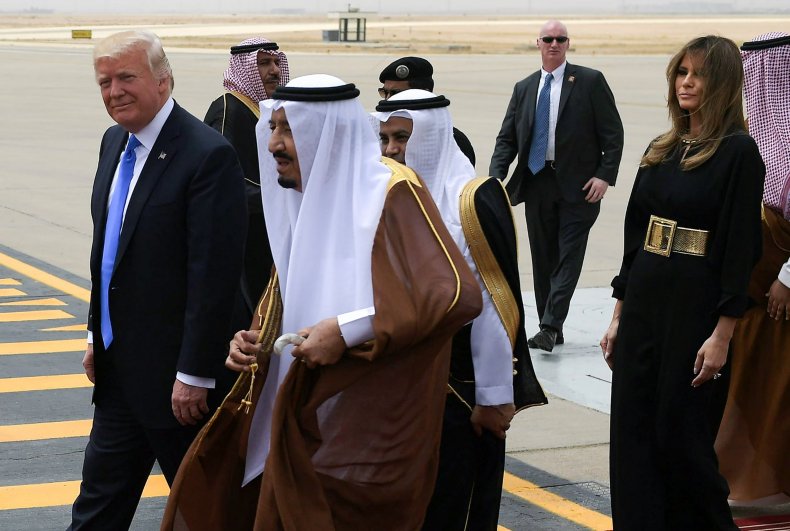 The president's story on the king at the donor event was just one of several that "didn't seem to have a point," Rogin wrote.
Trump also said he very much enjoyed his November 2017 Beijing trip to meet Chinese President Xi Jinping and joked that Chinese officials must wonder what went wrong because Trump engaged in the trade war. Trump said he and Xi were on friendly terms, but that might no longer be the case.
Notably, Trump allegedly said of Canadian Foreign Affairs Minister Chrystia Freeland, "She hates America," without calling out her name but obviously referring to Canada's lead negotiator. "We don't like their representative very much," Trump added, according to Rogin. Three days later, Trump announced the new trade deal with Canada and Mexico, known as the United States-Mexico-Canada Agreement (USMCA), and sent Canada's leaders his "highest regards."
Trump also apparently said that the European Union's foreign policy chief Federica Mogherini "hates America," and that it was a shame that both women hate America because female leaders are often better than their male counterparts.
The White House did not immediately respond to a request for comment from Newsweek on Wednesday. A White House spokesman declined to comment on the remarks to The Washington Post but said, "It was a highly successful night and the president had the crowd in great spirits."