Trump Slams Iran in Saudi Arabia Speech, Says Tehran 'Speaks Openly of Mass Murder'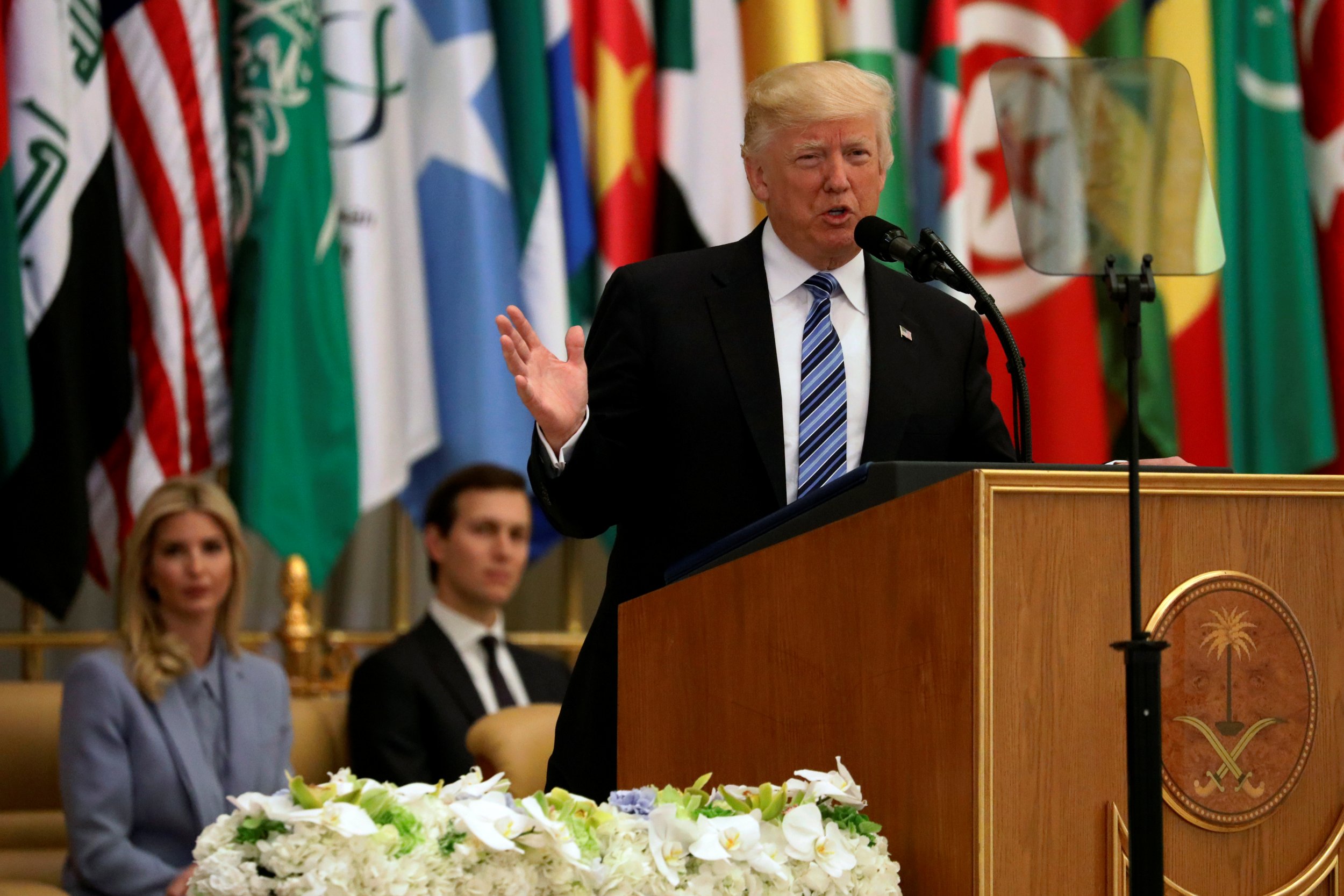 Donald Trump slammed Iran during his Saudi Arabia speech in Riyadh on Sunday.
In an address to 50 leaders from Muslim-majority countries, the president, said countries must unite to isolate Iran until the regime committed to becoming a "partner of peace."
Related: Trump is 'hamstrung' by Russia probe
"From Lebanon to Iraq and Yemen, Iran funds, arms and trains terrorists, militias and other extremist groups that spread destruction and chaos across the region," Trump said.
"For decades Iran has fueled the fires of sectarian conflict and terror; it's a government that speaks openly of mass murder, vowing the destruction of Israel, death to America, and ruin for many leaders and nations in this very room.
He added: "Among Iran's most tragic and destabilizing interventions, you've seen it in Syria. Bolstered by Iran, Assad has committed unspeakable crimes, and the United States has taken firm action in response to the use of banned chemical weapons by the Assad regime, launching 59 missiles at the Syrian air base from where that murderous attack originated."
Ahead of Trump's speech, Iran's foreign minister, Mohammad Javad Zarif, advised the U.S. president to talk to Saudi Arabia about how to avoid another September 11-style attack.
"[Trump] must enter into dialogue with them about ways to prevent terrorists and takfiris from continuing to fuel the fire in the region and repeating the likes of the September 11 incident by their sponsors in Western countries," Zarif wrote for the website of the London-based Al Araby Al-Jadeed news network.
Introduced by Saudi Arabia's King Salman, who said he did not blame the people of Iran for the regime that "violated principles of international law", Trump made a 33-minute speech that encouraged people to unite against Islamist militants.
"If we leave this magnificent room unified and determined to do what it takes to destroy the terror that threatens the world, then there is no limit to the great future our citizens will have," he said.
Trump had pledged to comment on Iran during his speech, stating ahead of the address in comments carried by CBS: "I will represent the views of the American people frankly and clearly. Many of these leaders have expressed growing concern about terrorism, the spread of radicalization, and Iran's role in funding both."
He added: "Now it appears Muslim leaders are ready to take more responsibility and a much bigger role in fighting terrorism in their region. It's about time we do it, we'll do it together, but it has to be done."