Donald Trump Says All the States That Voted for Him Had No Election Fraud
Former President Donald Trump has said that there was no election fraud in states that he won during the 2020 presidential election.
Trump made his comment during an interview with Fox News host Sean Hannity broadcast from Mar-a-Lago on Monday night. Hannity asked Trump his thoughts about Georgia's recently passed voting law, which has been criticized by Democrats as racist and anti-democratic.
"Florida, Ohio, all of the states that we won, were properly run," Trump said, claiming that all red states in the 2020 election had "properly run" their elections with enough safeguards against fraud.
"Look, Florida was properly run. Ohio was properly run. South Carolina was properly run. By the way, North Carolina, Democratic governor, we won that. You know, that's always very tough to win. We won it very nicely—properly run. Happened to have a Democrat governor, in all fairness," Trump continued.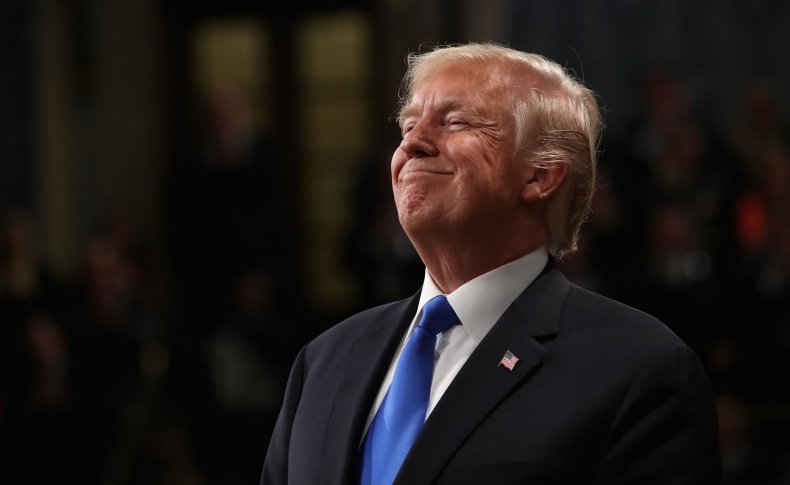 Months before the 2020 election, Trump claimed that he would only lose if massive fraud altered the vote. Trump lost the 2020 election by over 7 million popular votes and 74 electoral votes.
Ever since, Trump and his supporters have claimed that he lost due to an unprecedented national conspiracy of voter fraud that occurred in the states that didn't vote for him.
After losing the election, the Trump campaign and Republican officials mounted legal challenges in seven states where Trump lost: Arizona, Georgia, Michigan, Minnesota, Nevada, Pennsylvania and Wisconsin. Nearly every legal challenge was either dismissed or withdrawn due to lack of evidence.
Two former Trump Administration heads have also said that there's no evidence that the election was stolen. Both former Attorney General William Barr, the head of the Department of Justice and the Department of Homeland Security, and Chris Krebs, the former head of the Cybersecurity and Infrastructure Security Agency (CISA), the federal agency in charge of maintaining election security, said so.
Trump didn't publicly acknowledge that he'd be leaving office until his January 7 statement.
"Even though I totally disagree with the outcome of the election, and the facts bear me out, nevertheless there will be an orderly transition on January 20th," Trump's statement said.
"I have always said we would continue our fight to ensure that only legal votes were counted. While this represents the end of the greatest first term in presidential history, it's only the beginning of our fight to Make America Great Again!" his statement concluded.
Democrats impeached Trump in February 2021 for allegedly inciting the January 6 insurrection at the Capitol with his election fraud claims. On the day of the riot, Trump held a "Stop the Steal" rally near the Capitol. Numerous people arrested for allegedly participating in the riots say they invaded the Capitol because they believed Trump's claims.
Worries of "fraud" have also compelled Republican legislators in 43 states to introduce at least 253 bills tightening voting requirements, according to the Brennan Center for Justice, a liberal-leaning legal institute at New York University.
Newsweek contacted Trump's office for comment.