Donald Trump Says Antifa is 'Going to Be in Big Trouble' as Opposition is 'Getting Angrier'
President Donald Trump has a strong message for members of the anti-fascist movement, known as the antifa.
"These people, like the Antifa—they better hope that the opposition to Antifa decides not to mobilize. Because if they do, they're much tougher. Much stronger. Potentially much more violent," Trump told conservative news site The Daily Caller in an interview in the Oval Office on Wednesday. "And Antifa's going to be in big trouble."
Trump added, "But so far they haven't done that and that's a good thing."
The president reiterated that the antifa "better hope that the other side doesn't mobilize."
"Because if you look, the other side, it's the military. It's the police. It's a lot of very strong, a lot of very tough people. Tougher than them. And smarter for them," Trump said. "They're sitting back and watching and they're getting angrier and angrier."
The president was asked to comment on a mob that gathered outside the home of Fox News host Tucker Carlson last week chanting, "You are not safe," and, "Tucker Carlson, we will fight. We know where you sleep at night!" Carlson, who co-founded The Daily Caller, was not home at the time but his wife was and called 9-1-1. It is being investigated by police as a hate crime motivated by politics.
"I spoke to Tucker—I think Tucker's a great guy—and I think it's terrible," Trump responded. "They were actually trying to break down [his] door."
Antifa staged violent riots on the day Trump was inaugurated as president. Many arrests of Antifa members have occurred across the United States since he took office.
Trump has referenced Antifa before. At a private state dinner in August with evangelical Christian ministers, Trump warned of violence if Republicans lost control of Congress in the midterm elections.
"You're one election away from losing everything you've got," Trump said in an audio recording of the meeting obtained by The New York Times. "They will end everything immediately. They will overturn everything that we've done and they'll do it quickly and violently. And violently. There's violence. When you look at Antifa, and you look at some of these groups, these are violent people."
Republicans lost the House in the midterm elections, but retained control of the Senate.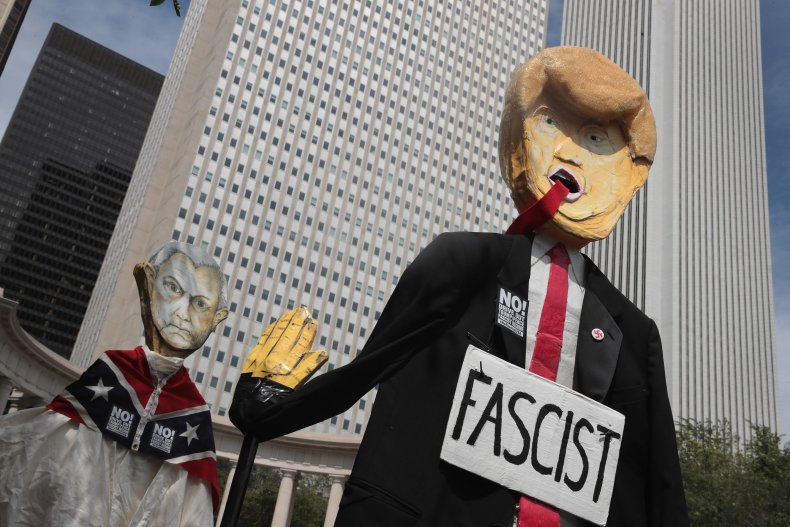 Antifa members are anti-fascist demonstrators who don black and argue that they must make neo-Nazis and white supremacists fearful of protesting in public in order to stop the far-right groups from growing stronger.