Donald Trump Says Biden Wants to 'Get Rid of Air Conditioning' for American Seniors
President Donald Trump said during a campaign event at retirement community The Villages in Florida on Friday that Democratic presidential nominee Joe Biden's energy plans would take away air conditioning from senior citizens.
During a discussion of energy during Thursday's final presidential debate, Biden said that his administration would "transition" away from the oil industry and replace it with renewable energy resources. Trump, who has rolled back environmental regulations, fired back at Biden by saying he would destroy the oil industry.
At Friday's afternoon campaign event, Trump said Biden's proposed move away from fossil fuels "would mean America's seniors have no air conditioning during the summer, no heat during the winter and no electricity during peak hours. It's true."
Trump said Biden's comment about the fossil fuel industry "could be one of the worst mistakes made in presidential debate history."
Biden said during the debate that his administration would redirect the U.S. away from the use of fossil fuels "because the oil industry pollutes significantly."
"It has to be replaced by renewable energy over time, over time," Biden said, "and I'd stop giving to the oil industry—I'd stop giving them federal subsidies."
Trump called Biden's remark a "big statement," adding that Biden was "going to destroy the oil industry."
Newsweek reached out to the Biden campaign for comment.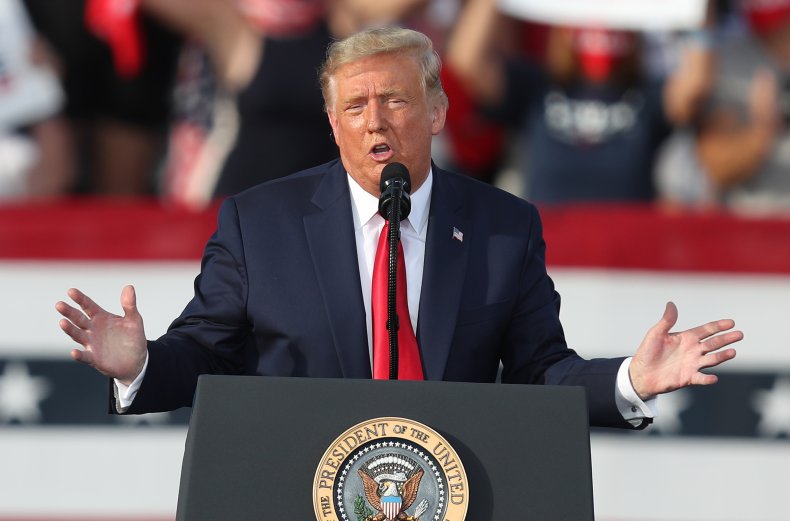 Biden attempted to clarify his remarks to reporters after the debate. "We're not getting rid of fossil fuels," Biden said. "We're getting rid of the subsidies of fossil fuels but we're not getting rid of fossil fuels for a long time."
Trump has alleged that Biden has flip-flopped on his policies on fracking, a method for extracting oil and natural gas from the ground. After the debate, the Trump campaign released a video showing Biden and his Democratic running mate, Senator Kamala Harris, purportedly supporting fracking during public comments. Posted on Trump's Twitter feed, the video has received over 12 million views.
Biden's published energy policies do not mention banning fracking outright but do call for an end to new fracking operations on federally-owned land.
Biden's comments could have a negative effect on voters in states, such as Pennsylvania, that rely on the fossil fuel industry for jobs. According to the U.S. Energy Information Administration, Pennsylvania produces the second-greatest amount of total energy in the U.S., second only to Texas. Trump's administration has rolled back environmental regulations making it easier for companies to construct pipelines for oil and natural gas.
Biden is expected to campaign in Pennsylvania on Saturday. According to a Thursday announcement from Biden's campaign, the topics of discussion are expected to include "building back the economy better for working families."