Donald Trump Says Biden's 'Weakness, Incompetence, Stupidity' Led to Invasion
Former President Donald Trump claims that the invasion of Ukraine by Russia is due to President Joe Biden's "weakness," "incompetence" and "stupidity."
The former president, speaking Wednesday night on Fox News' The Ingraham Angle, told host Laura Ingraham that Biden "doesn't know what the hell he is doing."
"It's a disgrace," Trump claimed. "It's an absolute disgrace."
Trump continued by saying that the invasion of Russia would not have happened had he won the 2020 presidential election.
"I think the whole thing again, would have never happened," Trump said about the invasion. "It shouldn't happen, and it's a very sad thing."
"It all happened because of a rigged election. This would've never happened," the former president added.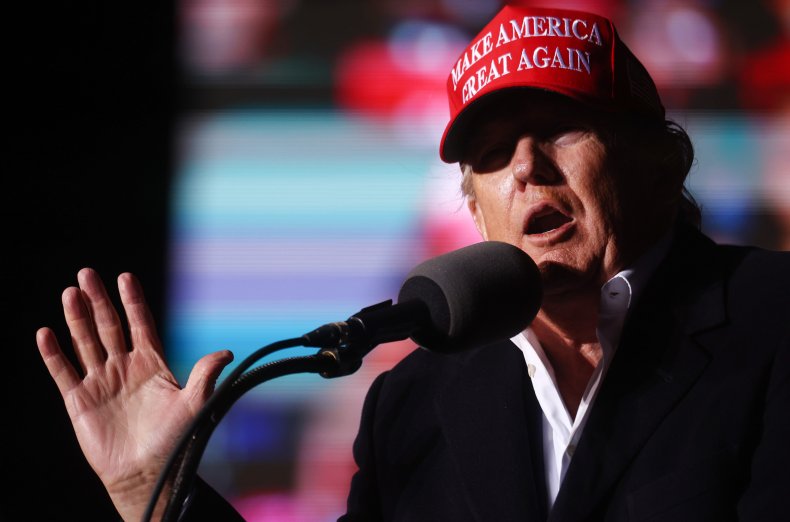 Trump also claimed that Russian President Vladimir Putin had decided to invade Ukraine because he felt "weakness" from the United States under the leadership of Biden. This has resulted, Trump claimed, in Putin pushing toward a complete invasion of Ukraine.
"[Putin] was going to be satisfied with the beast," Trump said. "And now he sees the weakness and the incompetence of the stupidity of this administration."
The former president also claimed that the Biden administration had allowed the strengthening of an alliance between China and Russia, expressing his belief that this building up of power began during the administration of former President Barack Obama.
"I always heard that the worst thing that can happen is if we drive those two countries together," Trump said. "It really started with Obama and energy ... he drove them together ... and Biden, now it looks like it's a great love fest, and that's a very bad thing."
Trump's comments come one day after he praised Putin following the Russian president's initial intrusion into Ukraine. During an appearance on conservative radio program The Clay Travis and Buck Sexton Show, Trump described the invasion as "genius" and "wonderful," while also calling Putin "tough" and "patriotic."
"I went in yesterday, and there was a television screen, and I said, 'This is genius.' Putin declares a big portion of the Ukraine ... as independent," Trump said. "Oh, that's wonderful. I said, 'How smart is that?' And he's going to go in and be a peacekeeper."
"I mean, you know, he's a tough cookie, got a lot of the great charm and a lot of pride. But the way he—and he loves his country, you know? He loves his country," Trump said.
This sentiment was also echoed by Trump's former secretary of state, Mike Pompeo, who in January described Putin as "very shrewd, very capable."
"[Putin] was always well-informed and deeply clear about what Russian interests were," Pompeo said. "I appreciated that. It required the same from us, from me, from my team ... he is very savvy, very shrewd."
While the former president has made his opinion on the matter clear, a number of Republican politicians praised Biden after he imposed sanctions against Russia, in a rare show of bipartisan unity.
This includes those who are often staunch critics of the president, such as Senator Ted Cruz (R-Texas). The senator said Wednesday, "President Biden made the right decision today."
"President Biden has now taken positive steps ... but much more still needs to be done to deter and counter the threat that Putin poses to our allies in Ukraine and across Europe," Cruz said.
Prior to the Russian invasion, U.S. State Department spokesperson Ned Price reacted to Trump's description of Putin as a "genius."
"I have no response," Price said Wednesday. "In fact, I have no words."
Newsweek has reached out to the White House for comment.