Trump Says BLM Mural Will 'Denigrate' 5th Ave But It May Help Property Values
Despite President Donald Trump's claims that a sign showing support for the Black Lives Matter movement would "denigrate" New York's Fifth Avenue, research shows that street art like graffiti and murals can actually increase property values and make real estate in a given neighborhood more attractive.
In a Twitter thread on Wednesday, Trump criticized New York City Mayor Bill de Blasio for shifting $1 billion away from the NYPD. In an interview with MSNBC, de Blasio suggested painting "Black Lives Matter" in front of Trump Tower on Fifth Avenue.
"[T]he @NYCMayor is going to paint a big, expensive, yellow Black Lives Matter sign on Fifth Avenue, denigrating this luxury Avenue," the president wrote. He also suggested that the sign would annoy NYPD officers.
Despite Trump's claim that a piece of street art with "Black Lives Matter" written on Fifth Avenue would depreciate the value of the luxury street, many sources show that public works of art tend to increase property values in neighborhoods where it is displayed.
In an academic study published in the peer-reviewed journal Sustainability in January 2019 called "How Can Street Art Have Economic Value," Fabiana Forte of Italy's University of Campania's Department of Architecture and Industrial Design wrote about street art increasing in New York often leads to gentrification and increased property prices. "[T]he once popular neighborhoods of Chelsea, Lower East Side, and Harlem show a high percentage of murals nowadays and are subject to an intense gentrification phenomenon. In these neighborhoods, as well as in others, the requests for new murals are numerous, because the building owners understand these interventions can attract new tenants with a higher income capacity," she wrote.
Forte cited a building in Manhattan's Chelsea neighborhood that was originally valued at $880,000 but was increased to over $2 million after two murals were painted by Brazilian artist Eduardo Kobra. Forte wrote that media reports said that street art could increase values up to 15 percent depending on the artist.
A 2016 Royal Society Open Science study found that certain neighborhoods in London with more art as tagged by photos on the site Flickr saw increases in property values. New York's High Line and surrounding properties is another great example of an area where prices increased after street art was added, according to Realtor.com.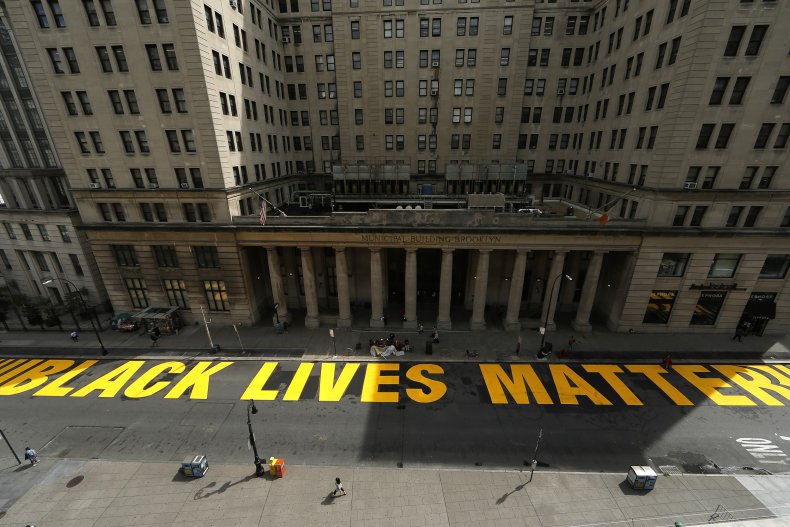 Real estate broker and star of Bravo's Million Dollar Listing New York Ryan Serhant told Newsweek that he doesn't think street art would "denigrate" Fifth Avenue.
"Everybody has their own particular taste, but no one likes art better than the incredibly rich who live on Fifth Avenue, and that is very very clear, which is why we use art and graffiti especially and street art in so many of our new development projects in the marketing plants and in the event launches," Serhant told Newsweek.
Serhant also said that people might hold onto the street art that's emerged in the past month to commemorate the actions seen in the past month.
"There's a big difference too between messy graffiti that looks messy, and then street art. Street art is very different. You can see that with Banksy. Even some of the street art you see in Soho right now, some might say that it's denigrating to values in Soho. Others are looking through, and they're taking photos of it, and they're standing next to it and taking photos of themselves, and I think some of these retailers might even keep some of it," he said. "They might use them in their stores when the stores open back up so that no one ever forgets the moment that passed through time in June of 2020, and I don't think someone's going to say, 'Oh, I'm not going to buy this fifth-floor apartment for $15 million, because there's graffiti on the corner.'"
While he pointed out that there is a difference between messy graffiti and street art, the mayor's suggestion that it will be commissioned by the city qualifies it as street art. "If it's government-sanctioned, it's street art. For anyone that's on Fifth Avenue, it's not about the pavement. The value of your home is Central Park and is the views, and everybody knows that," Serhant said towards the end of our call.
Serhant also said that different types of street art meant different things, and the values of different pieces of street art show in what's kept. "If it's art, it's one thing. If it's a message, it's another. If it's profanity, it's something totally different. At the end of the day, there's a difference between street art and vandalism. You see that, if you walk down the streets of Soho. You see the street art that's being left and people are taking photos with it, and you see the vandalism that's being taken down or scrubbed off."
Some developers have also begun using street art and graffiti styles to draw attention to buildings and apartments. Serhant spoke about using street art to launch the Hero building in Long Island City.
"We launched a new tower in Long Island City, and we did it by giving 500 brokers spray-paint cans and said, 'Go tag the building," and we sold 16 apartments in one night, because people were so excited about the art and how lively it was," he explained. "It worked incredibly well, and people were very into it. Now, I have developers all over the city saying, 'For my next launch, I want you to get all the brokers you know and come tag my building.' I don't know if it makes sense for every building, but we'll keep it in mind."
People are drawn to street art, "because it's active, because it's engaging, and because anybody can do it," as Serhant put it.
"Anybody can pick up a can of spray-paint and make a message, and I think that's what we've seen over the past month, and it engages people, and it makes them a part of the art and it makes them a part of the project that we're selling, and it's worked really well-far better than if you give people a can of paint and a paintbrush."