Donald Trump Says Border Security Is a 'Total Winner' but Insists He Does Nothing 'Just for Political Gain'
President Donald Trump said that border security, including his plan for a $5 billion wall between the U.S. and Mexico, was a "total winner" but insisted that he didn't make decisions only for "political gain."
"I don't do anything…just for political gain," the president said in an exclusive interview with Politico published Tuesday.
"But I will tell you, politically speaking, that issue is a total winner. People look at the border, they look at the rush to the police, they look at the rock throwers and really hurting three people, three very brave Border Patrol folks—I think that it's a tremendous issue, but more importantly, is really needed. So we have to have border security," he said.
Trump's made his comments as the Customs and Border Protection agency came under fire for using tear gas to repel migrants at the southern border. Photos showed the chemical agent was used against women and children, though the president and his top aides insisted that the tear gas was used to quell violent, rock-throwing men.
But this repeated claim, that Border Patrol agents had been gravely injured, was challenged by none other than Customs and Border Protection Commissioner Kevin McAleenan. In a statement released on Monday, McAleenan said that while four agents had been struck with rocks and other projectiles, they "were wearing protective gear and did not suffer serious injuries."
Trump made immigration, especially the migrant caravan making its way to the U.S. from Central America, a top issue as the midterm elections closed in. At rallies across the country, the president told supporters that he would keep out asylum-seeking migrants who tried to cross the border illegally.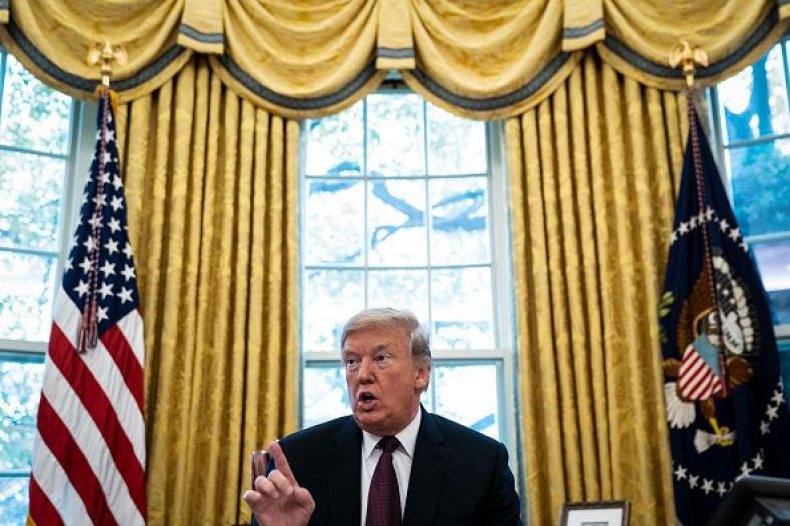 "That's an invasion. I don't care what they say. I don't care what the fake media says. That's an invasion of our country," Trump said at a campaign event for Tennessee Senator-elect Marsha Blackburn, the weekend before Election Day. "I am telling the caravans, the criminals, the smugglers, the trespassers marching toward our border, turn back now, because you are not getting in. Turn back."
After the midterms, in which Democrats regained control of the House of Representatives, Trump shifted his focus to urging Congress to fund his border wall. He told Politico that he would be "totally willing" to shut down the government if he did not get the $5 billion to build the massive structure. Top Democrats, including Senate Minority Leader Chuck Schumer of New York, said they were willing to approve $1.6 billion for the wall.
After Border Patrol's use of tear gas on the approaching migrants, the Mexican government called for a "full investigation." Trump has only doubled down on his rhethoric against the country, insisting that building the wall would solve these problems.
"Mexico should move the flag waving Migrants, many of whom are stone cold criminals, back to their countries. Do it by plane, do it by bus, do it anyway you want, but they are NOT coming into the U.S.A. We will close the Border permanently if need be. Congress, fund the WALL!" Trump tweeted earlier this week.