President Donald Trump has argued that the United States helped establish China to be the economic powerhouse it is today through turning a blind eye to dishonest trade practices, something for which he would no longer stand.
During a press conference Friday at the White House, Trump told reporters "we have helped create China as we know it today by allowing money to be sucked out of our country by the billions." Economic relations between the U.S. and China, the world's largest economies, have been thrust into uncertainty by an ongoing trade war.
The conflict began when Trump laid out protective steel and aluminum tariffs earlier this year, triggering retaliatory measures not only from China, but traditional allies Canada, the European Union and Mexico, among others, as well. With neither Washington or Beijing having expressed a desire to back down, billions of dollars of commerce have remained at stake.
Trump claimed Friday, however, that "China would like to make a deal" on trade, thus avoiding further tit-for-tat economic restrictions being put into place by both countries. Still, he warned tariffs would remain in place for the time being, because "we can't have trade that's meant for stupid people."
"That's the way they took advantage of our country," he added. "And we don't have that anymore."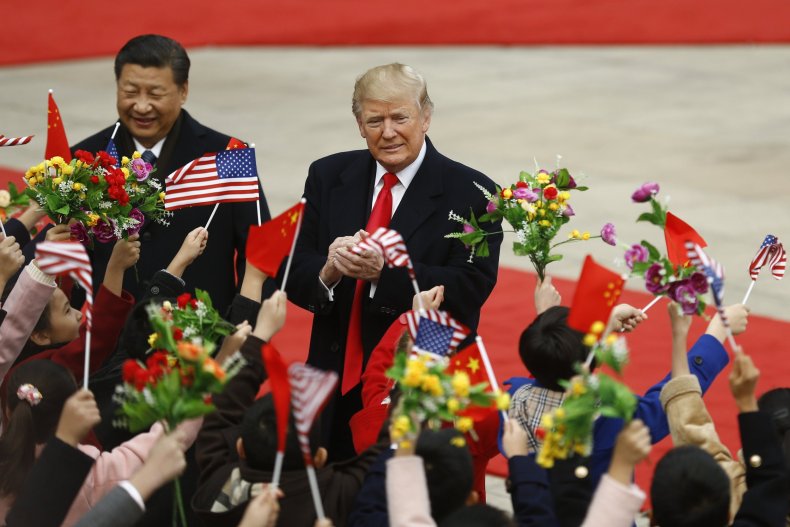 China adopted a strict communist economic system following guerrilla leader Mao Zedong's 1949 victory over a nationalist government that fled to Taiwan. After his death in 1976, successor Deng Xiaoping opened the country's market and helped begin China's decades-long rise as an economic superpower. Current Chinese President Xi Jinping has set out to enforce his own take on socialism with Chinese characteristics, an ideology embraced by successive U.S. administrations despite political differences.
Trump, however, has set out to take action against what he considered "unfair" Chinese trade practices such as currency manipulation and intellectual property theft. He has placed tariffs on up to $250 billion of Chinese goods in a stated effort to protect U.S. jobs and national security. China has responded with tariffs of its own and Trump has threatened a further $260 billion in measures should the spat not be resolved.
Both sides have resumed efforts to normalize their economic relationship. Trump and Xi spoke by telephone earlier this month and were set to meet at the G20 summit to be held in Buenos Aires at the end of this month and beginning of next.
"The high-level exchanges between China and the U.S. in the economic and trade areas have resumed," Chinese Foreign Ministry spokesperson Hua Chunying told reporters earlier Friday at a press conference in Beijing. "Meanwhile, the economic teams from the two countries are in close contact on relevant issues."
In addition to their economic dispute, ties between U.S. and China have suffered due to their differing views on the South China Sea, where Washington has challenged Beijing's sweeping territorial claims. The U.S. has also offered tacit political and military support for Taiwan, a self-ruling island nation that an increasingly powerful China considered to be part of its sovereign territory.
The U.S. has also expressed concern about Xi's global One Belt, One Road initiative to expand his country's economic footprint throughout Asia, into Africa and Europe, and beyond, where both Washington and the Pentagon have worried that its own interests were at risk.