Donald Trump Says Democrats Would Have Nominated New Supreme Court Justice Faster
President Donald Trump said that if Democrats had the opportunity to nominate a U.S. Supreme Court justice in an election year, they would do so quickly.
Controversy erupted after Republicans said they would move to fill the Supreme Court seat left vacant by the Septemeber death of liberal justice Ruth Bader Ginsburg. Some Democrats said the seat should be left empty until after the November election. At a campaign rally in Newport News, Virginia on Friday, President Trump said Republicans had the "right" to push a nominee through.
"I'm watching the Democrats saying how terrible it is that we're appointing—we have the right," Trump said. "We won the election."
"And if they were in opposition they would do the same thing," Trump added. "Maybe they would just do it more rapidly, okay? More rapidly."
Newsweek reached out to the office of Democratic Senate Minority Leader Chuck Schumer for comment.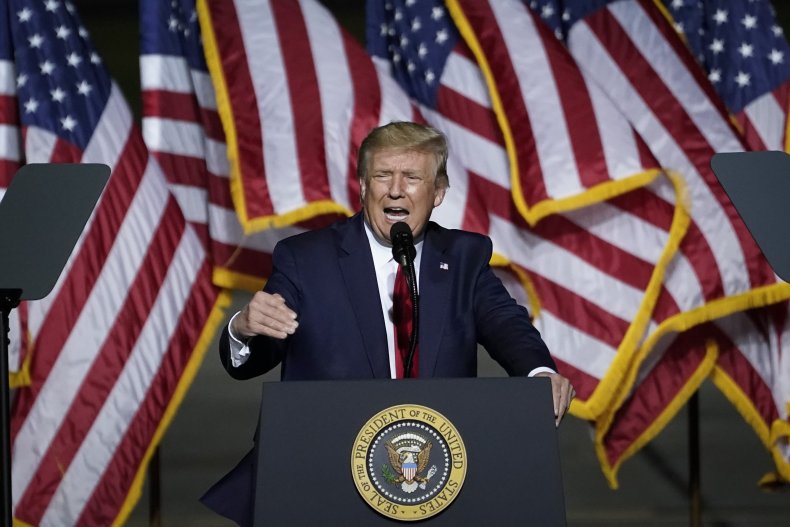 President Trump said appointing federal judges was the "single biggest thing a president can do because it sets the tone of the country for 40 years, 50 years, I mean a long time."
Trump did not reveal the name of his choice during Friday's rally speech, saying that the "only thing I can tell you for sure is it will be a woman."
Many observers expect Trump to name federal judge Amy Coney Barrett as his nominee for the U.S. Supreme Court. If chosen, Barrett would be Trump's third appointee to the Supreme Court. Barrett's political leanings would push the court to a solid 6-3 conservative majority. President Trump is expected to make the formal nomination announcement on Saturday from the White House.
On Wednesday, Democratic presidential candidate Joe Biden said that a quick nomination of a new Supreme Court Justice would be a mistake. "The last thing we need is to add a constitutional crisis that plunges us deeper into the abyss," Biden said, "deeper into the darkness."
According to a poll by the Washington Post and ABC News, 57 percent of all Americans believe that filling Ginsburg's vacant Supreme Court position should wait until after the November election. Those who want Trump to fill the seat as soon as possible numbered 38 percent.
Opinions in the poll mostly fell along party lines. Only 7 percent of Democrats polled said Trump should nominate a new Supreme Court justice, but 90 percent of Democrats said the next president should make the nomination. Conversely, 80 percent of Republicans said Trump should deliver a nominee to the U.S. Senate for confirmation while 16 percent of Republicans polled said the decision should be made by the next president.
The poll was conducted between September 21-24 out of a pool of 1,008 American adults. The margin of error for the poll was plus or minus 3.5 percentage points.