Donald Trump Says Economic Growth Is a Solution to Systemic Racism, 'Great Day' for Equality and George Floyd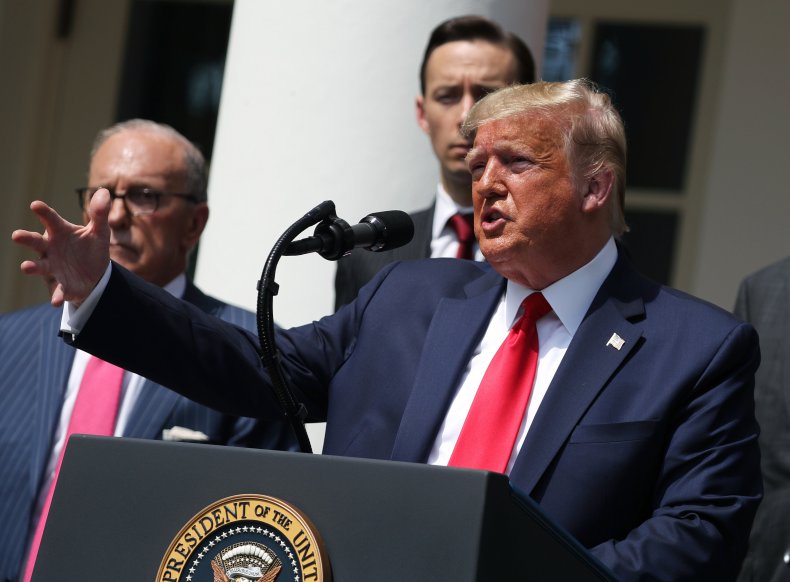 As protests against racism and police brutality have swept the country, President Donald Trump said Friday that his plan for solving systemic racism is to "have the strongest economy in the world."
"What's happened to our country and you now see is happening is the greatest thing for race relations, the African American community, for the Asian American, the Hispanic American community, for women, for everything," Trump told reporters during a news conference touting new jobs numbers. "Our country is so strong, and that's what my plan is. We're gonna have the strongest economy in the world—we're almost there now."
Trump didn't respond to shouted questions from reporters about how that would work.
After months of economic collapse amid the coronavirus pandemic and near nationwide shutdowns, the Bureau of Labor Statistics announced May payrolls grew by 2.5 million—trouncing expectations that as many as 9 million jobs would be lost in May as states slowly begin to reopen.
"This leads us onto a long period of growth," Trump said. "I think we're going to have a very good upcoming few months."
The better-than-expected jobs news comes during a tumultuous time in Trump's tenure, as thousands of people protest across the country following the killing of George Floyd in Minneapolis. Video has shown Floyd pinned down by a police officer for nearly nine minutes, with the officer's knee at Floyd's neck. Four policemen have been charged in his death.
During the jobs announcement, Trump touched on coronavirus treatments, economic recovery and gave an awkward tribute to Floyd, noting his position that Americans deserve "fair treatment" from law enforcement and good news for minority communities.
"Hopefully, George is looking down right now and saying 'This is a great thing happening for our country.' A great day for him. It's a great day for everybody," Trump said. "It's a great great day in terms of equality. It's really what our Constitution requires and it's what our country is all about."
Trump didn't answer reporters' shouted questions about what made it a great day for Floyd, whose memorial was held in Minneapolis Thursday.
His campaign surrogates, on Twitter, linked his comment about Floyd to an earlier remark that "equal justice under the law must mean that every American receives equal treatment in every encounter with law enforcement regardless of race, color, gender or creed. They have to receive fair treatment,"—although the jobs announcement wasn't related to law enforcement or the protests.