Donald Trump Says 'Every Person Is a Beloved Child of God' At National Tree Lighting Ceremony
After performances by country singers Colton Dixon and Jessie James Decker, a song by The Voice talent Spensha Baker, and song stylings by Max Impact and the United States Marine Band, President Donald Trump offered some brief thanks to those who had organized the National Tree Lighting Ceremony's 97th debut.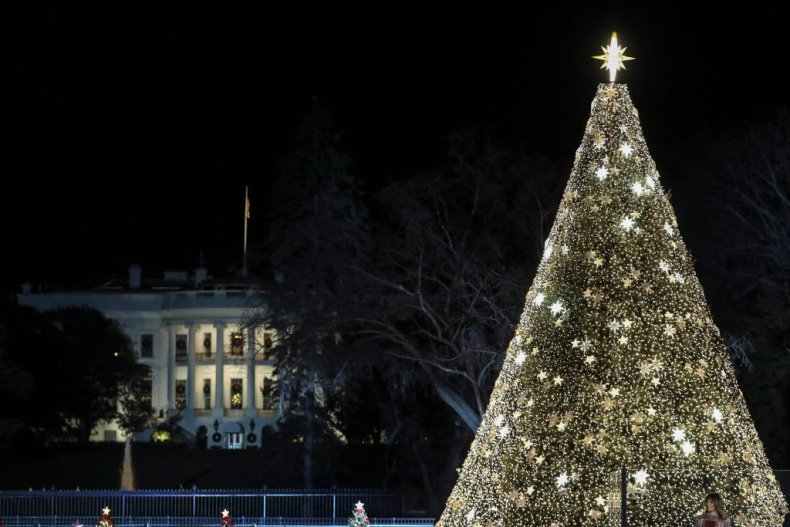 Coming to the stage to the tune of "O Christmas Tree," President Trump acknowledged the presence of Congressman Jim Jordan, Congressman Mark Meadows, and Representative John Radcliffe. Jordan has been notable for his presence during the House Judiciary Committee's impeachment hearings against President Trump.
After saying that he and first lady Melania Trump wished the attendees a Merry Christmas, Mrs. Trump lit the tree to the tune of "We Wish You a Merry Christmas"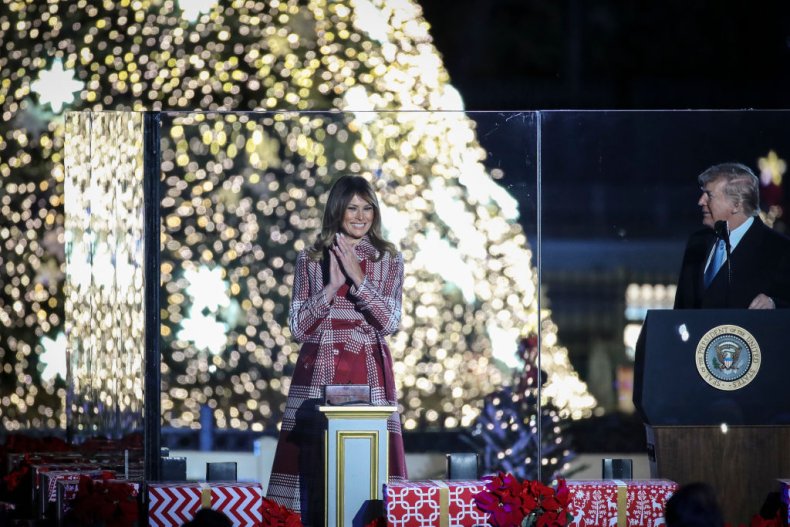 The president then thanked the work of the Department of the Interior, the National Park Service and all of the performers at the event.
Trump then recounted the history of the tree lighting ceremony. He said that after Calvin Coolidge lit the first National Christmas Tree, African American community centers led an outdoor worship service, where a cross was illuminated upon the side of the Washington Monument.
"A powerful reminder of the meaning of Christmas," said President Trump. "As the Bible tells us, when the Wise Men had come into the house, they saw the young child with Mary, his mother, and worshiped him... Jesus Christ inspires us to love one another, with hearts full of generosity and grace."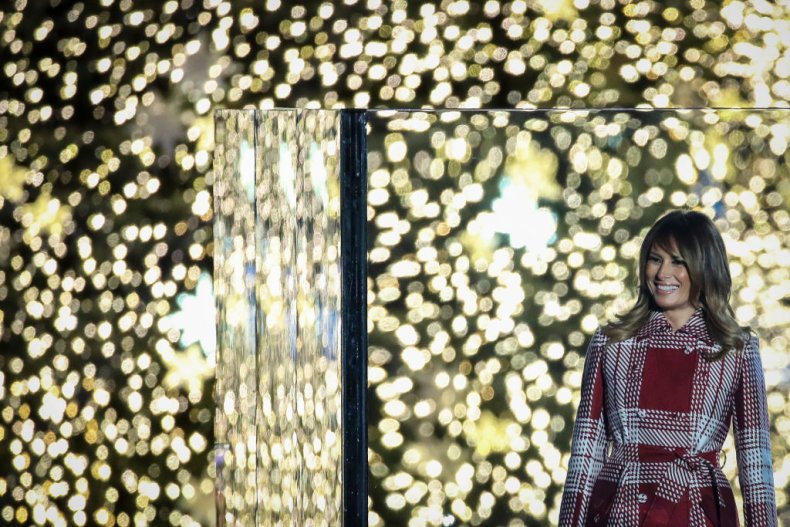 The president then took time to acknowledge the heads of the Salvation Army, as well as the CEO of the Independence Fund, Sarah Verardo, and saluted the police, firefighters, paramedics and first responders alongside American soldiers. Finally, he acknowledged the presence of Pastor Obed Jauregui of Bethany Church from Nazarene, Florida.
"At Christmas, we remember this eternal truth: Every person is a beloved child of God," President Trump said. "As one grateful nation, we praise the joy of family, the blessings of freedom, and the miracle of freedom. On behalf of Melania and her entire family, merry Christmas and God bless you all."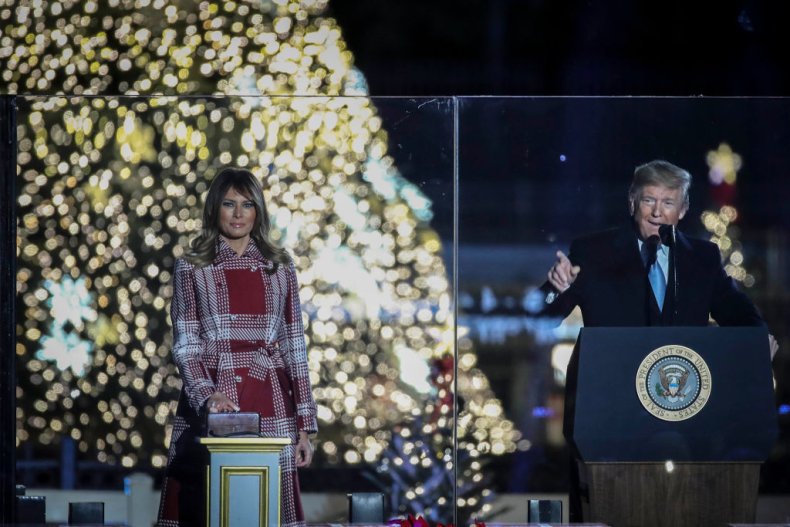 The National Tree Lighting ceremony has been a Washington D.C. holiday season staple since former President Calvin Coolidge established the yearly event in 1923. This year's ceremony marks the 97th time a tree has been lit in The Ellipse at President's Park. This year's tree is a 30 foot Colorado Spruce festooned with 50,000 lights and 450 stars.
The tree will be lit once more at 4:30 EST each evening through the holiday season until the afternoon of January 1, when its decorations are removed.
Attendance for the event is determined via a free lottery, with hundreds of winners selected yearly.
Footage of the tree lighting ceremony will be broadcast on the REELZ and Ovation cable networks on Monday evening; multiple networks streamed it digitally through apps and websites.