Donald Trump Says Everyone Wants to Be His Chief of Staff, Even the Reporters Questioning Him
In the wake of John Kelly's announcement that he would leave the White House in early 2019, Donald Trump has been on the hunt for a new chief of staff, and according to the president, everyone wants the gig.
"I have at least 10, 12 —12 people that want it badly. I'm making a decision. Great people. I could do it immediately. I'm in no rush. A lot of people want it," Trump said during an exclusive interview with Reuters at the White House on Tuesday.
"Everybody wants it. Who doesn't want to be one of the top few people in Washington, D.C.," the president said before gesturing to the three journalists conducting the interview. "I mean, you three guys would take it."
Kelly's departure from the top Cabinet position was announced by President Trump on Saturday. The retired Marine Corps general joined the Trump administration in July 2017 and his sudden removal is part of a larger shake-up as the White House prepares for a 2020 re-election campaign. Other ousted officials include former attorney general Jeff Sessions and departing ambassador to the United Nations Nikki Haley.
"He's a great guy," Trump told White House pool reporters when announcing Kelly's removal over the weekend. The president said that his chief of staff would be out of the White House by the end of December, and that a replacement would be named in the next few days.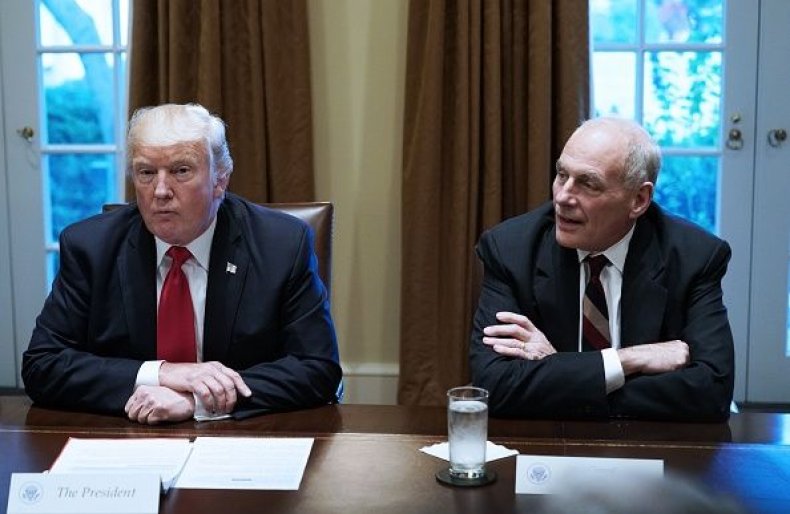 Since those remarks, Kelly has signed on to stay with the administration until January 2, 2019, and Trump said that he was in "no rush" to name a successor.
"I have so many people, I cannot interview them all," Trump told Reuters on Tuesday, turning to his senior communications adviser, Bill Shine, for confirmation. "Is that a correct statement?" Trump asked him, with Shine reportedly agreeing with the president.
The front-runner to replace Kelly was Vice President Mike Pence's chief of staff Nick Ayers, but Ayers declined Trump's offer to serve as his chief of staff. Top candidates now include North Carolina Representative Mark Meadows, Trump's former campaign adviser Dave Bossie and former New Jersey Governor Chris Christie. Whoever is chosen will be Trump's third chief of staff, after the removal of Kelly and Reince Priebus.
Trump told Reuters his ideal candidate was someone "whose ideas are similar to my ideas. Somebody that will take my ideas and go with them. That doesn't mean they can't be questioned. I like being questioned. I think it's good to be questioned."
Donald Trump Says Everyone Wants to Be His Chief of Staff, Even the Reporters Questioning Him | U.S.