Donald Trump Says Finland Doesn't Have California Wildfires Problem Because 'They Spent a Lot of Time on Raking'
In a press conference Saturday afternoon in Northern California President Donald Trump did not blame climate change for the deadliest wildfire the nation has seen in a century, but said instead that Finland doesn't have the same problem because "they spend a lot of time on raking" leaves.
"You've got to take care of the floors. You know the floors of the forest, very important. You look at other countries where they do it differently and it's a whole different story," Trump said standing next to California Governor Jerry Brown and Governor-elect Gavin Newsom.
"I was with the president of Finland and he said, 'We have a much different—we're a forest nation.' He called it a forest nation, and they spent a lot of time on raking and cleaning and doing things," Trump said, making a moving motion with his hand. "And they don't have any problem."
The president continued: "And when it is, it's a very small problem, so I know everybody is looking at it to that end and it's going to work out, it's going to work out well."
Trump before that said, "I know Gavin's committed, we're all committed, I'm committed to make sure that we get all of this cleaned out and protected," in reference to the California Democratic leaders he has often clashed with.
Trump brought up the same point about the need to rake leaves in an interview with Fox News' Chris Wallace set to air Sunday.
"I was watching the firemen the other day and they were raking areas, they were raking areas where the fire was right over there," the president complained in a clip. "And they're raking trees, little trees like this that are not trees, little bushes that you could see are totally dry. Weeds. And they're raking them, they're on fire. That should have been all raked out. You wouldn't have the fires."
When asked about the argument that climate change could have contributed to the wildfires, Trump downplayed it.
"Maybe it contributes a little bit," Trump told Wallace. "The big problem we have is management."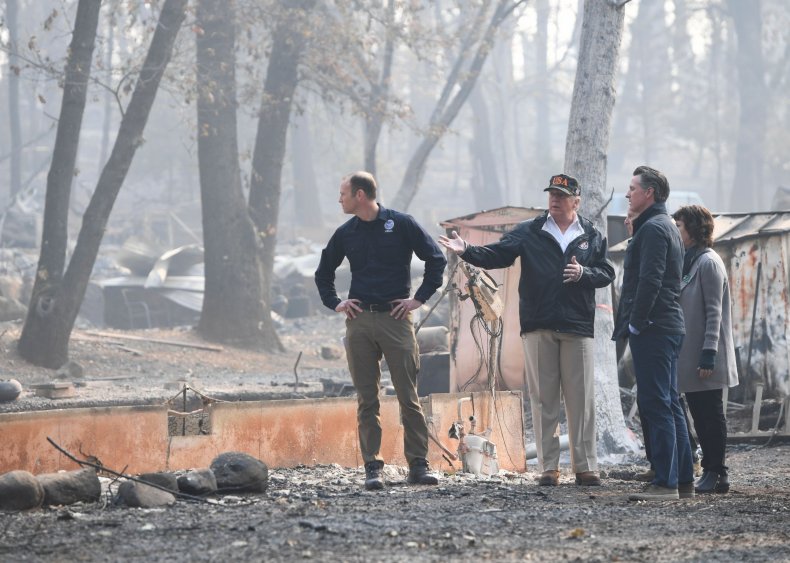 The Camp Fire in Butte County has killed at least 71 people since it started as a vegetation fire on November 8, becoming the deadliest wildfire in the United States in 100 years. More than 1,000 people were missing and 148,000 acres were burned. As of Saturday morning, it was 55 percent contained.
A week ago Trump threatened on Twitter to take federal funds away from California if the state did not change its forestry management practices. His comments were criticized as incorrect by firefighters and other officials and experts.