Donald Trump Says Fox News is 'Making a Big Mistake' After Network Poll Shows Him Losing to Top Democratic Challengers
President Donald Trump has been criticizing Fox News over a recent poll from the network that showed him in trouble against every top Democratic challenger in the 2020 race, including Joe Biden, Kamala Harris, Bernie Sanders and Elizabeth Warren.
"There's something going on at Fox, I'll tell you right now. And I'm not happy about it," Trump told reporters on Sunday. The president added that "Fox has changed" and alleged that some of his "worst polls" have always come from the network.
A recent Fox News poll, released last week, showed the president losing the 2020 election to several Democratic opponents. Trump told reporters that he didn't "believe" the poll.
The poll found that 39 percent of registered voters supported Trump in his re-election bid when he was being challenged by Sanders, Harris or Warren. But the three liberal senators had more support. In head-to-head matchups against Trump, Sanders won with 48 percent, Harris won with 46 percent and Warren won with 45 percent.
But it was Biden who defeated Trump by the widest margin in the poll. The former vice president had 50 percent support among registered voters surveyed, compared to Trump's 38 percent.
The poll also found that just 42 percent of voters viewed Trump favorably, while 56 percent held an unfavorable opinion of the president. The survey contacted just over 1,000 voters from August 11 to August 13. The margin of error was 3 percent for all registered voters.
"I think Fox is making a big mistake," Trump told reporters when asked about the poll. "Because, you know, I'm the one that calls the shots on that — on the really big debates."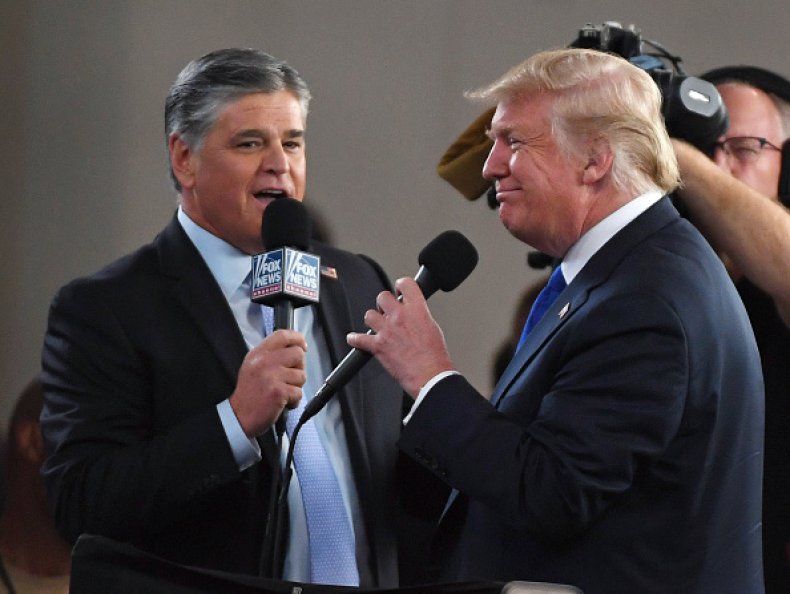 Trump has repeatedly lauded Fox News and their coverage of his administration. The unprecedented relationship between the president and the network has been well-documented. Trump often retweets statements made by Fox hosts and pundits.
But recently, Trump has begun to include Fox News in his criticism of mainstream media outlets and "fake news." Earlier this year, the president lashed out at a three anchors for the network, suggesting they work at CNN instead.
In July, Trump slammed the network for hiring Democratic consultant Donna Brazile as a political commentator.
"@FoxNews is changing fast, but they forgot the people who got them there!" Trump wrote on Twitter.