Donald Trump Says GOP Being 'Absolutely Savaged' by Democrats in Infrastructure
Former President Donald Trump lambasted Republican leadership for working with Democrats in what he described as the "so-called 'bipartisan' infrastructure bill."
In a statement, paid for by his Save America PAC, Trump wrote that Senate Minority Leader Mitch McConnell and his group of "RINOS" (Republicans in name only) want to complete the deal done "at any cost" to show they can work with the "Radical Left Democrats."
Trump followed this by stating Republicans should not work on the deal until after they "regain a strong negotiating stance" after the 2022 elections.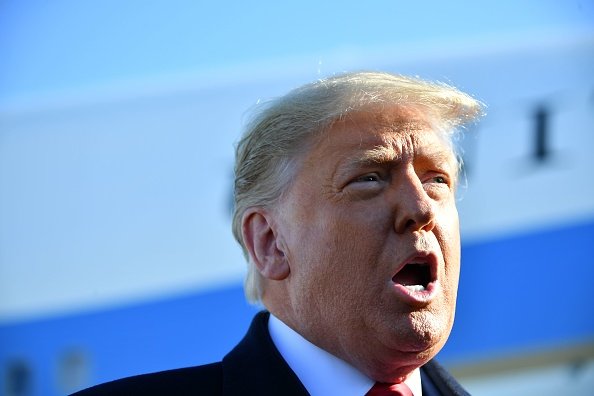 "Senate Republicans are being absolutely savaged by Democrats on the so-called 'bipartisan' infrastructure bill," former President Trump wrote in a statement.
Mandel Ngan/AFP
This message comes as the Associated Press reported that senators and staff spent this past weekend working on a final agreement for the bill. The AP reported that the financial figure designated toward public transit currently stands as a roadblock in way of the deal's completion.
Republican Senator Rob Portman of Ohio, who voted to acquit Trump on charges of inciting the January 6 Capitol Riot but opposed the former President's attempt to overturn the 2020 presidential election, told the AP that both sides were "about 90 percent of the way there" on the infrastructure deal.
Despite the former president's calls to cease negotiations, infrastructure remains popular amongst his voter base. According to a poll conducted by Yahoo News/YouGov, six out of 10 GOP voters approve of the "compromise infrastructure plan."
Last year, the former President's stance looked similar to the views expressed through the poll. In March of 2020, Trump called on Congress to pass a $2 trillion spending plan aimed to refurbish roads, bridges, and other infrastructure as part of the nation's response to the Coronavirus pandemic.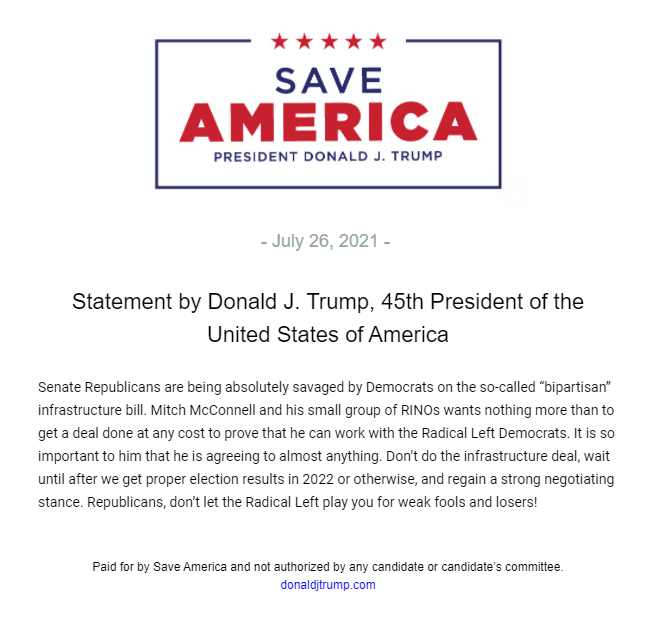 A photo of the statement on the infrastructure bill, paid for by former President Trump's Save America PAC.
Save America
Trump presented an infrastructure bill to Congress in February 2018 that was backed with $200 billion in federal funding that he claimed would support $1.5 trillion in private sector investment. Democrats ultimately opposed the plan due to its reliance on state and local funding as well as private investments.
Harkening back to his 2016 campaign, the former president had the following to say about U.S. infrastructure:
"We have a country that needs new roads, new tunnels, new bridges, new airports, new schools," he said during the debate against Hillary Clinton in September of 2016. "We've become a third-world country."