Donald Trump Says He Doesn't Know Who Proud Boys Are After Group Jumps on His 'Stand By' Debate Comment
President Donald Trump said Wednesday he is not familiar with the Proud Boys, the far-right group mentioned during Tuesday night's first presidential debate with Democratic presidential nominee Joe Biden.
"I don't know who the Proud Boys are. I mean, you'll have to give me a definition, because I really don't know who they are," the president told reporters at the White House on Wednesday.
"Whoever they are, they have to stand down. Let law enforcement do their work," he added.
The group was mentioned during the debate after Fox News anchor and debate moderator Chris Wallace asked Trump if he was willing to condemn white supremacists and tell them to "stand down and not add to the violence" seen over the summer in cities like Kenosha, Wisconsin, and Portland, Oregon.
Trump responded by saying that most of the violence he has seen so far has come from left-wing extremist groups. "I'm willing to do anything. I want to see peace," he told Wallace. Biden encouraged him, "Do it, say it."
"What do you want to call them? Give me a name. Give me a name," Trump said to Wallace. Wallace answered "white supremacists," and Biden threw in the term "Proud Boys."
"Proud Boys, stand back and stand by," Trump said. "But I'll tell you what. I'll tell you what. Somebody's got to do something about Antifa and the left. Because this is not a right-wing problem."
In 2018, the FBI identified the Proud Boys as an "extremist group" with connections to white nationalism. In recent months, the group has been tied to counterprotests at Black Lives Matter events. The Anti-Defamation League has also identified the group as "misogynistic, Islamophobic, transphobic and anti-immigration" and said some members appear to have "anti-Semitic ideologies and/or engage with white supremacist groups."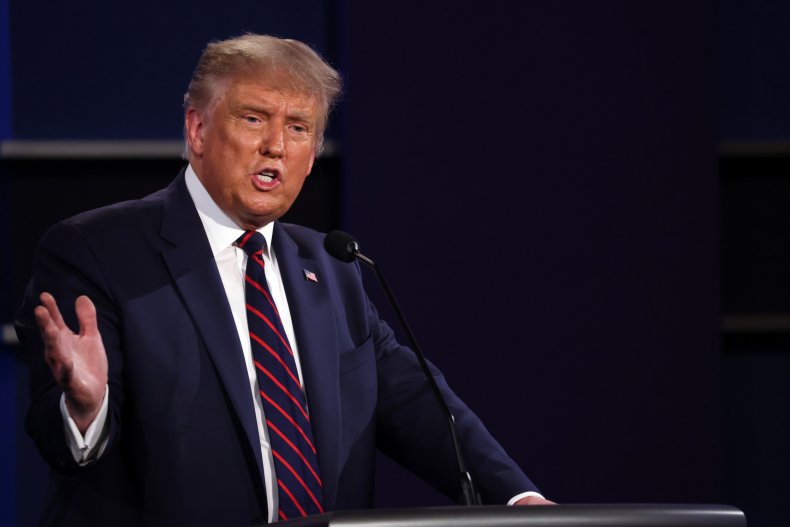 Following Tuesday night's debate, one of the group's organizers tapped into Trump's "stand back and stand by" comment by sharing memes and other content with the message online.
Another member named Enrique Tarrio, who identifies himself as the group's chairman on the conservative social media site Parler, told The Daily Beast that Trump's debate comment would likely become a new group motto.
"I think this 'stand back, stand by' thing will be another Proud Boy saying," Tarrio said.
When reporters pressed him to clarify the comments he made during the debate, Trump again said, "They have to stand down" and added, "Whatever group you're talking about, let law enforcement do the work." The president reiterated the comments he made Tuesday night about Antifa and called upon Biden to condemn the "very bad group."
Reporters also repeated Wallace's question about condemning white supremacists and asked Trump if he would be willing to do so. Trump said he "always" has.
"Any form of any of that, you have to denounce," he said when asked directly about white supremacy.
The White House referred Newsweek to the president's conversation with reporters when asked for further clarification. Newsweek reached out to Trump's campaign but did not receive a response in time for publication.
This story has been updated with additional information and background.