Former President Donald Trump said he "looks forward" to announcing his decision on whether he'll be running in 2024 at "the right time."
When asked if he's planning to launch a bid in the next presidential election, Trump told Candace Owens, "The answer is I'm absolutely enthused. I look forward to doing an announcement at the right time."
"As you know, it's very early. But I think people are going to be very, very happy when I make a certain announcement," Trump said in an interview scheduled to air in full Tuesday night on Candace, Owens' Daily Wire talk show.
If Trump formally declared his candidacy, he would be required to disclose his finances, and election laws would dictate how he could spend his money until the election.
"You know for campaign finance reasons, you really can't do it too early because it becomes a whole different thing," he told Owens. "Otherwise I think I'd give you an answer that you'd be very happy with. So we're looking at that very, very seriously. All I'd say is: stay tuned."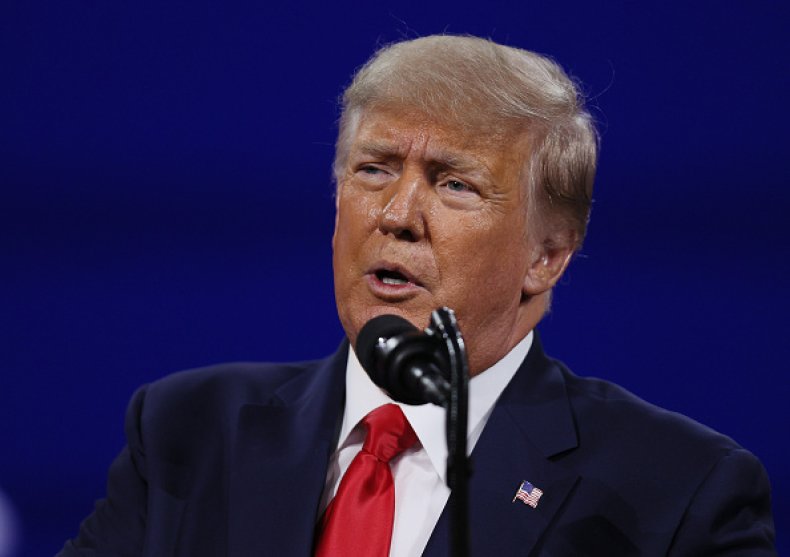 Owens joked about joining Trump as his vice president on the 2024 ticket, to which Trump replied, "What a good choice that would be. That would be fantastic. You would be fantastic."
"I guess I'll take you at your word, that in 2024 Trump and Owens are going to be on the ticket," Owens responded.
The former president has also floated Florida Governor Ron DeSantis to be his potential running mate in 2024.
On Thursday, Trump told Fox News' Maria Bartiromo, "He's a friend of mine. I endorsed Ron, and after I endorsed him, he took off like a rocket ship. He's done a great job as governor."
"A lot of people like that—you know, I'm just saying what I read and what you read —they love that ticket," Trump added. "But certainly, Ron would be considered. He's a great guy."
In the interview with Owens, Trump also weighed in on Biden's first address to Congress last week and reacted to the negative reception Senator Mitt Romney received during his speech at the Utah GOP convention over the weekend, saying he watched with "great pleasure" as the senator "got booed off the stage."
"People get it, you know they get it. They know phonies and they know people we affectionately call people RINOs," Trump said. "But they know phony people."