Donald Trump Says He'll Probably Meet Kim Jong Un Again to Convince North Korea to Give up Nuclear Weapons
President Donald Trump said it's "most likely" he will meet with North Korean leader Kim Jong Un again as the president works to pressure the country to give up its nuclear weapons, according to reports.
Trump told Reuters Monday he would be willing to set up another meeting with the North Korean leader and said he believes some progress has been made toward the denuclearization of the Korean peninsula. A meeting with a U.S. president is a huge win for Kim, who can use the high-profile event to boost his legitimacy on the international stage and demonstrate his relevance to his people at home. Some analysts argue that it would be unwise for Trump to reward Kim when so little has been gained since the last summit between the two leaders in June.
"I think a better idea would be first to have Secretary of State Mike Pompeo to go one last time to Pyongyang. Pompeo would then be able to test Kim's intentions, and if he truly is willing to go through any sort of nuclear disarmament. At this point, it would be better to hold back a meeting until there is at least some glimmer of hope," Harry Kazianis, director of defense studies at the Center for the National Interest in Washington, D.C., told Newsweek.
"We have already had one summit and three visits by Pompeo to the DPRK [Democratic People's Republic of Korea]. Giving Kim another summit, at least at the moment, would be counterproductive," he said.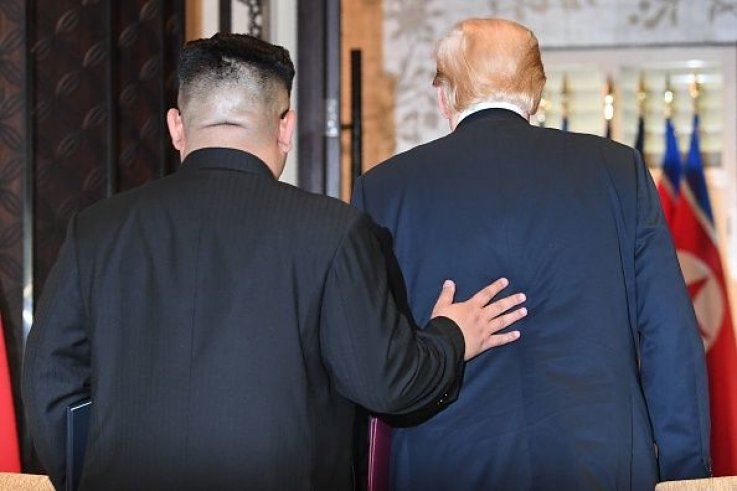 Trump met with Kim at a historic summit in Singapore in June, and the two leaders signed a joint communiqué pledging to work toward the complete denuclearization of the Korean peninsula. Many analysts criticized the statement at the time, saying that it lacked specific details. Since then, Pompeo has traveled to North Korea to hammer out a timeline for denuclearization. The U.S. has pressured North Korea to provide details about its nuclear weapons program, including the inventory of its nuclear weapons, and to dismantle weapons facilities and allow international inspectors to verify that denuclearization is taking place.
Nevertheless, the diplomatic process between the two countries has appeared to stall as North Korea made counter demands. The North Korean leadership criticized what it called the Trump administration's "unilateral and gangster-like demand for denuclearization" and asked that the U.S. announce an end to the Korean War, which never officially concluded despite a longstanding ceasefire that has held since 1953—but the U.S. reportedly rebuffed this request. Moreover, U.S. intelligence agencies have collected satellite imagery indicating that North Korea is building new ballistic missiles at a factory outside Pyongyang. The missiles could reportedly help deliver nuclear weapons as far as the U.S.
In a Senate hearing last month, Pompeo said that North Korea was continuing to produce fuel for nuclear weapons. Trump, however, said that "a lot of good things are happening" with Pyongyang, and he took credit for the country temporarily halting nuclear and missile testing.
Donald Trump Says He'll Probably Meet Kim Jong Un Again to Convince North Korea to Give up Nuclear Weapons | World