Donald Trump Says He Is 'Strongly Pro-Life' But Supports Abortion Exceptions For Rape, Incest And Medical Emergency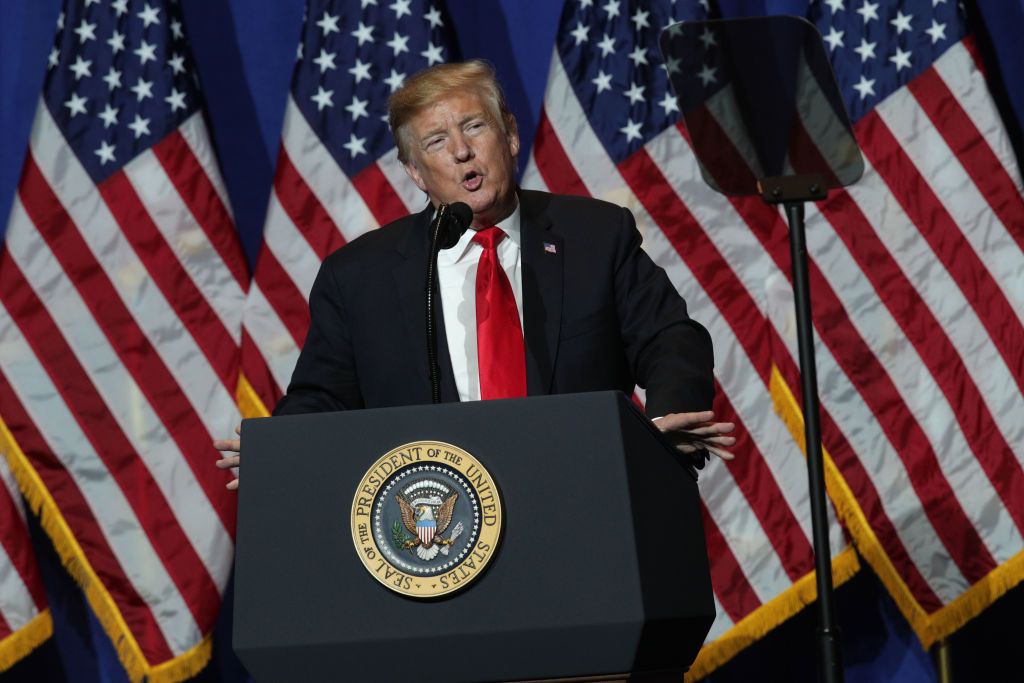 As lawmakers across the United States weigh several new abortion laws, President Donald Trump took to Twitter to confirm his stance on the issue.
Trump confirmed statements made by Kayleigh McEnany, his 2020 campaign spokeswoman, during a Saturday appearance on MSBC, saying that while he is "strongly pro-life" he supports exceptions for rape, incest and medical emergency that would allow a woman to have an abortion.
The president did not specifically reference any abortion bills that have recently passed in the U.S., or several bills that remain in consideration in state legislatures, but Trump did take a hit at the "radical left" in subsequent tweets where he called for supporters to fight for life in the 2020 presidential election.
"As most people know, and for those who would like to know, I am strongly pro-life, with the three exceptions - rape, incest and protecting the life of the mother - the same position taken by Ronald Reagan," Trump wrote. "We have come very far in the last two years with 105 wonderful new federal judges (many more to come), two great new Supreme Court Justices, the Mexico City policy, and a whole new & positive attitude about the right to life. The Radical Left, with late-term abortion (and worse), is imploding on this issue. We must stick together and win for life in 2020. If we are foolish and do not stay UNITED as one, all of our hard fought gains for life can, and will, rapidly disappear!"
The statement from Trump echoes McEnany's comments about her own beliefs. She also said that the president has repeatedly stated he supports the exceptions for rape, incest and medical emergency.
"I personally am for the exceptions," McEnany said. "The president has been clear since the last campaign he's for exceptions for rape and incest and life of the mother."
Trump has previously used abortion as a campaign talking point against Democrats, including using statements made by Virginia Governor Ralph Northam and Virginia Delegate Kathy Tram about a bill proposed in the state that would remove the words "substantially and irredeemably" from the current abortion law.
In Virginia, third term abortions are allowed if continuing a pregnancy could kill the woman or "substantially and irremediably" impact her health. Critics of the law stated that removing the words from the law would eliminate medical emergency as a reason for a third-term abortion and allow for women to obtain the procedure without any qualifying terms.
At the time the bill was introduced, Tran mistakenly said that it would allow for a woman to obtain an abortion even when she was in labor, comments that she later apologized for and corrected, saying Virginia law does not allow for infanticide.
Trump seized on Tran's initial comment, telling a crowd gathered for a campaign rally in El Paso, Texas that Democrats were looking to implement "extreme, late-term abortion. Allowing children to be ripped from their mother's womb, right up until the moment of birth. What's that all about?"
"So in Virginia, the governor...the governor stated that he would even allow a newborn baby to come out into the world, and wrap the baby, and make the baby comfortable, and then talk to the mother and talk to the father and then execute the baby," Trump added, referring to comments Northam made during a January 30 radio interview.
Days later, Trump railed against Democrats for voting against the Born-Alive Abortion Survivors Protection Act, which failed to pass in the Senate with a 53-44 vote. The bill looked to penalize doctors who did not provide medical treatment to infants who survived an abortion.
"Senate Democrats just voted against legislation to prevent the killing of newborn infant children. The Democrat position on abortion is now so extreme that they don't mind executing babies AFTER birth," Trump tweeted on February 25. "This will be remembered as one of the most shocking votes in the history of Congress. If there is one thing we should all agree on, it's protecting the lives of innocent babies."
Eight states have passed so-called "heartbeat bills" this year, named for the restriction qualifier of a fetal heartbeat being the cut-off point where a woman can legally obtain an abortion. Fetal heartbeats can be detected as early as six weeks in some cases, drawing criticism from pro-choice activists who say that some women will not know they are pregnant until after that point has come and gone and that the bills eliminate a woman's right to choose.
Alabama's law takes the heartbeat bill a step further, effectively outlawing any abortion unless in cases of medical emergency. Doctors who perform abortions would be considered felons and could serve up to 99 years in prison. Doctors who attempt an abortion that is unsuccessful could serve up to 10 years, while the woman who seeks the procedure would not be held criminally liable.
The Alabama law does not make exceptions for fetuses conceived via rape or incest, prompting some Republicans to say that the state's lawmakers had gone too far. According to a Planned Parenthood poll conducted in Alabama in 2018, 65 percent of Alabamians were in support of exceptions for rape, incest and medical emergency.
The law, like the heartbeat bills which have already passed, is expected to be challenged in court.