Donald Trump Says His Press Releases Are 'Better' Than 'Very Boring' Twitter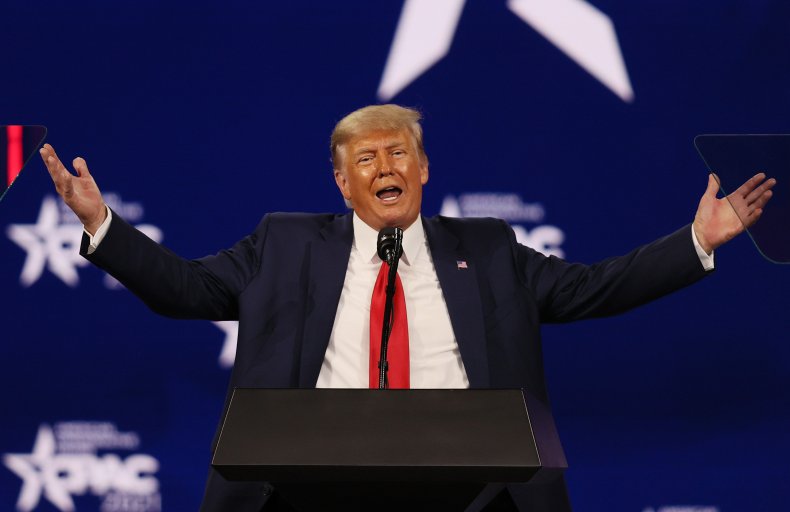 Former President Donald Trump claims to prefer communicating with press releases to using Twitter, insisting that the platform that permanently banned him is now "very, very boring."
Trump said that Twitter had been "no good" since he was forced off it during his recent interview with Fox News host Sean Hannity. In footage that aired Friday night, the former president took credit for making the social media platform "exciting," saying it was a "failed thing" before he started his now-defunct account. Trump maintained that he did not miss the platform, touting his own press releases as being "more elegant."
"I'm really getting a big word out because we're doing releases," Trump said. "And every time I do a release it's all over the place. It's better than Twitter, much more elegant than Twitter. And Twitter now is very boring, a lot of people are leaving Twitter. Twitter's become very, very boring."
"When I started with Twitter years ago it was like a failed thing, concept, media platform," added Trump. "And it became exciting. And I think I had a lot to do with it, to be honest with you. It became very exciting. And now it's boring and it's no good anymore. People are telling me."
Trump was a frequent user of Twitter before getting permanently banned on January 8, two days after the storming of the U.S. Capitol instigated by a violent mob of his supporters. Twitter expressed concern that Trump's posts during and after the riot could incite further violence due to his instance on continuing to claim that a "stolen" election was to blame for his 2020 election defeat to President Joe Biden.
The former president repeated many of the same election claims during his interview with Hannity, the bulk of which aired on Monday. In the portion that aired Friday, Trump also confirmed multiple reports that he is exploring the possibility of starting his own social media platform.
"I am, I'm looking at it," Trump said when asked by Hannity whether was consider his own platform. "We're looking at different platforms. We have a lot of people that want to come on existing platforms. They have to be strong. They can't be dominated by Amazon and Google and people that can take them off the air right away. And you do need anti-trust, you have to do something about it."
Although Trump's Twitter ban is permanent, Facebook is soon expected to announce whether they will reinstate the former president's account, which was indefinitely suspended following the Capitol riot.
In the absence of a social media account, Trump has issued press releases with increasing frequency. On Thursday, a Trump release called NBA star LeBron James a "racist" over a controversial tweet. On Friday, Trump issued statements repeating his claims of voter fraud in Arizona and offering praise for North Korean dictator Kim Jong-un.
Newsweek reached out to Twitter and the office of Trump for comment.