Donald Trump Says It Is Barack Obama's Fault for 2016 Election Hacking
President Donald Trump Saturday criticized the Obama administration for failing to take action against Russian intelligence officials indicted by Robert Mueller's probe into electoral interference.
"The stories you heard about the 12 Russians yesterday took place during the Obama Administration, not the Trump Administration," the president wrote on Twitter. "Why didn't they do something about it, especially when it was reported that President Obama was informed by the FBI in September, before the Election?"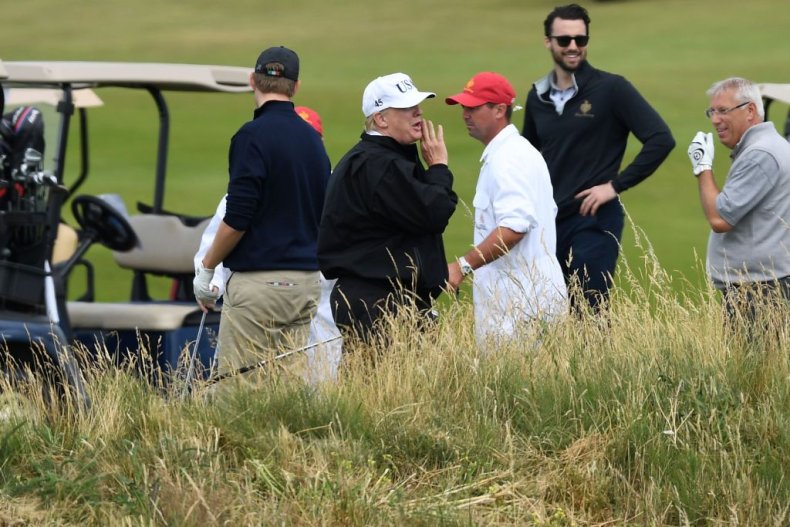 In another tweet, Trump asked, "Where is the DNC Server, and why didn't the FBI take possession of it?" Deep State?"
The 29-page indictment accused Russian intelligence officials of stealing data, hacking servers and launching attampts to access election infrastructure.
The president was tweeting from Trump Turnberry, his resort in Scotland, where he is staying following the fractious NATO summit in Brussels earlier in the week and as part of his four day visit to the U.K., where he caused tumult by endorsing Prime Minister Theresa May's rival, former foreign secretary Boris Johnson, for her job.
Deputy Attorney General Rod Rosenstein's announcement of the indictments Friday has added pressure on Trump ahead of his summit with Russian President Vladimir Putin next week.
Democratic lawmakers and Republican maverick John McCain have called on Trump to cancel the summit following the indictments, with Senate Minority Leader Chuck Schumer remarking "Glad-handing with Vladimir Putin on the heels of these indictments would be an insult to our democracy."
The White House responded to the indictments by saying that they did not implicate any Trump campaign officials.
"Today's charges include no allegations of knowing involvement by anyone on the campaign and no allegations that the alleged hacking affected the election result," White House spokeswoman Lindsay Walters said. "This is consistent with what we have been saying all along."
In October 2016, the Obama administration accused Russia of using hackers to meddle in the presidential election, after thousands of emails stolen from DNC servers were published by WikiLeaks.
Obama in a September 2016 phone call with the Russian president said he warned Putin not to continue with the campaign to subvert the election, and in a December report that year commissioned by Obama U.S. intelligence agencies concluded that Russia was behind the DNC hack.
Before ending his final term as president, Obama also approved additional sanctions against Russia, closed Russian diplomatic compounds in the U.S., and expelled diplomats.
Trump last year said he accepted Putin's claim not to have been aware of Russian meddling, and has described the Mueller probe as a "witch hunt" conducted by partisan U.S. intelligence officials.
The Russian foreign ministry in a statement called the indictments "false information" and said "obviously, the purpose of this is to spoil the atmosphere" ahead of the Trump-Putin summit.