Donald Trump Says Kamala Harris Is a 'Communist' and a 'Monster' Who Wants to Open Up Borders
President Donald Trump called Democratic nominee Kamala Harris a "monster" and a "communist," following the only vice presidential debate of this election.
"She's a communist. She's not a socialist. She's well beyond a socialist. Take a look at her views," Trump told Fox Business host Maria Bartiromo on Thursday morning. "She wants to open up the borders to allow killers and murderers and rapists to pour into our country."
Trump argued that the nation's borders are currently the most secure they have ever been under his leadership.
"We have the tightest borders we've ever had right now," he said. "The wall is up to 350 miles long. It will be finished very soon. It's had a tremendous impact. Frankly, we're working along very well with Mexico."
"But it's hard to get into our country and when we do have people in our country that are bad, I throw them out," Trump added. "We're throwing out tens of thousands of people and they're murderers and they're rapists."
Trump said Harris, on the other hand, "wants to allow everybody to stay in our country."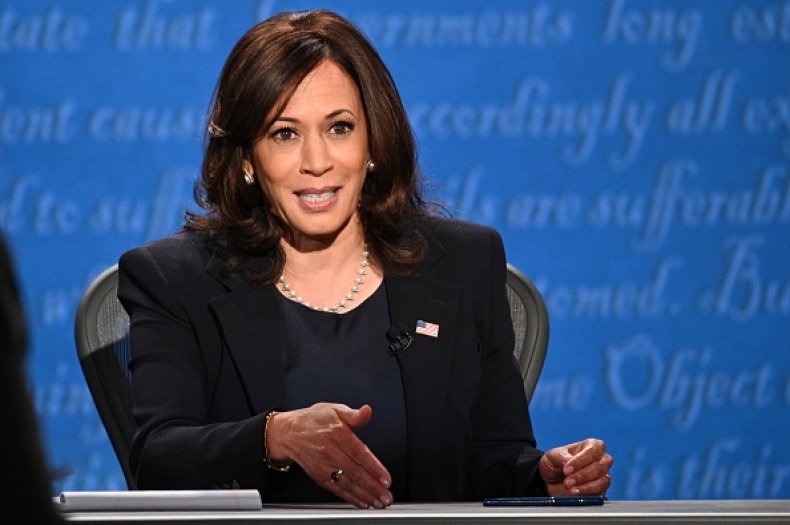 During Wednesday's debate, Harris and Vice President Mike Pence only had enough time to touch briefly on national security and international borders.
Harris pointed out that a number of national security experts and former officials from both sides of the aisle have endorsed her running mate Joe Biden for president. She also said it was Trump who failed to hold Russian President Vladmir Putin accountable for the bounties held over American soldiers.
"Joe Biden would hold Russia to account for any threat to our nation's security or to our troops who are sacrificing their lives for the sake of our democracy and our safety," Harris said.
Pence argued that the Trump administration "destroyed the IIS caliphate" and predominately focused his talking time on the assassination of Iranian major general Qasem Soleimani earlier this year — an event Harris said led to the endangerment of American troops.
"After the strike on Soleimani, there was a counter strike on our troops in Iraq. And they suffered serious brain injuries, and you know what Donald Trump dismissed them as?" she asked. "Headaches. And this is about a pattern of Donald Trump's, where he has referred to our men who are serving in our military, as suckers and losers."
When asked about what he thought of Harris in the debate, Trump said: "I thought that wasn't even a contest last night. She was terrible. I don't think you could get worse. And totally unlikeable and she is."
Trump said he doesn't think that Biden wouldn't last two months as president and suggested that Harris would move into the role of president if Biden wins the election.
Newsweek reached out to the Biden campaign for comment, but did not hear back before publication.