Donald Trump Says Kamala Harris Wouldn't Have Scheduled Border Trip if He Wasn't Going
Donald Trump said Wednesday that Vice President Kamala Harris wouldn't have scheduled a trip to the U.S.-Mexico border if he wasn't going there next week.
"After months of ignoring the crisis at the Southern Border, it is great that we got Kamala Harris to finally go and see the tremendous destruction and death that they've created—a direct result of Biden ending my very tough but fair Border policies," the former president said in a statement.
Trump added, "If Governor Abbott and I weren't going there next week, she would have never gone!"
The vice president's office confirmed Wednesday that Harris will go to El Paso, Texas, on Friday. Homeland Secretary Alejandro Mayorkas will join her.
Harris was tapped by President Joe Biden to lead the administration's effort to curb migration. A record number of people, primarily from Central America, have come to the U.S.-Mexico border this year. There were 180,034 border crossings last month, according to U.S. Customs and Border Protection, the largest figure in two decades.
The vice president has been widely criticized by Republicans for not visiting the border. Harris was hit with questions about visiting the area during her first international trip to Guatemala and Mexico earlier this month.
Harris initially defended not going to the border, telling reporters in Guatemala that doing so would be a "grand gesture." When pressed by NBC News on the issue later that week, Harris said she would be going to the border "at some point."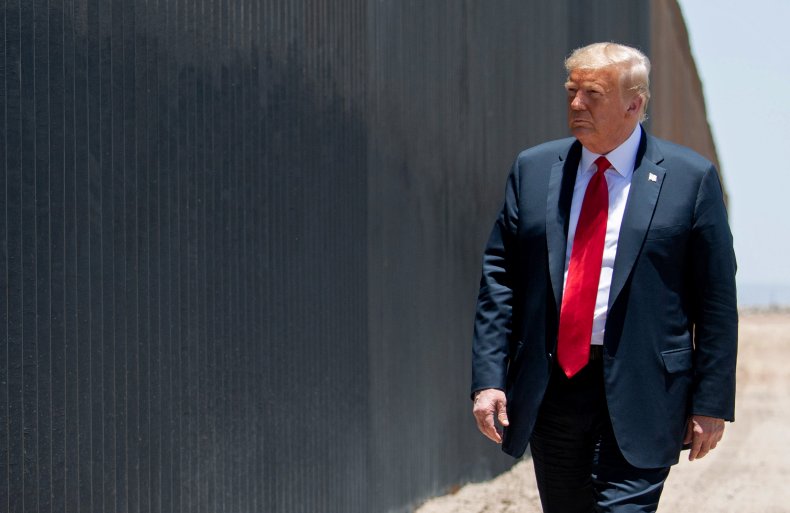 Trump announced earlier this month that he'd accepted an invitation from Texas Governor Greg Abbott to visit the border on June 30. About a dozen GOP members of the House plan to join the former president on the trip, Politico reported.
Abbott has recently ordered the state to construct a wall at its border with Mexico, a continuation of Trump's signature promise during his presidency. In addition to the $250 million "down payment" provided by the state, nearly $400,000 has been donated to the project so far by the public.
Trump, Abbott and other Republicans have slammed the Biden administration for rolling back immigration restrictions amid the recent migrant surge. A spokesperson for Representative Jim Banks of Indiana, who will join Trump next week, said the lawmakers are going to explain "how we can end this national embarrassment."
"Harris and Biden were given the strongest Border in American history. And now, it is by far the worst in American history," Trump said on Wednesday.