Donald Trump Says Mar-a-Lago 'Under Siege, Raided, Occupied' by the FBI
Donald Trump says his residence in Mar-A-Lago has been abruptly raided by "a large group of FBI agents," characterizing the intrusion as a politically calculated move to stunt the former president's future political ambitions.
Trump posted a statement to his Truth Social platform Monday evening denouncing the raid on his home as "not necessary or appropriate," describing his home as "under siege, raided, and occupied." While the reason for federal law enforcement descending on Trump's estate in Palm Beach, Florida, is yet to become clear, it follows months of speculation that federal prosecutors had turned their attention to the former president for his actions in the effort to overturn the 2020 presidential election.
"Nothing like this has ever happened to a President of the United States before," Trump said in the statement. "After working and cooperating with the relevant Government agencies, this unannounced raid on my home was not necessary or appropriate."
Calling the raid "prosecutorial misconduct" and a "weaponization of the Justice System," Trump said the raid was hatched by "Radical Left Democrats" seeking to prevent him from running for president in 2024. Trump likened his treatment to corruption in "broken, Third-World Countries."
"They even broke into my safe!" said Trump. "What is the difference between this and Watergate, where operatives broke into the Democrat National Committee? Here, in reverse, Democrats broke into the home of the 45th President of the United States."
Trump was referring to the Watergate scandal that led to the undoing of President Richard Nixon. In 1972, a team of men broke into Washington, D.C.'s Watergate complex where the Democratic National Committee had offices. The burglars were acting on the orders of G. Gordon Liddy, an FBI agent who worked on Nixon's re-election committee, to bug DNC telephones.
The arrests of five men led to one of the worst political scandals in U.S. history.
Trump did not offer an official reason for the raid, and the Justice Department has remained tight-lipped about its intentions regarding the former president who continues to hold sway in the Republican Party. But the House January 6 committee has held a series of nationally televised hearings that have cast Trump as attempting to prevent Congress from certifying the 2020 presidential election.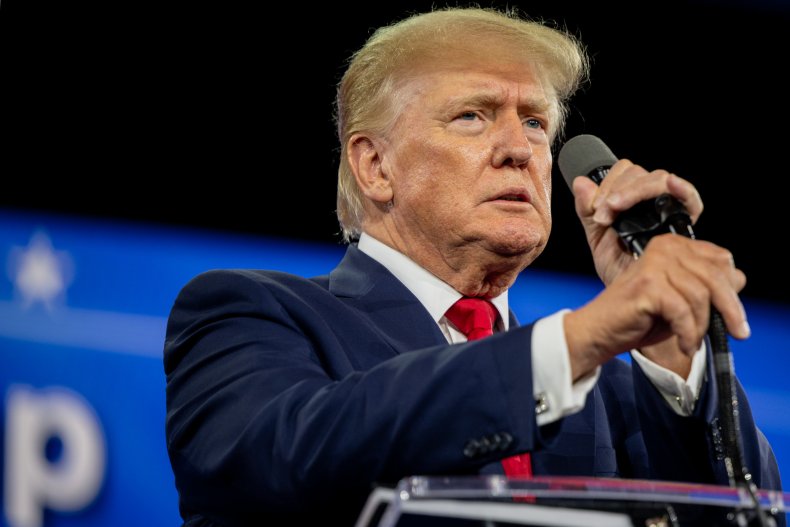 William Barr, Trump's former attorney general, said Friday that the allegedly incriminating evidence against his old boss was piling up. During an appearance on CBS News, Barr called recent grand jury subpoenas for high-ranking Trump administration officials "significant."
The National Archives and Records Administration earlier this year sought help from the FBI in retrieving 15 boxes containing classified documents Trump allegedly took to his Florida resort, according to reporting from The Washington Post.
Trump has denied any wrongdoing pertaining to the 2020 presidential election or that he improperly handled documents.
As the 2022 midterm elections near, speculation has grown that Trump will make another run for the White House. Late last month, Trump said on a podcast that it would be "very hard for me not to run, to be honest." Recently, his son, Eric Trump, was spotted carrying a golf bag with the words "Trump 2024."
Newsweek has reached out to the Justice Department for comment.
Update 8/8/22, 8 p.m. ET: This story has been updated with additional information and background.