Donald Trump Says 'My Numbers Are the Highest They've Ever Been' Due to 'Impeachment Hoax'
During an interview with Laura Ingraham on her Fox News program The Ingraham Angle, President Donald Trump said his high ranking in current polls was due to the "impeachment hoax" and the killing of Iranian Major General Qassem Soleimani.
"My numbers are the highest they've ever been," Trump said. "People love that we took out this horrible terrorist. He should have been taken out a long time ago. My numbers are the highest they've ever been and a lot of it is because of the impeachment hoax."
When asked who he would like to see from the Democratic side of the aisle as impeachment leaders, Trump named Adam Schiff.
"I'd like to ask him, why did he lie?" Trump said. "Why did he make up my statement? Totally made it up."
Trump also said he would love to see the whistleblower testify.
"The whistleblower is a person that is—you know who the whistleblower is." Trump said to Ingraham, "By the way, everybody knows about the whistleblower and they know about the whistleblower's lawyer."
"Is the whistleblower still working in the White House?" Ingraham asked.
"I don't want to say," Trump replied.
When Ingraham asked if Trump had an issue with former National Security adviser John Bolton testifying in an impeachment trial, Trump said he would have to invoke his executive privilege to prevent that from happening.
"I think you have to for the sake of the office," Trump said.
"I would love everybody to testify," Trump continued. "I'd like [acting Press Secretary] Mick [Mulvaney] to testify. I'd like [Secretary of State] Mike Pompeo to testify. I'd like [Secretary of Energy] Rick Perry to testify. I want everybody, but there are things you can't do from the standpoint of executive privilege. You have to maintain that."
"We'll see where it all goes, but especially a national security adviser," Trump added, "you can't have him explaining all of your statements about national security concerning Russia, China, North Korea, everything. You just can't do that."
Trump said House Speaker Nancy Pelosi, who spearheaded the impeachment proceedings against Trump, would be seen by history as "the least successful speaker of the house in the history of our nation."
"In all fairness," Trump said, "she's hurting our country. She's very bad for our country and she's become a crazed lunatic. But she will go down as, I think, maybe the worst speaker in the history of our country. And she'll be overthrown pretty soon because she's doing very little and the people are tired of it."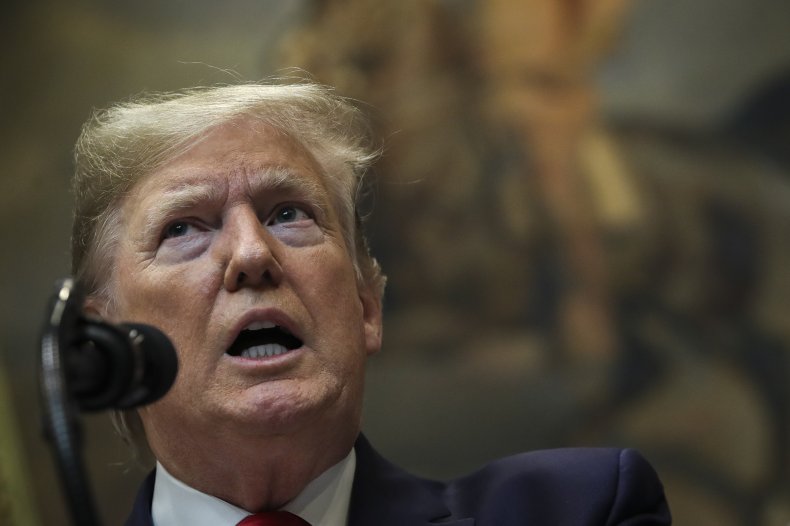 Trump was impeached in December 2019 by the House Judiciary Committee on two articles of impeachment. Trump's alleged request for Ukrainian president Volodymyr Zelenskiy to launch an investigation into former Vice President Joe Biden was found to be tantamount to obstruction of justice. Article two charges Trump with abuse of power for his refusal to respond to subpoenas from the House and for forbidding members of his cabinet to testify during the impeachment hearings. Trump is only the third president to be impeached.
Trump has always maintained his innocence about the Ukraine scandal, pointing critics to the officially released transcripts of the call which Trump has often described as "perfect."
House Speaker Pelosi threatened to keep the impeachment proceedings from reaching the trial stage by withholding the articles of impeachment from the Senate, until she could ensure a fair trial with witness testimony. That stalemate ended Friday after fellow Democrats began to criticize Pelosi for the delay.
In a letter released Friday Pelosi said, "Clearly, Leader [Mitch] McConnell does not want to present witnesses and documents to Senators and the American people so they can make an independent judgment about the President's actions."
"I have asked Judiciary Committee Chairman Jerry Nadler to be prepared to bring to the Floor next week a resolution to appoint managers and transmit articles of impeachment to the Senate," Pelosi continued. "I will be consulting with you at our Tuesday House Democratic Caucus meeting on how we proceed further."