Donald Trump Says Political Correctness, Lack of Oscars Host Are Reason Why Ratings Tanked
Former President Donald Trump said on Tuesday that the political correctness and lack of a host at the Oscars are reasons why the ratings for the awards ceremony plummeted.
"What used to be called The Academy Awards, and is now called the 'Oscars' - a far less important and elegant name - had the lowest Television Ratings in recorded history, even much lower than last year, which set another record low," Trump wrote in a statement. "Go back 15 years, look at the formula they then used, change the name back to THE ACADEMY AWARDS, don't be so political correct and boring, and do it right."
Trump's statement continued, "ALSO, BRING BACK A GREAT HOST. These television people spend all their time thinking about how to promote the Democrat Party, which is destroying our Country and cancel Conservatives and Republicans. That formula certainly hasn't worked very well for The Academy."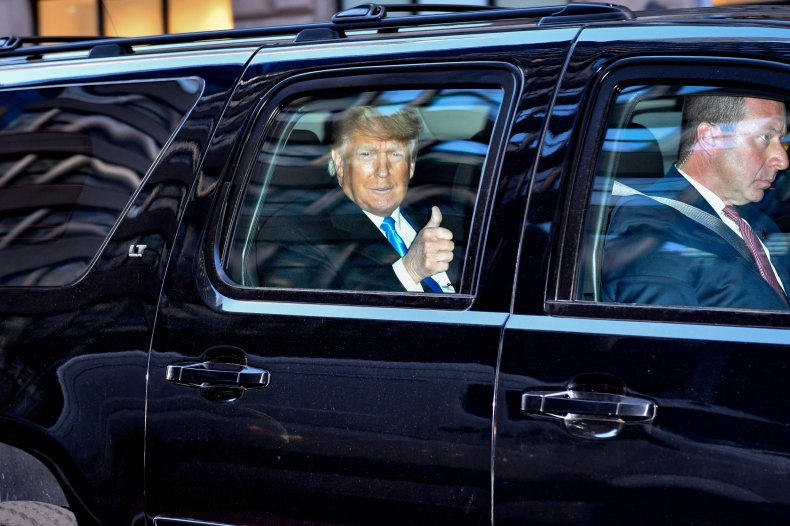 Trump's statement criticizing the Oscars comes shortly after the telecast received a record low number of viewers. According to Nielsen Live+Same Day preliminary national numbers, an average number of 9.85 million viewers tuned into the Oscars on Sunday which was a 58.3 percent decrease or 13.75 million viewer decrease from last year.
The Oscars also scored a 1.9 rating among adults between the ages of 18 and 49, which was a 64.2 percent decrease from 2020.
The award show rebranded itself as the Oscars in 2013 and during an interview with The Wrap at the time, Oscar show co-producer Neil Meron said, "We're not calling it 'the 85th annual Academy Awards,' which keeps it mired somewhat in a musty way. It's called 'the Oscars.'"
As Trump's statement noted, there was no host for this years Oscars and there has not been one since 2018 when the award show was hosted by Jimmy Kimmel. Actor Kevin Hart was set to host the 2019 Oscars but stepped down amid controversy over his past jokes.
This is not the first time Trump has been critical of the Oscars as he made similar remarks in 2018 and 2019.
"Lowest rated Oscars in HISTORY," Trump wrote in a 2018 tweet. "Problem is, we don't have Stars anymore – except your President (just kidding, of course)!"
Trump also spoke about the Oscars during a 2019 speech in Pittsburgh, where he said, "You know the Academy Awards is on hard times now, you know that right? Nobody wants to watch it. You know why? Because they started taking us on, everyone got tired of it."
"That used to be second after the Super Bowl, and then all of a sudden now it's just another show because people got tired of people getting up and making fools of themselves and disrespecting the people in this room and the people that won the election in 2016," Trump said during his speech.
Newsweek was directed to Trump's statement after reaching out to the former president for comment.
Newsweek reached out to former host Kimmel for comment through ABC but did not hear back in time for publication.