Donald Trump Says Rosenstein 'Belongs Behind Bars' Because 'He Should Have Never Picked' Special Counsel Mueller
President Donald Trump on Wednesday said he purposefully retweeted an image depicting Deputy Attorney General Rod Rosenstein behind bars because "he should never have picked a special counsel."
The image that the president retweeted, made by a pro-Trump Twitter fan account, showed Rosenstein and 10 other Trump opponents locked up along with the words, "Now that Russian collusion is a proven lie, when do the trials for treason begin?"
The New York Post asked the president about his decision to retweet the controversial image, to which he responded: "Why do you think he belongs behind bars? He should have never picked a special counsel."
Rosenstein appointed special counsel Robert Mueller in May 2017 to lead the probe into collusion between the Trump campaign and Russians in the presidential election, after then-Attorney General Jeff Sessions recused himself.
Trump forced Sessions to resign earlier this month. The president would not comment on whether he plans to fire Rosenstein, but again justified his decision to discharge FBI Director James Comey in May 2017.
"Thank God I fired Comey," Trump told the Post. "Because if I didn't fire Comey, we wouldn't know about (Andrew) McCabe, we wouldn't know about (Peter) Strzok and his lover Lisa Page."
McCabe was fired from his post as deputy FBI director earlier this year for failing to be open with federal investigators. FBI agent Strzok was fired for sending anti-Trump texts while on the job to people including FBI lawyer Lisa Page, who resigned.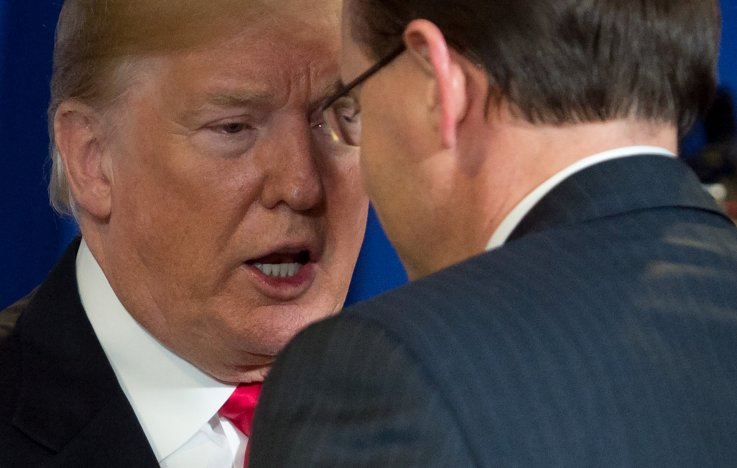 Besides Rosenstein, the retweeted shows behind bars Mueller, Comey, Trump's presidential election opponent Hillary Clinton, her husband former President Bill Clinton, former President Barack Obama, former attorney generals Loretta Lynch and Eric Holder, Hillary Clinton's campaign manager John Podesta and her aide Huma Abedin, and former Director of National Intelligence James Clapper.
Trump has continued to bash Mueller's probe as it intensifies. The president has called it a "witch hunt" repeatedly, including Wednesday night when he said in a tweet that "so much happening with the now discredited Witch Hunt. This total Hoax will be studied for years!"
On Thursday morning, Trump sent another pair of tweets reiterating the same point.
"Did you ever see an investigation more in search of a crime?" he wrote. "At the same time Mueller and the Angry Democrats aren't even looking at the atrocious, and perhaps subversive, crimes that were committed by Crooked Hillary Clinton and the Democrats. A total disgrace!"
He later added, "When will this illegal Joseph McCarthy style Witch Hunt, one that has shattered so many innocent lives, ever end-or will it just go on forever? After wasting more than $40,000,000 (is that possible?), it has proven only one thing-there was NO Collusion with Russia. So Ridiculous!"