Former President Donald Trump said "it doesn't make sense" why Ukrainian and Russian leaders haven't come to an agreement yet.
On the 55th day of Russia's invasion of Ukraine, Trump called for a stop to the war that has killed over 2,000 Ukrainian civilians, according to the United Nations. Although saying the countries' leaders should reach an "agreement," the former president fell short in sharing his ideas on how to end the war.
"It doesn't make sense that Russia and Ukraine aren't sitting down and working out some kind of an agreement," Trump said in a statement Monday. " If they don't do it soon, there will be nothing left but death, destruction, and carnage."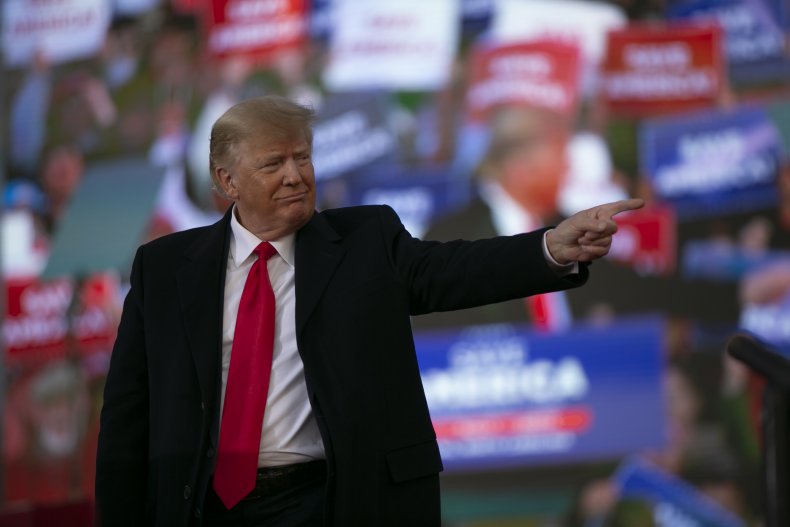 Although there have been multiple peace talks between Ukrainian and Russian diplomats since the beginning of the invasion in February, there has yet to be a concrete resolution.
"This is a war that never should have happened, but it did," he continued. "The solution can never be as good as it would have been before the shooting started, but there is a solution, and it should be figured out now—not later—when everyone will be DEAD!"
While insisting there is a solution to the invasion, Trump hasn't hinted at what he thinks that solution might be.
In February, Trump appeared on the Right Side Broadcasting Network and said there were "things" he believed President Joe Biden could do to end the crisis but decided not to share the ideas publicly.
"Well, I think I know exactly what should be done ... there are things that he [Biden] should do," Trump said. "I would rather not tell him under this forum. I don't think it's appropriate to say that but there are things he could do that would be very strong, very powerful and that I think would end it pretty quickly."
Throughout Russia's invasion of Ukraine, Trump has made headlines for his comments, gaining bipartisan backlash.
Last month while discussing President Vladimir Putin's motive for the invasion with Jeanine Pirro, Trump said Putin's goal was to rebuild the Soviet Union.
"That's what this is all about to a large extent," Trump said. "And then you say, what's the purpose of this? They had a country. You could see it was a country where there was a lot of love and we're doing it because, you know, somebody wants to make his country larger or he wants to put it back the way it was when actually it didn't work very well."
Trump then warned that Putin will "go forward and continue to get more and more ruthless."
Newsweek reached out to Trump for comment.