Donald Trump Says Tiger Woods, Who Gave Him Golf Tips, Will Come Back After Crash
Former President Donald Trump has said he believes that pro-golfer Tiger Woods "will be back" following a Tuesday car crash that injured his legs. Trump also added that Woods once gave him golfing tips while they played together.
Woods suffered serious injuries to his legs after a high-speed, single-vehicle car crash near Los Angeles on Tuesday morning. Woods was reportedly the only person in the vehicle. He was wearing his seatbelt and wasn't impaired, according to the L.A. County Sheriff's Department.
Woods was taken to the Harbor-UCLA Trauma Center for surgery for compound leg fractures and a shattered ankle. Compound fractures refer to when the sharp edges of broken bones push through the skin. Woods will likely need an entire year at least to recover and rehabilitate his injuries.
"He's overcome a lot," Trump said of Woods in a Tuesday Fox News interview. "He's had an incredible life and he's going to continue to have an incredible life.... He'll recover from this.... He's gonna be back. I have no doubt about it. He's gonna be back."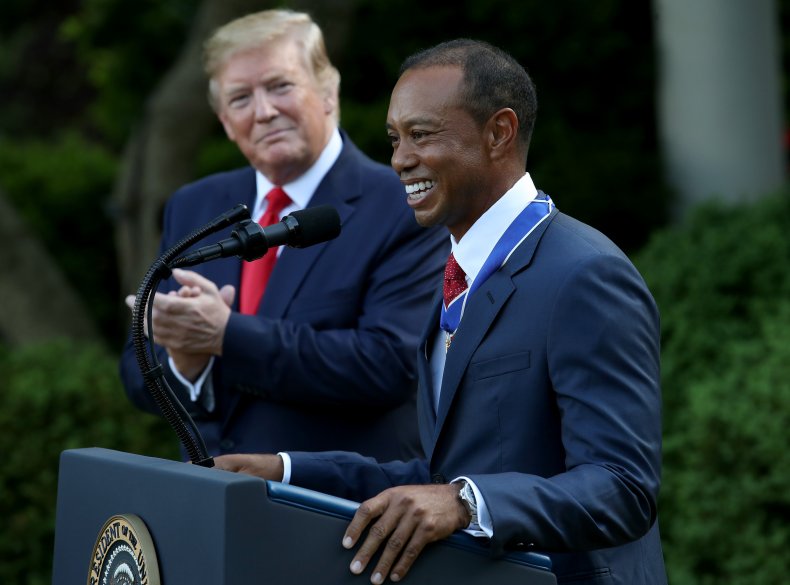 Trump said that he believed in Woods' ability to recover from the crash because the golfer won the 2019 Masters Tournament despite having a serious back injury. The 2019 victory was Woods' fifth Masters win, putting him one victory away from matching the record of most Masters wins set by pro-golfer Jack Nicklaus.
The former president also said during his Tuesday interview that Woods had once given him golfing tips while they played together. Trump added that Woods "always" provides such pointers when playing with others.
On May 6, 2019, shortly after winning the Masters, Trump awarded Woods the Presidential Medal of Freedom. At the time, Trump called Woods "a true legend" and said that Woods had transformed golf and achieved new levels of dominance in the sport.
"Tiger introduced countless new people to the sport of golf, from every background and from every walk of life," Trump said at the 2019 award ceremony. "He inspired millions of young Americans with his thrilling wire-to-wire victories. Tiger Woods is a global symbol of American excellence, devotion and drive."
When asked about his decision to play golf with President Trump, Woods said that he chose to because he respects the office of the president, whether or not he agrees with the president's politics or personal beliefs.
Woods' leg injuries may impact his future in golf. Golfers who play in pro tournaments must walk long routes over two or more days. Golfers also depend on their strong legs to help deliver powerful swings.
Newsweek contacted Woods' agent for comment.