Donald Trump's Schedule This Week—All Events President Attended Before COVID Diagnosis
President Donald Trump will have to isolate after testing positive for the COVID-19 virus following a busy week of events.
Trump revealed on Friday morning that he and first lady Melania Trump had tested positive for the SARS-CoV-2 virus, and would begin the process immediately.
The president has attended several events from Monday, September 28.
Monday
The president surveyed a truck produced by Lordstown Motors on the White House South Lawn at an event attended by two members of Congress and three representatives from the Lordstown, Ohio, manufacturer.
He also held an event at the white House Rose Garden to announce his administration's effort to distribute millions of coronavirus test kits to states.
This event was attended by several administration officials including Vice President Mike Pence, members of Congress and state officials.
Tuesday
The president travelled to Cleveland for the presidential debate against Democratic rival Joe Biden.
According to AP, both were tested ahead of the debate. They were positioned away from each other, did not shake hands and did not wear masks during the face off.
White House aide Hope Hicks, who tested positive for the coronavirus on Thursday, was part of a large entourage that traveled to Ohio with Trump. Advisers to the president Jared Kushner and Stephen Miller also travelled, together with several members of the Trump family.
The president and the first lady returned to Washington, D.C. that evening.
Wednesday
Trump travelled to Minnesota for a fundraiser at a private residence in Shorewood, a village in the suburban area of Minneapolis, and then to an outdoor rally in Duluth, Minnesota.
He returned to Washington, D.C that evening.
Hicks is among the White House aides who were part of the Trump entourage on the trip. She felt unwell on the return trip and isolated herself aboard Air Force One.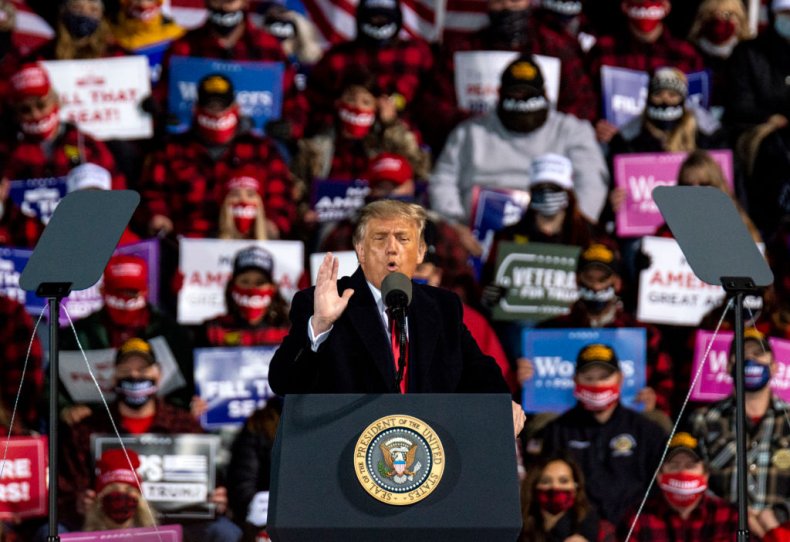 Thursday
On Thursday, Trump flew to his Bedminster resort in New Jersey for a roundtable with supporters and a fundraiser event. Several aides who were in proximity to Hicks did not accompany the president.
After the event, Trump said: "I just want to say that the end of the pandemic is in sight, and next year will be one of the greatest years in the history of our country."
He revealed in an evening interview on Fox News that he and the first lady were being tested for the coronavirus, and later tweeted that they had tested positive.
Friday
The president was supposed to take part in a roundtable with his supporters at the International Hotel Washington in Washington, D.C.
Trump was then due to travel to Orlando Sanford International Airport in Florida, and from there to Sanford, where he was supposed to make remarks at a Make America Great Again event.
Trump would then return to the White House, before heading to a number of campaign events on Saturday in Wisconsin.
All of the president's Friday in-person events have been cancelled. He will still take part in hosting a phone call on COVID-19 support to vulnerable seniors.