Donald Trump Has Had Nothing on His Schedule This Week Except Lunch and an Intelligence Briefing
As of Wednesday morning, President Donald Trump has had nothing on his schedule this week except his daily intelligence briefing and a lunch with Vice President Mike Pence. The open calendar comes after Trump on Friday agreed to temporarily reopen government without getting his demand for border wall funds, which he has insisted is not a concession but time for more negotiations with Democrats.
Trump had lunch with his vice president on Monday, with the only other event listed on his schedule this week being the receiving of his intelligence briefing Wednesday.
The lack of activity suggests that Trump may be preoccupied on the phone with border security negotiations, which a bipartisan conference committee was tasked with tackling.
"We really have no choice but to build a powerful wall or steel barrier. Let me be clear," Trump said in his announcement Friday. "If we don't get a fair deal from Congress, the government will either shut down on February 15, or I will use the powers afforded to me under the laws and Constitution of the United States to address this emergency."
Trump backing down on his demand for wall funding before reopening the government was largely seen as a victory for congressional Democrats by both liberals and conservatives. If Democrats were not willing to budge during the record long 35-day government shutdown, there is no indication they would be willing to provide $5.7 billion for Trump's border wall now.
Trump has certainly been busy using his phone for Twitter. The president sent eight tweets within less than three hours Wednesday morning, on a range of issues from the border to Venezuela, Syria, Afghanistan, North Korea and Iran.
The president slammed members of the bipartisan committee.
"If the committee of Republicans and Democrats now meeting on Border Security is not discussing or contemplating a Wall or Physical Barrier, they are Wasting their time!" he wrote.
Trump also patted himself on the back for talks with North Korean leader Kim Jong Un and thus far avoiding a nuclear conflict.
"At the end of the previous administration, relationship was horrendous and very bad things were about to happen. Now a whole different story," Trump tweeted. "I look forward to seeing Kim Jong Un shortly. Progress being made-big difference!"
Most strikingly, he fiercely rebuked his own intelligence chiefs for drawing conclusions that starkly contradicted his own statements on Iran, North Korea and ISIS.
"The Intelligence people seem to be extremely passive and naive when it comes to the dangers of Iran. They are wrong!" Trump tweeted. "When I became President Iran was making trouble all over the Middle East, and beyond. Since ending the terrible Iran Nuclear Deal, they are MUCH different."
The White House did not immediately respond to a request for comment on Trump's schedule on Wednesday.
But in a statement Wednesday, the White House said that Trump had spoken with Venezuelan Interim President Juan Guaido and congratulated him on taking over, with the intention of moving the country toward democracy.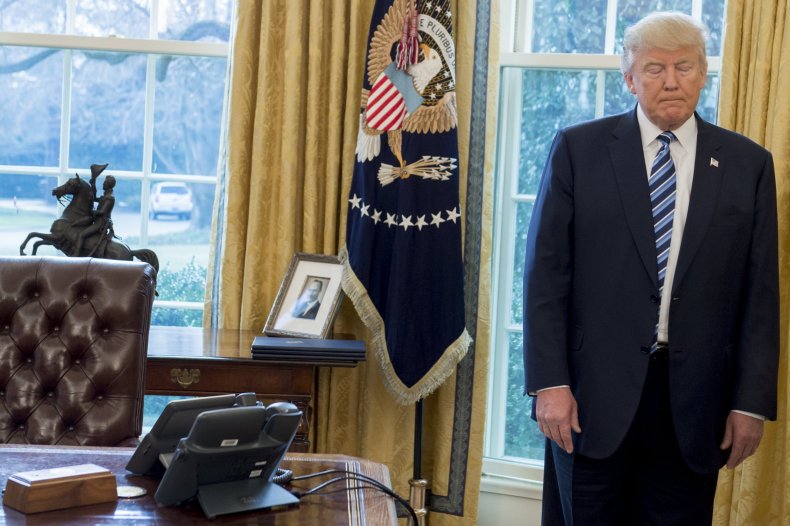 It is not the first time Trump's schedule has been thin.
In October, Trump had nine hours of "executive time," which was three times more than the total for his briefings, official meetings and public appearances, Politico reported at the time. The blocks of unstructured time were as long as 2 hours and 45 minutes and some of Trump's only other obligations were a late morning meeting with the chief of staff, a 30-minute call with CEOs, a briefing with military leaders and short comments at a conference on leadership. In that free that, Trump sent dozens of tweets.