Sean Hannity Thinks Donald Trump Asking Ukraine to 'Do Us a Favor' is Like Saying 'Big League': It's 'a Verbal Aside'
Fox News host Sean Hannity has defended President Donald Trump's use of the phrase "do me a favor" in his phone call with Ukraine that is now the subject of an impeachment inquiry, suggesting the phrase is just a "verbal aside."
Speaking on his show on Tuesday evening, Hannity leapt to the president's defense over the call between Trump and Ukrainian President Volodymyr Zelenskiy.
In the call, the president said: "I would like you to do us a favor though because our country has been through a lot and Ukraine knows a lot about it. I would like you to find out what happened with this whole situation with Ukraine," among a series of requests that also included looking into the Bidens.
But while Trump's use of the phrase "do us a favor" has been pointed at as a smoking gun by Democrats including presidential hopeful Elizabeth Warren, the Fox host insisted that the phrase was part of Trump's everyday discourse and shouldn't be taken as anything more.
"Let's be clear, the term 'do us a favor'? Well, we all have go-to phrases. You know, I say, 'you know,' a lot. The president uses them all the time. Kind of a verbal aside," Hannity said on his show on Tuesday night. "It's like 'big league.'"
The host, who is said to speak to the president frequently, also played clips of Trump using the phrase "do me a favor," adding "So to recap: the term 'do me a favor,' that's a phrase the president uses, we've identified, hundreds of times."
This graphic, provided by Statista, shows the presidential impeachment process according to Article 1, Section 2 and 3 of the U.S. Constitution.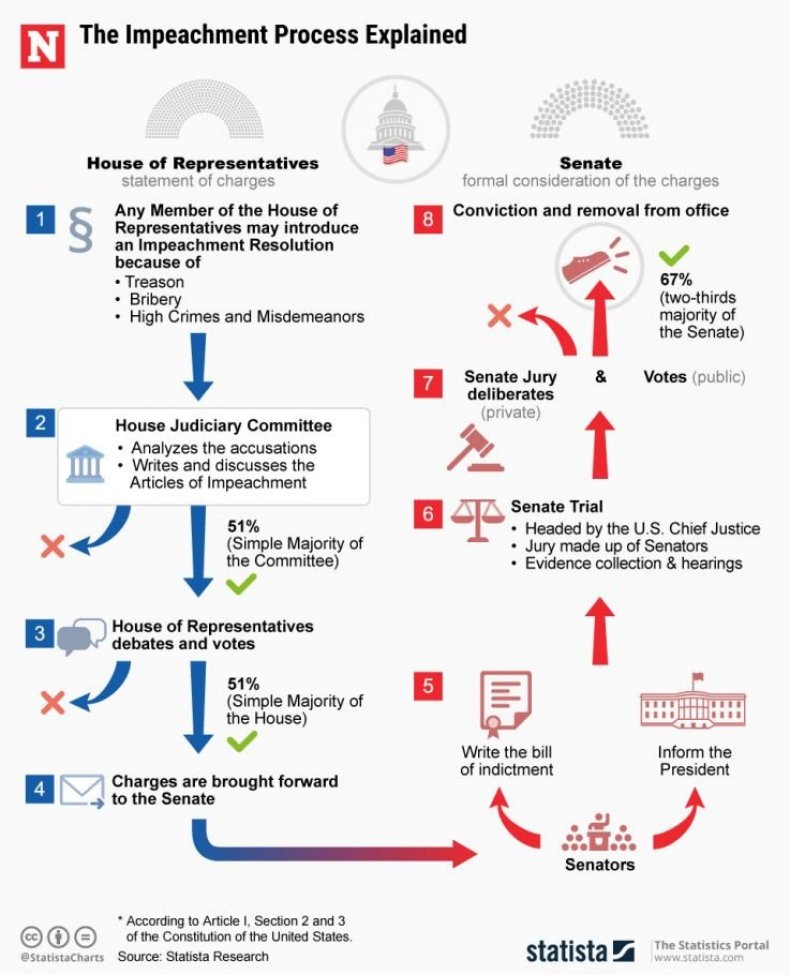 His comments came a day after hosting Trump on his show on Monday night—with the pair sitting down to discuss the impeachment inquiry, among other topics.
During the interview, Trump suggested that former President Barack Obama could have been impeached on numerous occasions but that the Republicans would not have thought of impeaching him.
"[Republicans] could've impeached Obama for the IRS scandal, they could've impeached him for the guns or whatever, where guns went all over the place and people got killed with guns, 'Fast and Furious.' They could've impeached him for many different things. They didn't impeach him. They never even thought of impeaching him," the president said.
Trump also doubled down on his unsubstantiated claims about the Bidens, suggesting that Hunter Biden had improperly benefited in business during his father's time as vice president, stating this was corrupt.
"If that were Don Jr., if that were Eric Trump, who are very outstanding young men, it would be the biggest story of the century," Trump said.