President Donald Trump endured bipartisan condemnation Monday following a press conference with Vladimir Putin in which he appeared to side with the Russian president over his own intelligence community. But after the criticism that came his way for suggesting he accepted Putin's denials over Russia's alleged interference in the 2016 presidential election, Trump was able to walk into the warm embrace of an interview with Fox News host Sean Hannity.
Trump and Hannity have become so close that, according to reports, the two men speak daily on the telephone and Hannity has even been dubbed by some White House aides ad the unofficial chief of staff within the Trump administration.
It was little surprise then that Hannity was granted the first interview following the meeting between Trump and Putin in Helsinki, Finland. Equally unsurprising was Hannity's softball questions that allowed the president a tension free interview. Here are some of the most noteworthy quotes.
Trump Doubles Down on Putin Praise
"I don't think the people out in the country buy it, but the reporters like to give it a shot," Trump said of the questions he received during the press conference over Russian election interference. "I thought President Putin was very, very strong."
Insists Putin Has No Compromising Information On Him
"He said there was no collusion whatsoever. He said it as strong as you can say it," Trump said, echoing Putin's denial earlier in the day that he had anything to hold over the U.S. president. "They have no information on Trump. And one thing you know, if they had it, it would have been out."
Unfounded Speculation About Obama's Role in Investigation
"It's a very dishonest deal and, you know, you have to find out, who did Peter Strzok report to, because it was Comey and it was McCabe, but it was also probably Obama," Trump said referring to FBI agent Peter Strzok, who sent texts critical of the then-candidate Trump in 2016. "[Strzok is] a disgrace to our country. He's a disgrace to the great FBI. A disgrace. And how he's still being paid is beyond belief."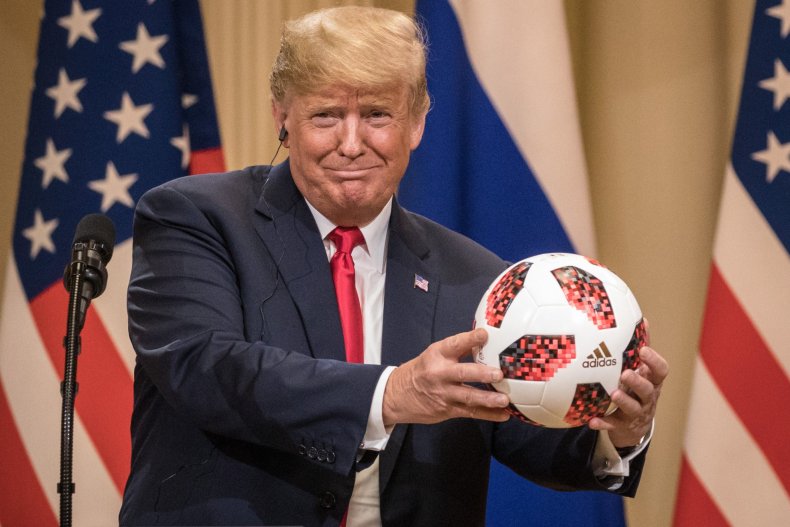 Nuclear Warming Not Global Warming
"To me, the most important issue is the nuclear issue, because—I know President Obama said global warming is our biggest problem and I would say that no, it's nuclear warming is our biggest problem by a factor of about five million," Trump, who has long questioned the near-unanimous scientific consensus behind global warming, said. "The nuclear problem, we have to make sure, we have to be very careful and you know if you look at Russia and the United States that's 90 percent of the nuclear weapons."
Defending His Imprisoned Former Campaign Chairman
"Paul Manafort, who clearly is a nice man," Trump said. "You look at what's going on with him, it's like Al Capone…It's just a sad thing. It's a very sad thing for our country."