Trump Vows 'Second Amendment Will Never Be Repealed' After Former Supreme Court Justice Called For the Change
President Donald Trump on Wednesday vowed that the Second Amendment would "never be repealed," one day after a former Supreme Court justice called for the repeal and weeks after Trump suggested seizing firearms in some cases without due process.
"THE SECOND AMENDMENT WILL NEVER BE REPEALED!" Trump tweeted shortly before 6 a.m. "As much as Democrats would like to see this happen, and despite the words yesterday of former Supreme Court Justice [John Paul] Stevens, NO WAY. We need more Republicans in 2018 and must ALWAYS hold the Supreme Court!"
On Tuesday, Stevens penned an op-ed in the New York Times calling the Second Amendment a "relic of the 18th century." Stevens lauded the efforts of students across the country who marched on Saturday in protest to gun violence and their three demands for lawmakers: An assault weapons ban, end sales of high-capacity magazines and expand background checks for all gun purchases.
But Stevens had one more suggestion for the nascent activists: "They should demand a repeal of the Second Amendment.
Stevens, now 97 and a retired jurist, was on the bench in 2008 when the Supreme Court heard a landmark case for the Second Amendment in District of Columbia v. Heller. In a 5-4 ruling—Stevens was among the dissenters—the court affirmed that individuals had a Constitutional right to own firearms.
In writing for the majority, however, Justice Antonin Scalia also noted that, "Like most rights, the Second Amendment right is not unlimited. It is not a right to keep and carry any weapon whatsoever in any manner whatsoever and for whatever purpose."
Stevens isn't the first Supreme Court justice to express doubts over the Second Amendment. In 1991, then-retired Chief Justice Warren Burger, a Republican appointee, said the Second Amendment "has been the subject of one of the greatest pieces of fraud, I repeat the word 'fraud,' on the American public by special interest groups that I have ever seen in my lifetime."
The public debate over Second Amendment rights and gun control has roiled since the mass shooting at Sandy Hook Elementary School in Newtown, Connecticut, in 2012, ebbing and flowing according to high-profile shootings. The issue has again received heightened attention in the wake of the mass shooting at Marjory Stoneman Douglas High School in Parkland, Florida, on February 14, when a 19-year-old armed with a legally purchased AR-15 rifle killed 17 people and wounded over a dozen more in under seven minutes.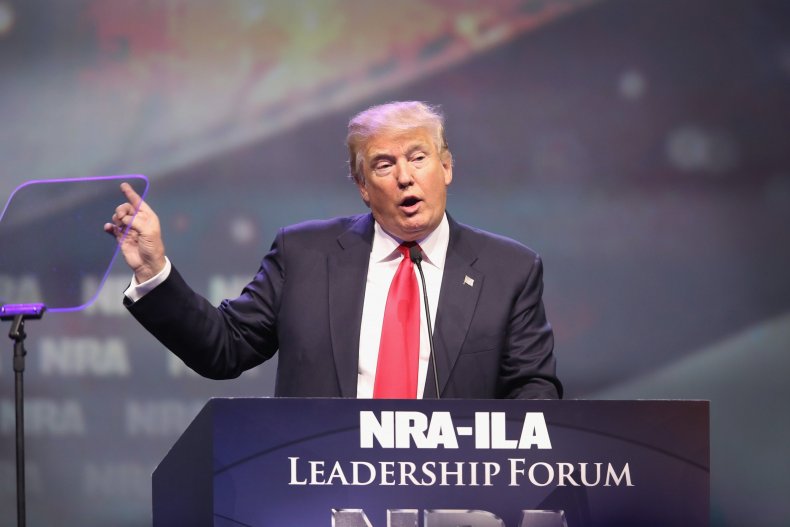 The shooting prompted a listening session at the White House, where survivors and Stoneman Douglas parents spoke with Trump about the tragedy. Trump later endorsed several gun control measures.
Speaking with a bipartisan assembly of lawmakers at the White House on February 28, two weeks after the Stoneman Douglas shooting, Trump backed raising the minimum age to buy a firearm to 21 and universal background checks, as well as unlawfully seizing weapons without due process.
"I like taking the guns early, like in this crazy man's case that just took place in Florida [...] to go to court would have taken a long time," Trump said during the meeting. "Take the guns first, go through due process second," Trump said.
The White House subsequently walked Trump's gun control comments back.