Donald Trump's Secret Deal Gives Mexico 45 Days to Prove It Can Reduce Migration
U.S. President Donald Trump inadvertently revealed details of an immigration deal with Mexico that had not yet been disclosed, following an agreement struck between the countries.
Last Friday, Mexico agreed to try to curb the flow of migrants from Central America by deploying 6,000 members of a new national guard across its border with Guatemala. The measures would mean Mexico could avoid import tariffs of five percent.
But Trump suggested there were other elements of the deal which he tweeted "will be revealed in the not too distant future and will need a vote by Mexico's legislative body."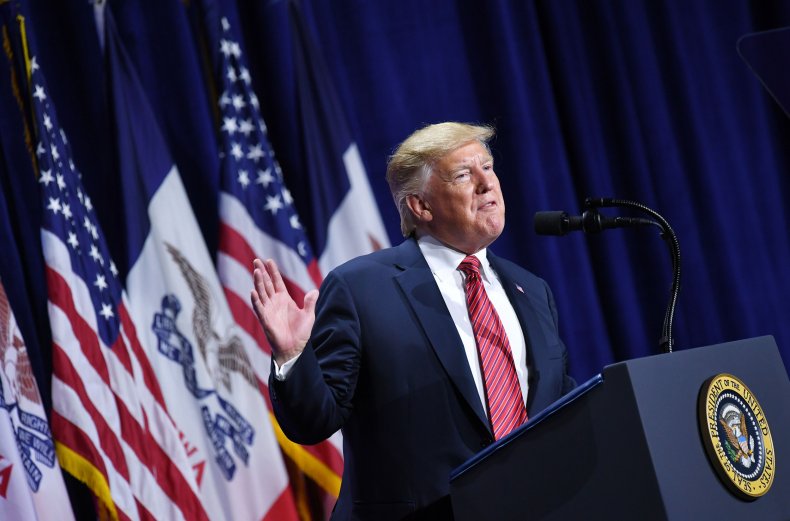 Newsweek subscription offers >
On Tuesday, Trump waved around a folded piece of paper in front of reporters as he described some of the terms of the deal as "secret."
Washington Post photographer Jabin Botsford took a picture of the document which appears to describe a plan to designate Mexico as a "safe third country," meaning migrants' asylum applications would be processed there rather than in the U.S.
Scrutiny of the text, not all of which is visible, shows how Mexico would also look at its legislation to enable it to become a safe third country if need be.
It also said 45 calendar days after the joint declaration, the U.S. would assess in consultation with Mexico whether the flow of migrants had been curbed sufficiently.
Newsweek subscription offers >
If this had not happened then Mexico would take "all necessary steps under the domestic law to bring the agreement into force with a view to ensuring that the agreement will enter into force within 45 days," the document said, according to the Post.
Later on Tuesday in a press conference, Mexico's foreign minister Marcelo Ebrard confirmed that there would be a 45-day deadline to reduce U.S. bound migrants.
He said if troop reinforcements did not work, "additional measures" would be considered which might involve neighboring countries in a "regional solution."
However he pointed out that it was "mission impossible" to meet U.S. demands for "zero migrants" crossing its territory.
"We told them, I think it was the most important achievement of the negotiations, 'let's set a time period to see if what Mexico is proposing will work, and if not, we'll sit down and see what additional measures'" are needed.
"They wanted something else totally different to be signed. But that is what there is here. There is no other thing," he added, according to the BBC.
He also said that Mexican migration facilities in the south need to be revamped, saying, "You go to the south and the first thing you ask yourself is 'right, where's the border?' There's nothing. The idea is to make the south like the north as far as possible."
Donald Trump's Secret Deal Gives Mexico 45 Days to Prove It Can Reduce Migration | News