Donald Trump Tried to Sell Argentina Weapons at G20 Summit but Was Rejected
Argentine President Mauricio Macri and President Donald Trump struck up a host of deals on the sidelines of the G20 summit, including investments in infrastructure and energy projects. But the idea of buying weapons from Washington was off the table.
Argentina's Foreign Minister Jorge Faurie told reporters that a number of issues were discussed during the meeting behind closed doors. While the possibility of selling U.S. military equipment was allegedly floated during the encounter, Argentina emphasized that it did not have the funds to make any purchase. "At this very moment, we're not in the best position of acquiring military weapons from anywhere," Faurie said, according to Argentine newspaper El Clarín.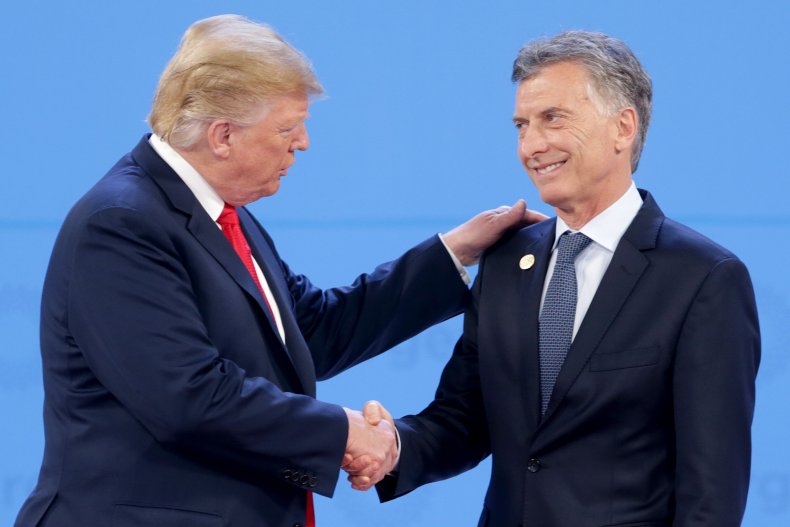 The minister's statements were apparently a response to Trump's remarks during a press conference at Macri's Casa Rosada residence earlier on Friday. The president told reporters, "We're going to be talking about lots of good things for Argentina, for the United States, including trade, including military purchases, and other things. But we have a lot to talk about—a little bit of old times; about 95 percent business, I would say."
The bilateral meeting, however, tackled infrastructure and energy initiatives following an agreement between the U.S. Overseas Private Investment Corporation and the Argentine government on Wednesday, pledging to allocate as much as $800 million to explore oil and natural gas in the Vaca Muerta field, located in the northwestern province of Neuquén, El Clarín reported. In the wake of the meeting between Macri and Trump, the finance and energy ministries and Treasury Secretary Steven Mnuchin signed an agreement to foster cooperation and identify "trade and investment opportunities" in the energy sector, the local publication added.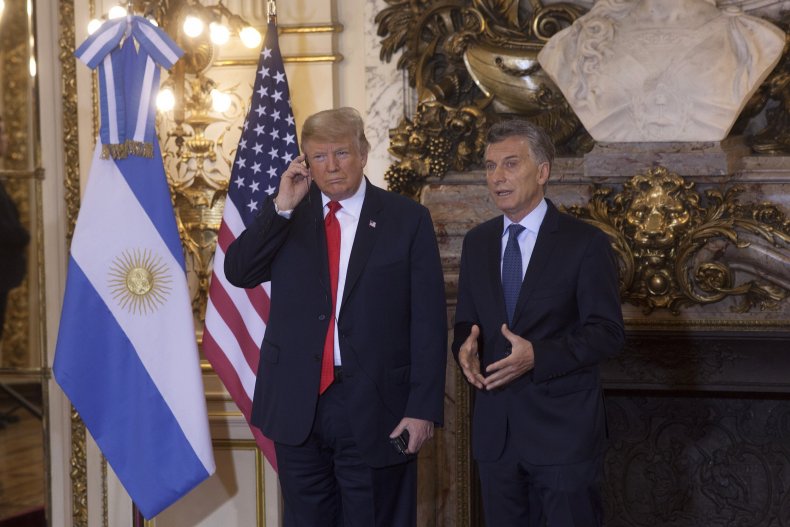 The G20 had a rocky start following the meeting between Macri and Trump on Friday morning. Almost an hour after the gathering, White House press secretary Sarah Huckabee Sanders said, "Today, before the start of the G20 summit, President Trump met during breakfast … the two leaders reiterated their shared commitment to face regional challenges such as Venezuela and China's predatory economic activity."
Huckabee's remarks rattled the Argentine delegation at the summit, according to newspaper La Nación. "I do not think there was a reference in those terms," Faurie told reporters earlier on Friday, adding that the meeting was handled in a cordial way.
At the press conference, Trump had trouble understanding the English interpreter as the Argentine leader was addressing the press. "I think I understood you better in your language than I did on this, but that's OK," Trump told Macri and then dropped his earpiece on the floor.
China has become one of Argentina's most important trade partners, and Macri hopes to maintain existing agreements and create new ones while Xi Jinping is visiting Buenos Aires. As a result, the Macri administration is seeking to mitigate any diplomatic issues between the South American country and Beijing caused by Huckabee Sanders's words, website Pagina 12 reported.